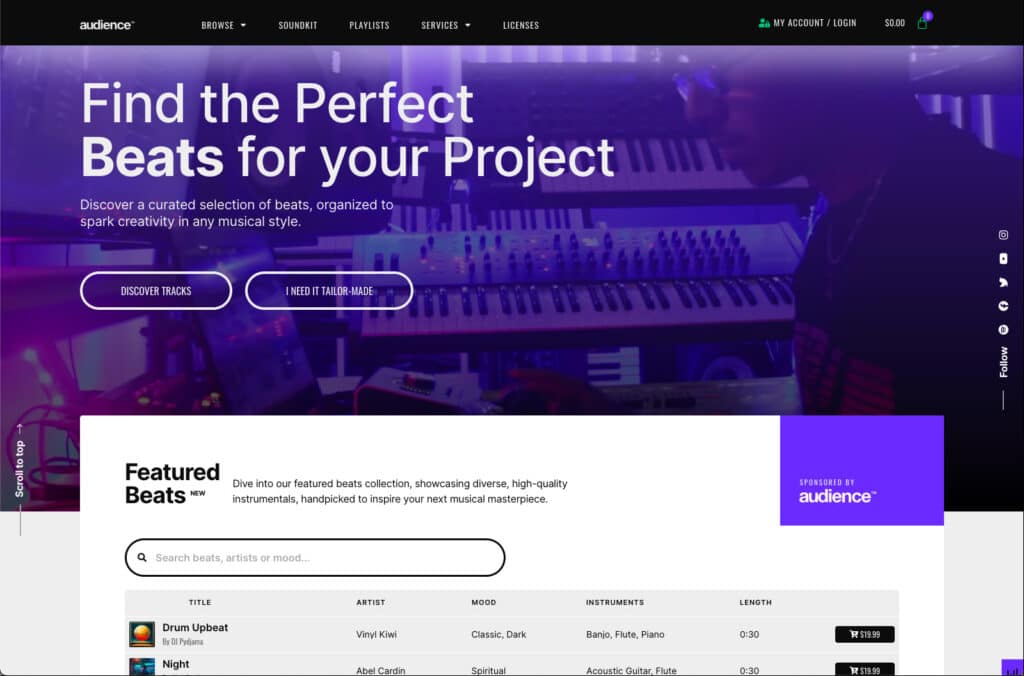 Unveiling Audience™ – the ultimate Elementor Templates Kit, purpose-built to revolutionize your music business. Audience™ is more than just a template; it's a comprehensive toolkit designed to help you create a full-fledged beatstore website. Whether you're an established music producer or a budding beatmaker, Audience™ provides the perfect platform to showcase and sell your music online.
Who said Royaltee-free Music ?
One of Audience™'s standout features is its ability to facilitate the creation of a royalty-free music site. Royalty-free music refers to tracks that, once purchased, can be used multiple times without paying ongoing royalties. With Audience™, you can offer your beats and tracks on a royalty-free basis, providing an attractive option for customers working on projects that require music. Whether they're filmmakers, podcasters, or content creators, your audience will appreciate the convenience and affordability of royalty-free music.
Inspired by Music Industry Leaders
Inspired by major players in the music industry, such as Airbit, Audiio, Beatstars, Musicbed, and Epidemic Sound, Audience™ integrates the best functionalities into a WordPress template for your personalized beatstore. This isn't a multi-vendor marketplace but a tailored solution designed specifically for music entrepreneurs who want to sell their own beats. It's an all-in-one solution that combines the flexibility of WordPress with the power of Elementor and WooCommerce, allowing you to create a dynamic, feature-rich website that rivals the best in the business.
Experience the Next-Level Audio Player for WordPress
Audience™ is powered by MP3 Audio Player Pro plugin, a robust and intuitive tool that takes your music listening experience to the next level. This plugin allows you to showcase your music in a professional, engaging way, supporting multiple formats and featuring an easy-to-use interface. It also comes with a number of features that can help you manage your music contracts and licenses.
Built for Elementor, one of the most popular WordPress page builders, Audience™ lets you design stunning, professional-looking pages with a simple drag-and-drop interface. You don't need any coding knowledge to use Elementor, making it perfect for everyone from beginners to experienced web designers.
Coupled with WooCommerce, one of the most reliable eCommerce plugins for WordPress, Audience™ provides a seamless shopping experience for your customers. Sell your music, beats, and drum kits with ease and manage transactions securely with WooCommerce's trusted payment system.
In summary, Audience™ – Elementor Templates Kit is your comprehensive solution for establishing a powerful online presence in the music industry. It offers a seamless blend of professional design, user-friendly functionality, and advanced features that put you on par with the best royalty-free music websites out there. Experience the power of Audience™ today and take your music business to new heights.
Requirements:
Audience™ – Elementor Templates Kit
Beatstore for Elementor to sell music online
Single Template

Unlimited Templates

Lifetime
Audience™ – Elementor Templates Kit
Unlimited
Elementor Templates Kits
Lifetime
Elementor Templates Kits
30% Off for a limited time

We offer a 14-day money back guarantee [ ? ]