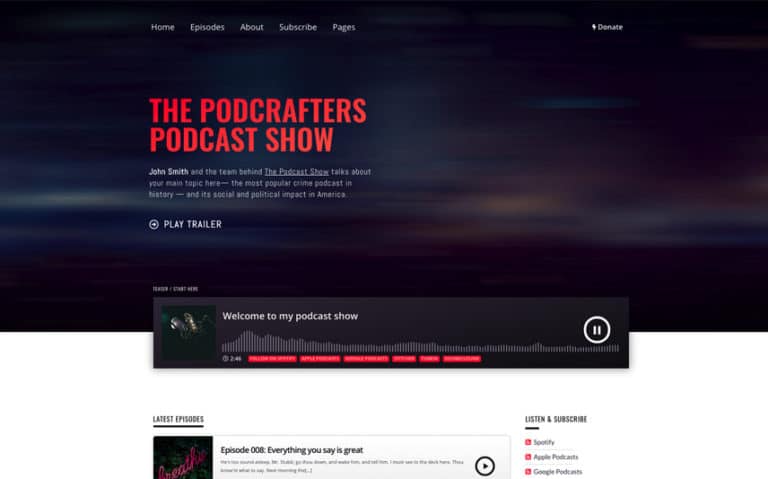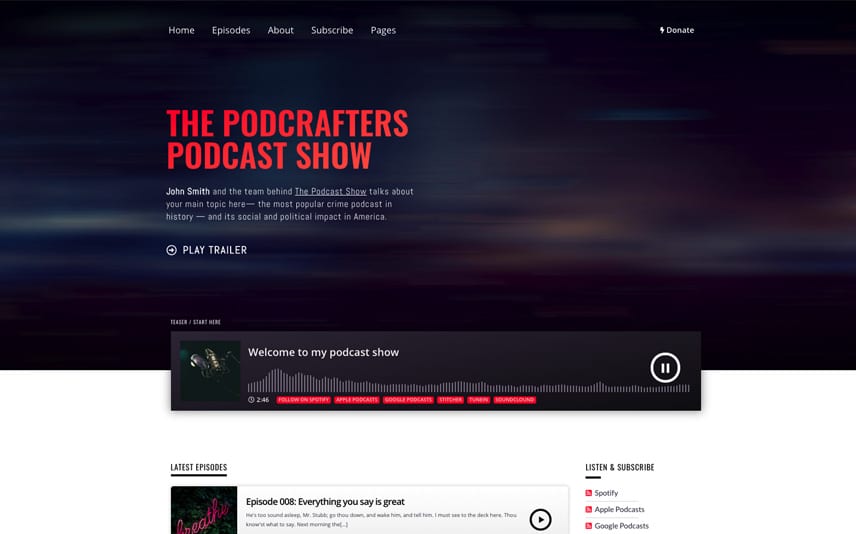 Podcrafter is the most complete podcast website template based on WordPress. It's a completely customizable website you can download and use for any podcast. It's easy-to-use, beautifully designed and has all the features required to build your next podcasting website! With Podcrafter, your WordPress website will be responsive automatically and play nice on every mobile device.
With simple, efficient web editing, podcasters don't need to code their website anymore (unless you want to). Just import this template and use the web builder (AKA Elementor) to edit with your content in real-time. If you're in into podcasting and looking for a ready-made tried and tested web solution with 5-star customer service, this is an outstanding template and great value!
Podcrafter is for those with certain taste & ambition. We count podcasters, online radios, international speakers, designers and many more to our club. These world's leading people already use Sonaar' product for their website and this new template is raising the bar again in terms of customizable website template for podcasting that is available for everyone.
What other people said:
"This is by far the best theme out there!" — Dan Boots
"One of the Best WP Themes Ever!" — Sterling Williams
"Really nice, helpful and fast support." — Jeff Hennico
"My website looks so professional. I'm beyond happy" — Paula Campbell
"Fantastic theme that works better than most themes I've used before" — Eyvindur
Main Features:
Podcast Audio Player with skip and forward button, audio speed rate, soundwave, podcast episode list and volume control.
Podcast player with continuous playback through all your pages
Fully support Elementor Page Builder. All custom templates have been designed with Elementor
Import your existing episode from any podcast RSS feed in 1-click
Stream your Podcast directly from your current podcast hosting, or host your media file directly on your website.
SEO-Friendly for Google Ranking and compatible with Yoast SEO
Fully responsive and mobile-friendly
Translate the website in any language with WeGlot.com
All pages are loaded via AJAX for speed and performance
Fast customer support in case your need help- Video tutorials, help desk and documentation available
A podcast website template that supports any podcast hosting
The first thing you'd probably do after installing the template is to import your existing episodes into your website. We have developed a tool that gives you the ability to import episodes from any RSS feed! If you are using Icecast, Libsyn, Stitcher, Shoutcast, Mixcloud, Acast, Amazon S3, FMStream, Podbean SoundCloud Podcast, Buzzsprout, Simplecast, Spreaker, Audioboom, CastBox, Pippa, Anchor or any hosting that has an RSS feed of your show available, we got your back!
The cool thing is that you will have the choice to continue streaming the file directly on their server, or store the media files in your WordPress server and thus, transform your WordPress hosting into your own podcast hosting.
The most advanced Podcast Audio Player for WordPress
Making a great podcast website for WordPress won't happen if you don't use the best podcast audio player for it. The good news is that we have built it. We could have you scroll endlessly through its features but using it yourself is more convincing.
It supports any MP3 files and radio streaming, has optional skip-forward buttons, audio speed rate, scrubbing bar, quick jump to other episodes and the coolest thing is this podcast website template fully supports continuous audio playback which means the audio won't stop or cut when you switch to another page of your website. Magic!
15+ simple widgets and blocks available
This podcast website template has everything it takes to build a professional and custom website that will suit your needs. We have included ultimate podcast widgets (also known as blocks) you can use to build any kind of page layout. You can add unlimited podcast audio player, podcast archives, images and galleries, podcast notes, sponsors logo and buttons that could link to any external website you'd like (eg: Subscribe on Spotify, Follow us on Instagram).
Not only you can add multiple widgets specially build for podcast website but you can customize them with your own colours, fonts and size.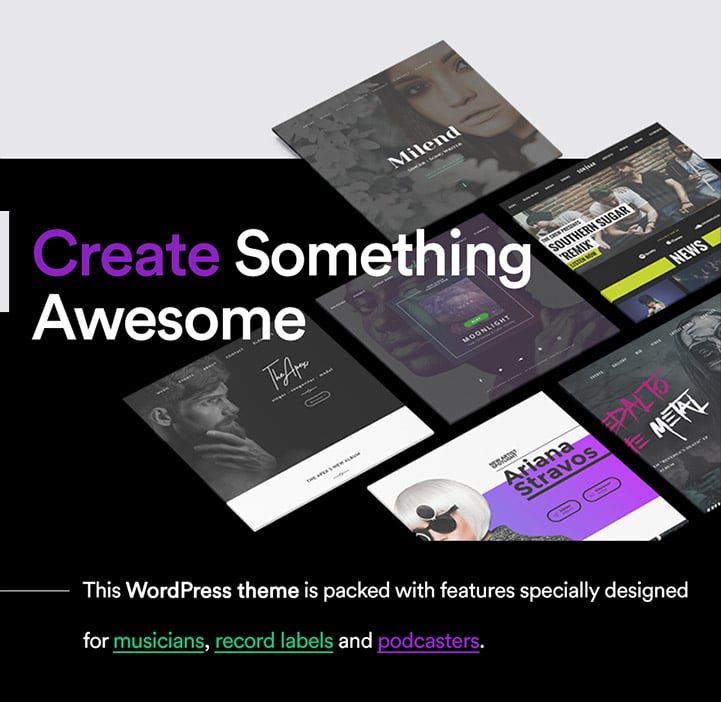 Podcast Website Template for WordPress
Single Theme

All Themes

Lifetime
Podcrafter
WordPress Theme
30% Off for a limited time

We offer a 14-day money back guarantee [ ? ]