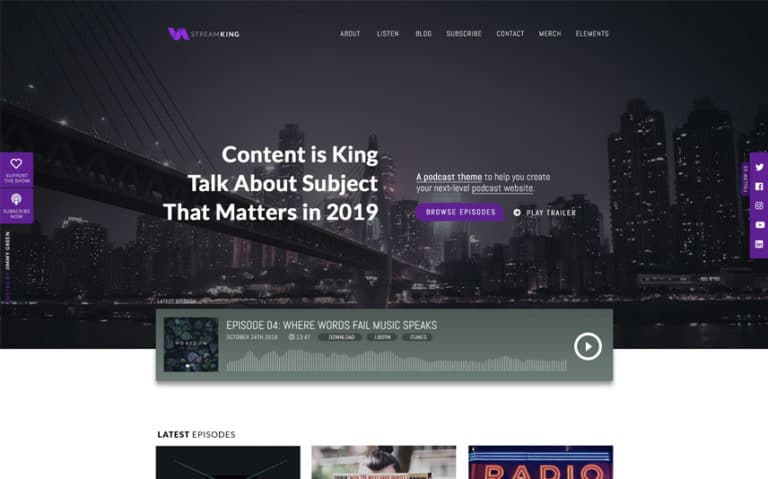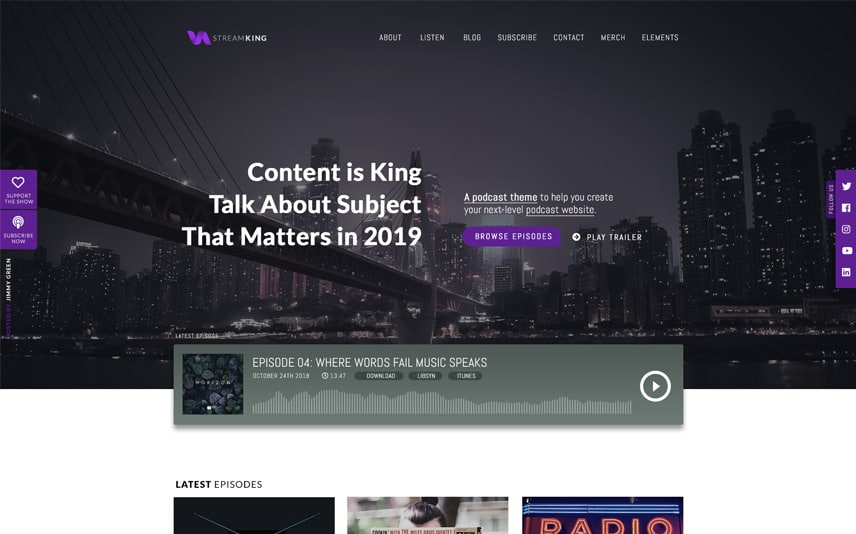 Finally it's here! The new StreamKing™ WP Theme is a game-changer for the DIY podcast websites and online radios. First, SK is a pixel-perfect multi-purpose WordPress Podcast Theme based on Elementor Page Builder. With over 40+ professionally designed page layouts, you can mix and match any pages and blocks to give your website a unique style. Unleash your creativity and start building and grow your online presence for your podcast! – Anything you can think of can be designed with StreamKing™: Either you are a hosting a podcast, running a popular audio streaming show, or building website for friends, you've just found one of the most under-rated WordPress Podcast Theme. It's a true gem.
The design is light and the features impress.
SK is not only a WordPress Podcast Theme but a complete podcast suite. It has all the tools you need to create a professional podcast streaming website with WordPress that will last forever. You can create any kind of audio streaming website with StreamKing™ such as podcast shows, talk shows, podcast networks, online radio website, audio book website, ebook and streaming website, educational and academic podcasts, online audio course, streaming podcast internet site and much more.
Main Features
Visual drag-and-drop page builder powered by Elementor;
Stream any kind of audio content from any streaming platform including Libsyn, Icecast, Stitcher, Shoutcast, Mixcloud, Amazon S3, Podbean, SoundCloud Podcasts, Buzzsprout, Simplecast, Spreaker, Audioboom, etc.
Dynamic Podcast Audio Player;
Continuous Podcast Audio Player (non-stop audio playback when you switch from page to page);
Publish your podcast notes under the podcast player;
Built with SEO in mind and podcast SEO ranking;
Import your existing episodes from any streaming platform in 1-click and keep them synchronized;
Automatically generate a Podcast RSS Feeds that can be used in iTunes, Apple Podcasts, Google Podcasts, Spotify or any Podcast Players;
Option to host your media file directly on your website;
100% translation-ready using WeGlot.com;
100% mobile friendly;
Include 1 year of friendly customer supports and theme updates;
And SO MUCH more.
A Visual Page Builder that just WORKS
Back in the time, we used a software called Dreamweaver to build website. If you wanted to embed images in your website, you had to know how to code HTML. Everything was complex and frustrating. HTML builders got eventually replaced by Drag and Drop Page Builder such as Visual Composer or WPBakery but still, we felt that these web builders were missing something so Elementor Page Builder is born – And it's a game changer for everyone. Either you are creating a very simple podcast website or developing a huge Podcast network, you must understand the value and benefit of Elementor: It's the most easier, flexible and fastest website builder available. You can design any kind of web page layouts visually without a line of code. All our theme demos are now compatible with Elementor Page Builder.
Non-Stop Podcast Player with Playlist
One of the best features of our Podcast WordPress Themes is our continuous sticky audio player. If you haven't noticed yet, try this: Play a podcast and while the episode is playing, switch to another page of the website. Cool Eh!? The audio stream continues to play and does not break when you load another page. In addition, look at the real-time spectrum soundwave analyzer that animates to the sound of your voice. This is very unique to our Sonaar Podcast Templates.
Podcast and Audio Streaming
If you are hosting your podcast on a third party provider such as Libsyn, Icecast, Stitcher, Shoutcast, Mixcloud, Amazon S3, Podbean SoundCloud Podcasts, Buzzsprout, Simplecast, Spreaker, Audioboom, etc. then we've got you cover. With SK, you can continue to use your platform and stream your audio file on your website. This will be transparent to your visitor and you will not have to manage different feeds at different places. With this WordPress Podcast theme, you get the best of both worlds: A professional and authentic podcast website that stays on top of your current podcast provider.
Publish your Podcast Notes
Content is King and StreamKing™ doesn't let you go down. It has everything it takes to help you succeed in the podcast ranking in 2024. Rank your podcast show on Google in the top tiers by organizing and adding textual contents to your episodes. In fact, if you want to rank on Google search, you must have content that Google can actually read. Show notes are the best piece of content to have in your episode pages. SK is SEO-optimized and is waiting for your content.
Podcast Series Manager
Organize your episodes into multiple series and categories with our Podcast Series Manager. Every episodes can be assigned to a specific category so it allows you to have separated RSS feeds to broadcast. This is very useful if you have recorded multiple seasons or have to cover different topics. You can then display any category filters on your podcast website to keep your show organized.
Podcast RSS Feed
If you are know a little bit about podcasting, you know how important is your RSS feed. When you record an episode and upload it to your website, we will automatically update and generate your RSS Feed. All your subscribers will then be notified that a new episode has been published. And this work both ways: If you have a valid RSS feed (you can validate it here), you will be able to import or synchronize all your episodes in 1-click into your website and we will stream them directly from your current podcast provider.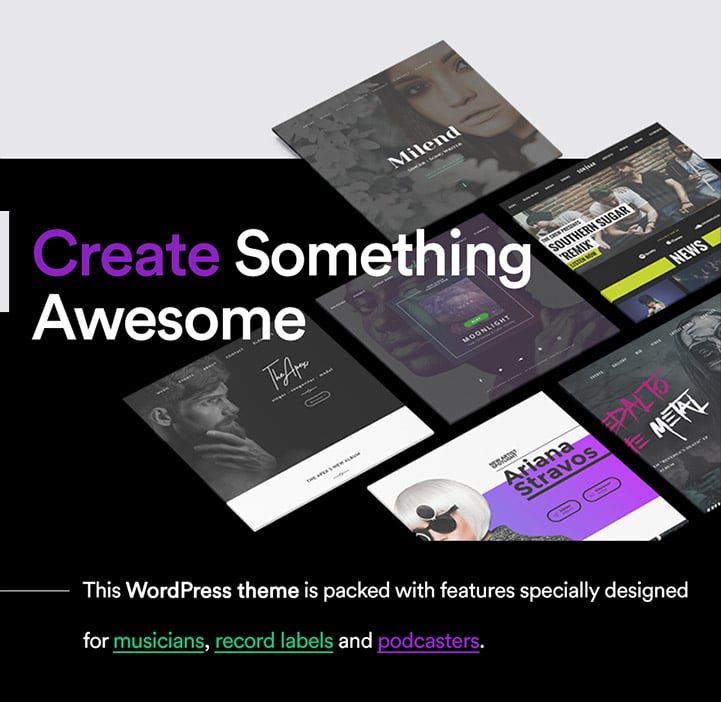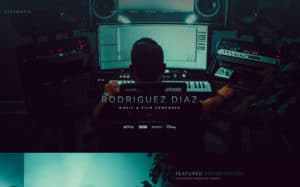 Cinematic
Cinematic™ is the most stunning WordPress theme for film score…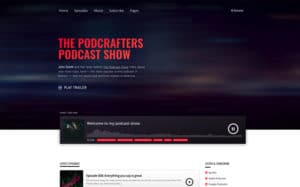 Podcrafter
Podcrafter™ is the Swiss Army Knife for Podcast Websites. It's…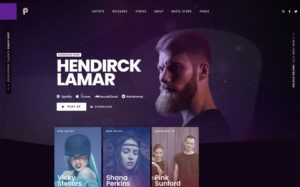 Promote
Here is one of the most complete WordPress theme for…
WordPress Podcast Theme and Audio Streaming
Single Theme

All Themes

Lifetime
StreamKing
WordPress Theme
30% Off for a limited time

We offer a 14-day money back guarantee [ ? ]