There's a hundred Record Label WordPress themes on the market. Which one is the best fit when it comes to creating your website for your label agency? Here's a short-list of the best of the best, cream-of-the-cream WordPress themes for Record Labels and Music Producer 2022.
This collection has a right purpose: Find the best template for your label agency website. We hope that it will save you tons of time and that you will fall in love with one of 'em. Each of these great templates has been selected by our experienced staff. They are the best-seller, mobile-friendly templates for Record Labels exclusively designed for the music industry in 2022.
The best WordPress Themes for Record Labels:
Editor's note: We will continue to update this list of the best themes for Record Labels as more become available.
1. Promote Label WordPress Theme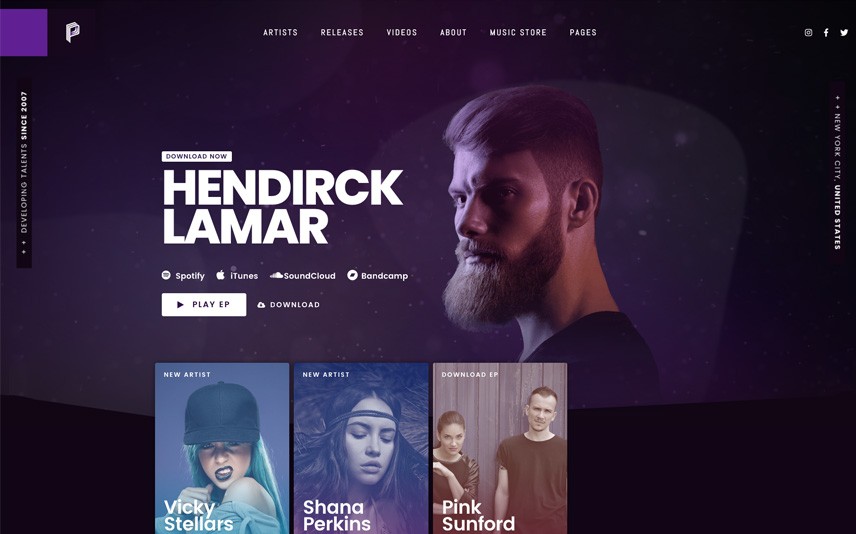 Promote WordPress theme makes our 1st spot as it's simply the most complete and amazing WordPress theme for Record Labels in the industry. It's one of the only templates that are 100% compatible with Elementor Page Builder. Probably because Promote is a new theme (and Elementor has gained a lot of traction in the last months), it allows you to quickly create any page layouts you want by using drag and drop blocks and widgets.
Promote has a lot of features behind the hood so I cannot describe them all right here but the most highlights of this theme is the design templates that you can import in 1-click, the album and music player, the video gallery that can be connected with your YouTube channel or playlists and the sticky audio player (also known as Continuous Audio Player).
Promote is so flexible that you can create any kind of label websites. No matter what, if you manage a single artist or hundreds of artists and releases, Promote has a nice artist management tool to add unlimited artist to your online catalogue. You can then link each of your artists to upcoming events, videos, music albums and even podcast!
Your label probably won't use all the features this theme has but it will be enough to create a very customized label website in a couple of hours. I call this theme a game-changer when the record label industry meets website creation.
Features:
Very nice and customizable pre-designed templates for record labels that you can import in 1-click;
Compatible with the new Elementor and Elementor Pro;
Easy to translate in your own language by using WeGlot.com;
Come with a lot of pre-defined grids to display your artist and release catalogues;
Quick, fast and reliable customer support.
More Info / Download Demo Get Hosting
2. SoundRise Record Label WordPress Theme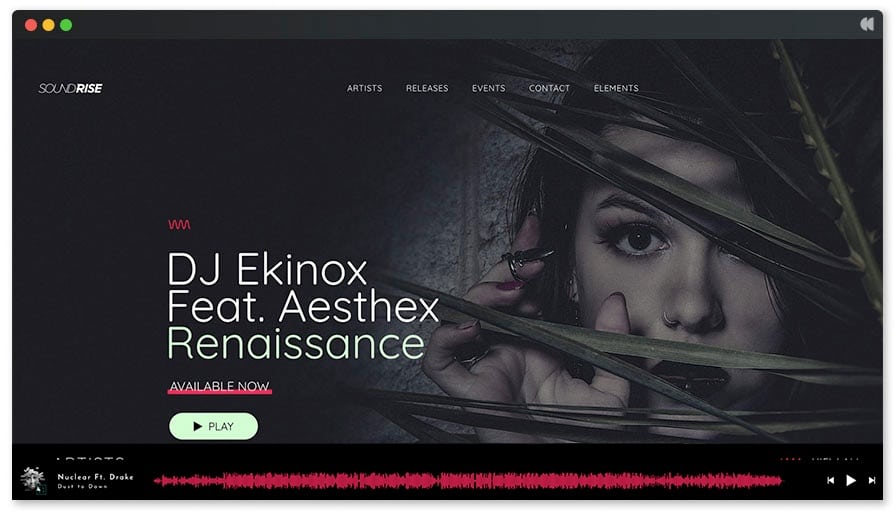 SoundRise comes number 2 in this compilation as it's one of the best WordPress themes for Record Labels. It's a perfect template to make a wonderful website for music producers and artists. You can promote all your music and related stuff like electronic press kits, artist and musician biographies, social media networks and upcoming events. It comes with a lot of custom widgets specifically designed for Visual Composer.
In addition, this theme has been used by major record label agencies and management related companies so it's a very professional template. Thanks to the outstanding continuous music player! The theme comes with 7 theme's demos that can be imported into WordPress with a one-click install setup. Let's have a look at its features.
Features
Include 7 demos with a 'one-click install'. It's the best way to get started.
Support one-page as well as multi-pages structure.
The user can set up their own shop using the most popular eCommerce plugin called WooCommerce.
You can add unlimited artists.
Custom widgets designed exclusively for WPBakery Page Builder.
Users can translate in their own language. It's a translation-ready WP theme!
More Info / Download Demo Get Hosting
3. Sonaar Record Label WordPress Theme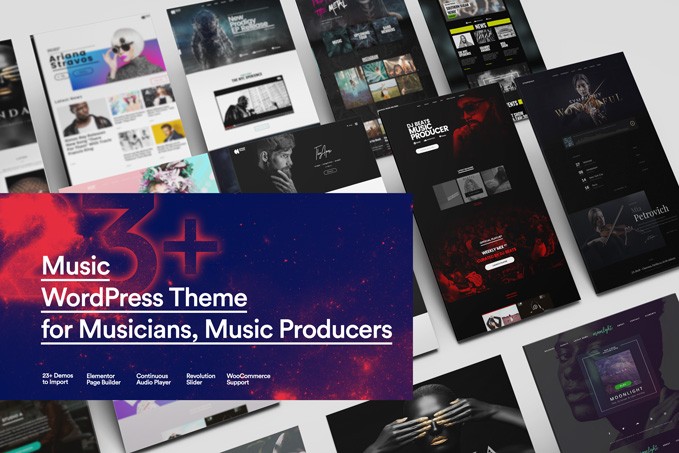 Sonaar is an impressive multi-purpose WordPress themes for Record Labels and Music Producers. The design layouts are impressive and very unique. It includes 23+ demos (and new demos are added almost every 3-4 weeks!). All the theme's demos are built with a single WordPress Theme which give you an idea on how flexible this WordPress Theme for label is. It has several options such as multi-artists manager, playlist custom post types, event listing with an artist filters, etc.
Sonaar WordPress theme is the most flexible and user-friendly theme for your label company you will find on the internet. For only $89, you get all the 23 theme demos that can be imported in 1-click! It includes 1 year of friendly technical support and 1 year of theme updates. Sonaar also offers a lifetime membership for $249. Check out the deals as they often offer discount price on the lifetime membership.
Features:
23 full website demos to choose from;
Elementor Page Builder supported;
Multi-Langual
Multi-Artists
Multi-Events with filters for each of your artists
Unlimited playlists and discography
More Info / Download Demo Get Hosting
4. Magnetic Record Label WordPress Theme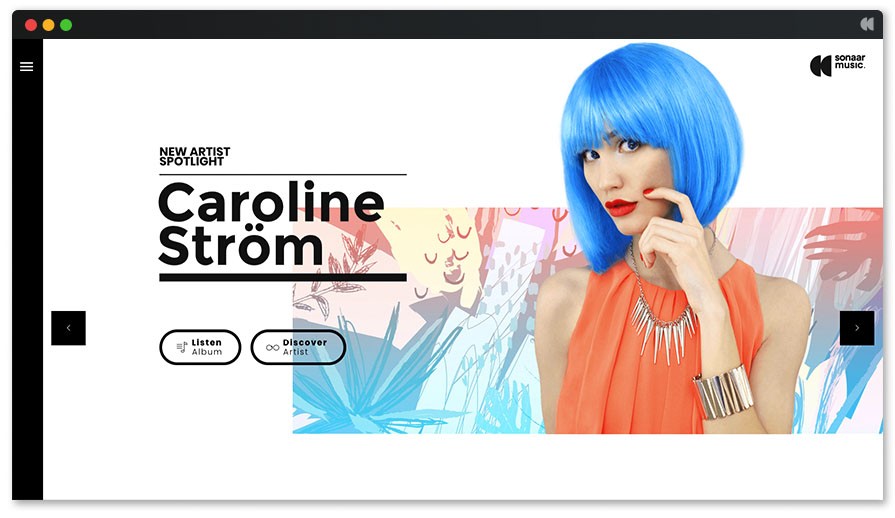 When it's time to promote your record label management firm, Magnetic theme takes first priority. Choose this theme if you want a top-notch theme for WordPress. It's a music template with advanced features crafted for label agencies that are not too familiar with WordPress and coding. In fact, this theme is very easy to use and comes with a drag and drop page builder.
It has a carousel slider that goes full screen with a colourful UI and can display a portfolio of all your artists at the same place. The slider helps you feature your playlists as well as your music that you find the best. Finally, it has several custom post types such as news and blog post, event manager for upcoming events and all the stuff to keep all your fans updated about what's going on in your management company.
Magnetic theme has a sharp optional push menu with a fresh and stylish look that carries the UI experience to a new level. It also has many other features related to design and custom widgets that help it stand apart from the crowd.
Features
The Magnetic theme has a powerful social media tools to promote your artists through social networks.
You can list your blogs, artists, events gallery and videos right on the homepage.
You can showcase unlimited artist profiles
It's retina-ready and translation-ready.
It comes with 3 very popular premium plugins for WordPress
More Info / Download Demo Get Hosting
5. Indigo WordPress Theme for Record Labels
Indigo is also a very good record label theme for those who manage artists and band members. Sound designer, label agencies, and music producers will love this theme because of its effective layout an immersive experience. It's an amazing WP theme that lets you unleash your creative side and make something wonderful.
Indigo theme is a revolution in the world of the music websites niche. it's a colourful theme where you can show off your music, discographies, tour events and artists along with EPs, playlists, full albums and mix compilations. Hence, the admin can change the colors, fonts typography. Everything is managed through the admin panel!
Features
Highly Customizable.
Intuitive interface for admin to customize the template to fit your needs.
Custom post types available for landing pages, artist bios, events, videos and playlists.
Music, MP3 files, Albums and videos can be managed and customized with your own color schemes.
More than 100 built-in pre-designed blocks can be used to create your label website.
You can translate this theme in any language
More Info / Download Demo Get Hosting
6. Phase Music & Record Label WP Theme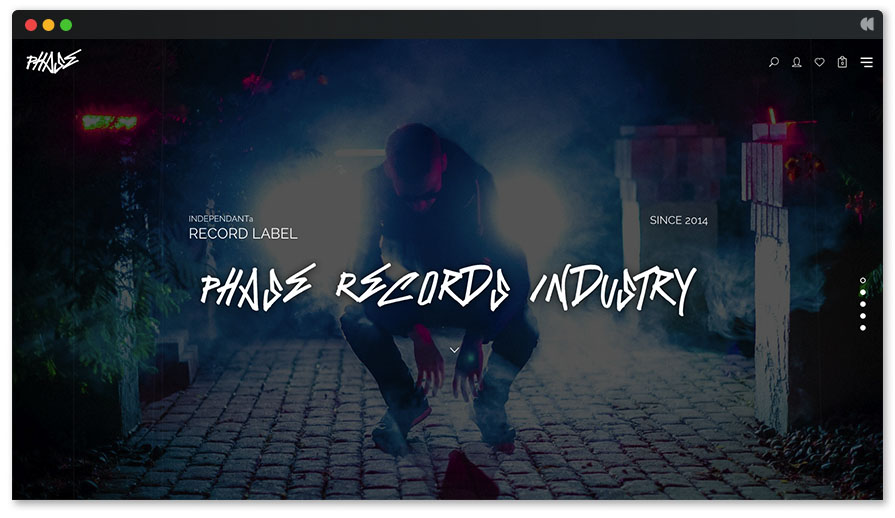 Phase is a one of top-seller WordPress themes for record labels and everyone who is working in the music industry, band promoters and music managers. You can feature discography, blog, online shop, videos and custom post type for artists. You will also find a classic design with a super performance for SEO and multi-purpose flexibility. It has many options for customization for advanced users who want to make a feature-rich website. Phase comes with Visual Composer WP plugin and Slider Revolution. They are included for free within this theme (like almost all themes on this collection).
Features
Unique and one of the best design on the market.
Customizable page layouts.
Large collection of more than 150+ built-in templates.
Single click installable demo content.
Includes 8+ pre-made slider.
Advanced functionality to manage your playlist.
More Info / Download Demo Get Hosting
7. Croma Musician and Record Label WordPress Theme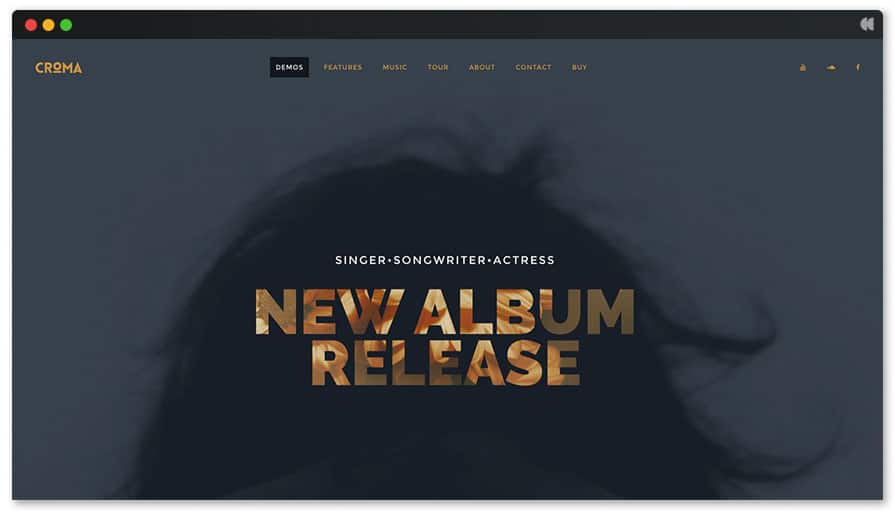 Croma Music Band WordPress Theme is one of the most popular themes in the Music and Bands category on ThemeForest.net because of its music player that let the music play while visitors are going through other sections of your website. It is fully responsive and comes with an ajax audio music player. Croma is here to impress. Thanks to their elite music player which gives your unbeatable UX. This multi-purpose theme for WordPress has been specially designed for artists in the music niche.
Croma has standout features that take the attention of every visitor on your website. The homepage and all the secondary page layouts are specifically designed for musical website. It comes with 9 layouts with stunning quality at no extra cost. Also, an interesting point is that Croma has been used by a variety of Top Artists such as Lionel Richie and Arctic Monkeys France!
Features
Floating music player that stays put in the footer of your website.
Fit for all-music genre websites.
Multiple ways to show your artwork and music.
Easy to share your playlists and blog posts on social media platforms.
Helps you to monetize your website with WooCommerce plugin (Woo-Commerce compatible)
More Info / Download Demo Get Hosting
8. Rebellion Musician Template for WordPress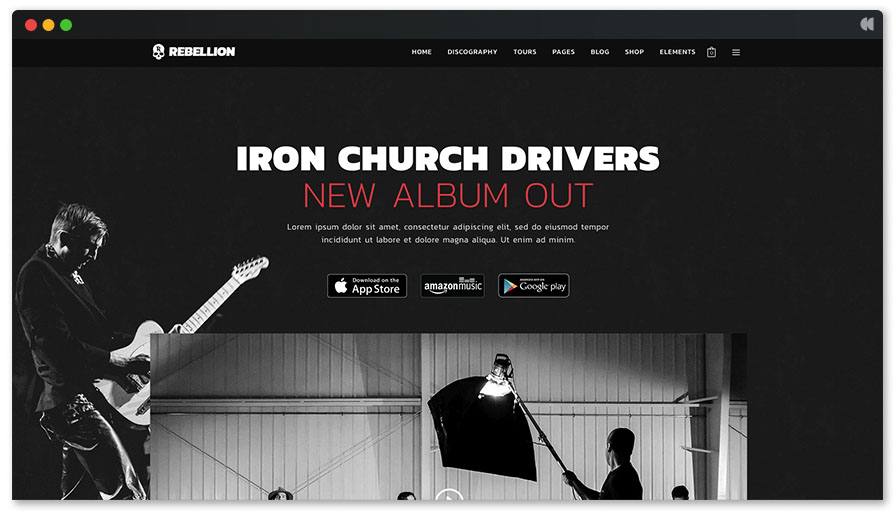 This template comes in this premium category because of the design of the big banner hero which is built with Revolution Slider. First of all, your artists, photos and videos can be displayed with this slider. In addition, musicians can use background videos to stand their music videos apart. It helps to distinguish your UX from ordinary sites and stand your record label site different from the crowd.
Hence, this theme is highly customizable and includes many custom post types. It has artists CPT which help you to manage all your artists' pages. Events CPT can be used to manage all the upcoming events and other events created by your on the website. You can manage your albums, songs, recordings and photos videos etc using this record label website.
Features
Powerful and easy to customize the interface for Admin.
Single click demo content import feature.
Beautiful templates for inner pages.
Large shortcodes collection for customization purpose.
Availability of Custom Post Type for events and albums
More Info / Download Demo Get Hosting
9. FWRD Music Band WordPress Theme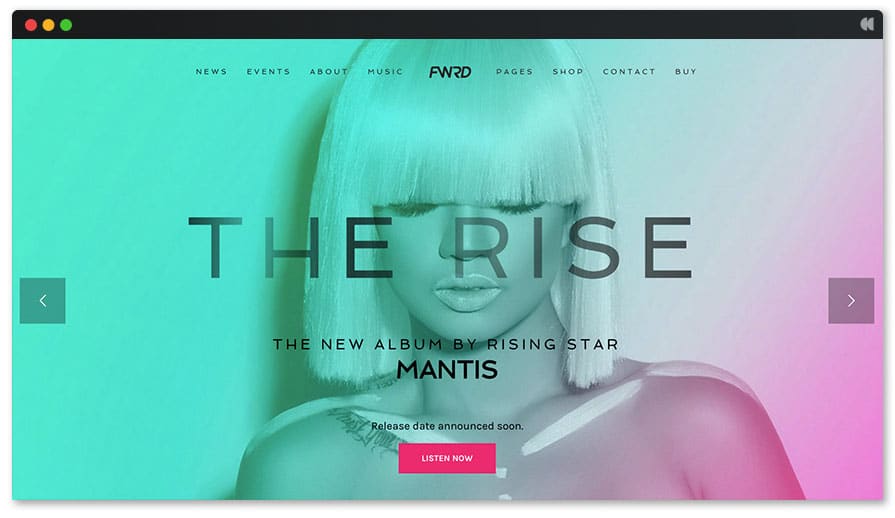 FWRD is not a specific Record Label theme but has so many features and functionalities that it made our list. They are among the best-rated themes in the Music and Bands category. No matter if you are a music artist, music producer or promoter, FWRD fits all your needs. Let's have look at its detail features that makes it suitable for music related niche of WordPress themes.
Additionally, you can use unlimited Google fonts with multiple sizes. It also has hot links and more social links can be added with icons and text at the top of your menu. FWRD comes with 5 very unique theme's demo that can be imported in one-click. Their most popular theme's demo is without a doubt The Voice which has been downloaded more than 3450 times!
Features
2 different menu types: 3D Menu and Classic Menu.
Multiple landing pages with single page layouts
Ability to add social media, icons and other links.
Multiple backgrounds with an opaque option as well.
Sticky menu and Sticky header options.
You can have a full-width video background.
You can use parallax and video row backgrounds on any pages!
More Info / Download Demo Get Hosting
10. Kentha Music WordPress Theme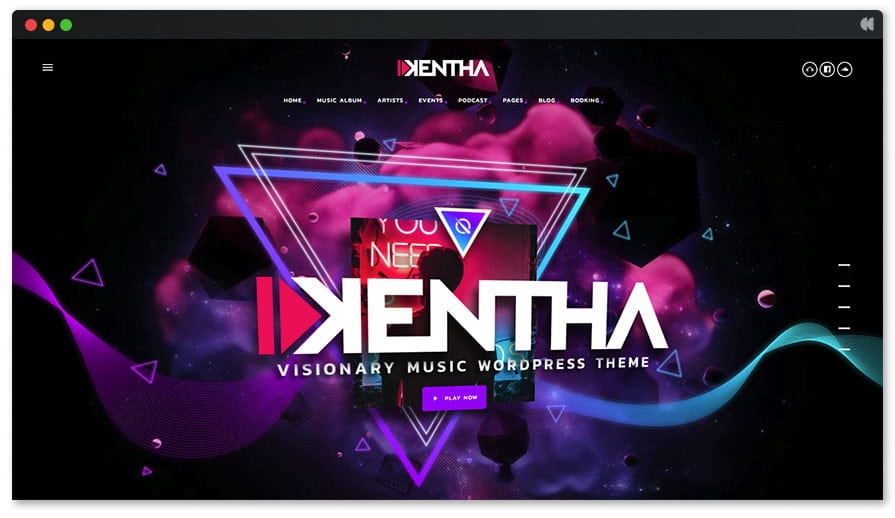 Kentha WP theme has the endless potential for podcaster and everyone who needs a non-stop music player with a live audio visualizer. It's an ultimate WordPress theme with fully responsive UI. Kentha is a suitable music theme for singers, musicians, DJ, bands, clubs, music labels etc. No coding skills required to use this theme. You can make your merch store using this theme and it is also compatible with WooCommerce.
First of all, it has a built-in real-time visualizer for music which makes the UX very beautiful. It has a repository of large shortcodes collection that helps you customize our site easily. Drag and drop feature alongside visualizer and easy to add content with SHAZAM.
Finally, this theme lets visitor download their favorite music MP3 and provides album discographies with direct links to their SoundCloud store. All essentials of music social networks are built-in like Beatport or MixCloud. If you like stylish theme designs, Kentha is the way to go.
Features
Clean UI with easy to navigate interface.
You can easily fast forward the songs, reverse or skip.
Easy to search profile of an artist.
Soundcloud and Mixcloud can directly be embedded into this theme.
More Info / Download Demo Get Hosting
11. TheCrew Music Band & Record Label WordPress Theme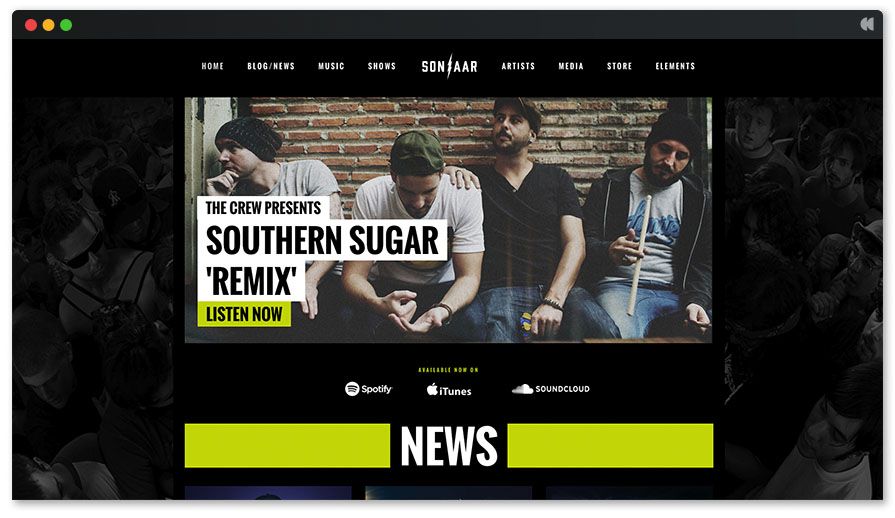 This theme is specially designed for Music Bands, bloggers who write about music and other similar niches. TheCrew theme is an outstanding template to feature your band, albums, and events. Big and bold headers along with stylish typographies and video backgrounds with parallax images set you apart.
The template can be customized with any embed Google fonts. It is also possible to remove or add blocks of text or images from the homepage to match the look and feel of your music brand, logo and colors. You will love the efficient design with a trendy look and feel. It's a nice touch for record labels. Therefore, you can buy this WordPress record label theme to customize in no time your website which will be user-friendly, retina-ready and compatible across all browsers.
Therefore, it's also possible to create full-width banners to promote your music. Video backgrounds in the header are also among its top liked features.
Features
Full support of video backgrounds.
Visual Composer, Essential Grids and Revolution Slider plugins are included.
You can create unlimited page layouts!
Blocks of images and text can be added or removed from the homepage (or on any pages)
Stylish typography and parallax images.
Easy to use and simple navigation.
More Info / Download Demo Get Hosting
12. OnAir2 Online Radio WordPress Theme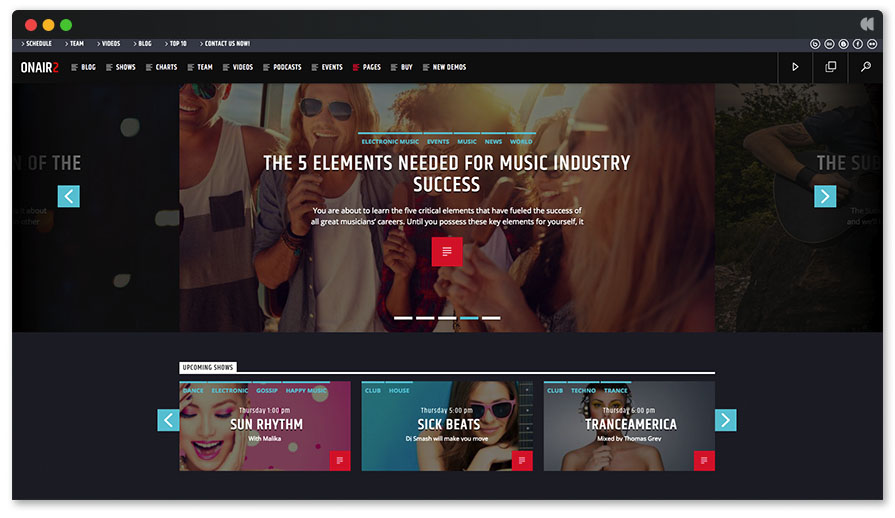 OnAir2 is made especially for websites hosting online radio. This theme is an all-in-one radio and label template with a built-in music player. You can list your shows, podcasts, and music schedules, donations, events and more. This theme also works with all the major streaming services like Shoutcast, Radio.co, Icecast and many more. You can get free lifetime updates with standard license only.
In addition, you can get 6 months of support from their helpdesk. It contains the main theme, bundle license and free of cost premium plug-in named WpBakery as well as a child theme. To conclude, it also contains Slider Revolution, and other custom plugins. OnAir2 can be customized without any coding knowledge and if not satisfied you can get all your money back within no time.
Features
Best Online Radio Theme so far.
Support for donation plug-in.
Compatible with WooCommerce.
Inbuilt player, demos, and banners.
Compatible with the GDPR features of WordPress.
More Info / Download Demo Get Hosting
13. Remix WordPress Theme for Record Labels
Remix WP Theme is made up of 12 grid system which is fully responsive. Both one-page theme and multipage layout can be used and Ajax page loading is supported for smooth navigation.
Most importantly, the website comes equipped with Visual Composer drag and drop functionality and page builder. In addition to the page builder, it includes also Master Slider and Revolution Slider plugin. Master Slider is a premium plug-in which might have cost extra money if not included with this. Finally, Remix theme supports Woocommerce and BBpress plug-in and available with full width or boxed layout.
Features
Support for BBpress plug-in and WooCommerce.
Comes with the boxed layout and full width as well.
Preloaded with 17 widgets and 7 plug-ins.
More Info / Download Demo Get Hosting
14. Sonik Music Theme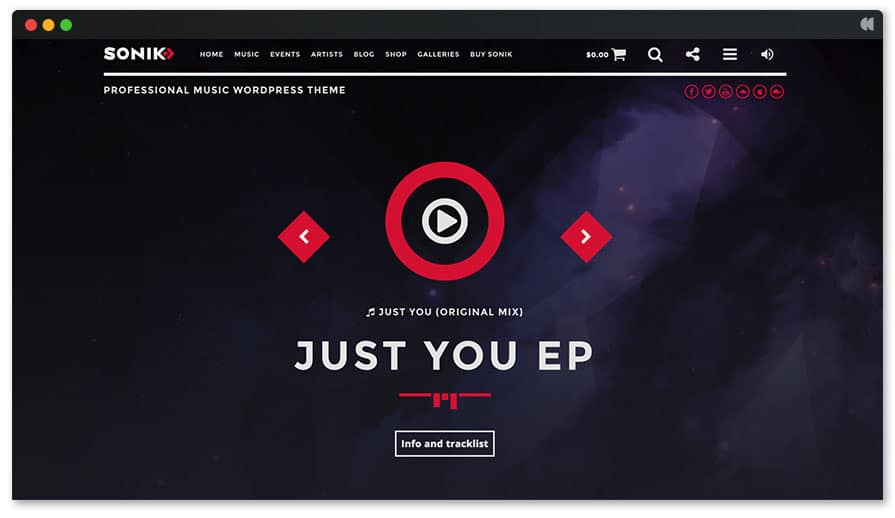 Sonik is a fully responsive theme that can be used for record label agency, music producers and artists. It's a powerful WordPress theme with inbuilt tools that you need to make a professional looking site. It has custom post types that allow the user to create more than 12 types of content related to music.
Besides that, Sonik is a top choice of those artists who want to run an amazing label website.
Features
Elegant design with responsive layout.
Customizable color and backgrounds
Separate widgets for header and footer.
Sticky headers and menu
Boxed layout with a full-width option.
More Info / Download Demo Get Hosting
Conclusion
Therefore we have tried our best to put it all together as per the trends in the music industry but still if you could not find the right fit WordPress themes for record labels project on this collection you might want to check our other theme collections. As we keep adding more themes on a weekly basis, don't forget to come back. We are grateful for all your faith in us and thanks for browsing.
</h3id="sonaar">