You are probably wondering what is the best Podcast WordPress themes available in 2022? After several research to aim for the best web template for podcasting, I have decided to bring you a collection of the best WordPress themes for Podcasters. All these themes are ready-to-use and will save you a lot of time if you want to create a podcast website. Every website shall be different, yet authentic to your podcast show, but one element remains essential when choosing a good Podcast WordPress theme: The audio player and your RSS Feed.
Thus, you won't find any multi-purpose WordPress themes in this collection because they are often too much generic. The WordPress podcast theme you gonna choose shall provides you with all the features your need to promote your podcast the right way.
If you want to create the best podcast website you ever made, then you are in the right place.
Secondly, if you want your website stands out on the net, you have no choice but to settle for the best podcast WordPress theme that will supports you and your listeners. If you're looking forward to podcasting with WordPress, this comprehensive list must feature something that meets your needs and podcast requirements. That being said, while coming up with the enumerations below, I ensured to only include WP themes that help you engage your listeners and allows you to build an outstanding website for your show.
The best Podcast WordPress Themes:
Editor's note: We will continue to update this list of the best podcast WordPress themes as more become available.
1. Podcrafter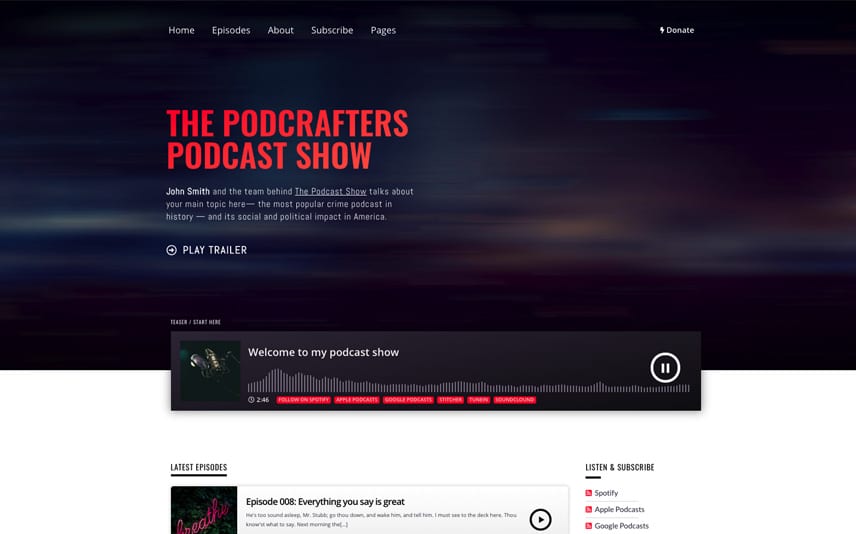 We'll cut to the chase: Podcrafter is the best WordPress Podcast Theme money can buy. It's also the most user-friendly podcast theme for WordPress available on the market as we speak. Why? Simply because it has all the features any serious podcaster would ask to make a professional Podcast website. No fla-fla!
Podcrafter is more than a Podcast web template. It's also a framework that you can use to build any kind of Podcast Website. While you can import the podcrafter theme demo (literally as-is), as a starting point, you will soon be surprised by all the customization tools the template offers. You can literally remove, add, modify any widgets on any pages including the homepage, in minutes! Thanks to the awesome page builder included (Which is Elementor free edition). By using the drag and drop web builder, you will be able to add new modules like a video or image gallery, a contact form where your audience (or sponsor!) can reach you, a list of your most recent podcasts, shows and episodes, links to any of your podcast platforms, etc. You-can-do-whatever-you-want!
Also, we've already guessed that most of your audience visit your website on mobile phones, right? Podcrafter has your back as its fully responsive and mobile-friendly so you user can literally bring your podcast episodes on-the-go. You can also specify what assets to show or to hide on your page dependently from which devices your visitor comes from (mobile, tablet, desktop). This can be very useful if you want a very lightweight mobile layout compared to the desktop version.
And now the icing on the cake! You will love how COOL is the podcast player that stays sticky to the footer. Listen to a podcast episode and continue browsing a website without the audio stops is a pretty amazing feature that every Podcast website should have. Podcrafter is one of the only few Podcast themes with persistent audio player on the market.
Work best for:
Any series-podcast types
Any seasonal-podcast types
Multi-show podcast networks
Beginner to expert WordPress users
Features Highlights:
Import your existing audio episodes from any RSS feed in 1-click.
Stream your audio file directly from current podcast hosting, or host your audio file directly on your web hosting.
Persistent audio player included (Sticky and Continuous Audio Player)
The audio player can show real-time soundwave. This is a nice-to-have feature for podcast websites.
Ajax page loading
Can be translated in any language in just a few minutes (using WeGlot)
You can change everything from fonts, colors, images, widgets, header, menu types, footer, grids, etc.
Mobile-Friendly.
More Info / Download Demo Get Hosting
2. StreamKing – WordPress Podcast Theme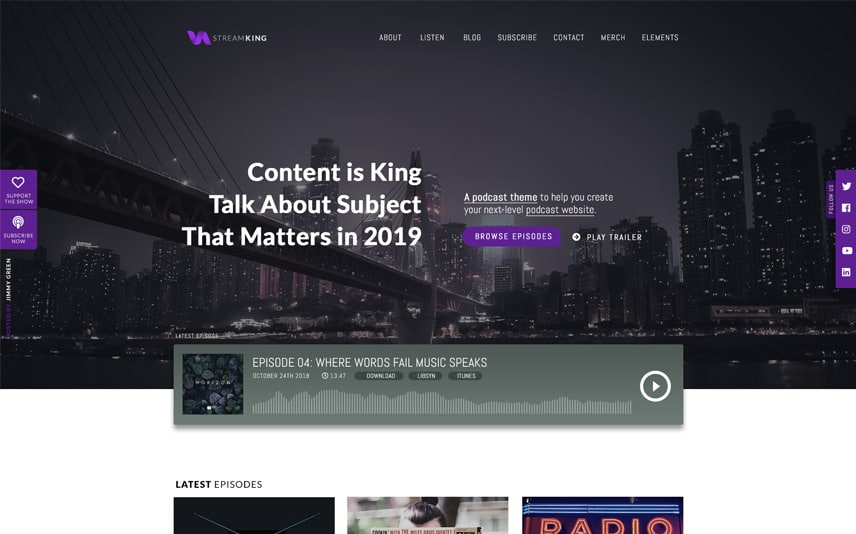 StreamKing™ has been released a couple days ago and is already on our top-chart. SK is considered one of the best WordPress Podcast Theme with audio streaming ever built and this is for a lot of reasons. First, this theme is 100% compatible with Elementor Page Builder. I remember when we used old and slow and complex page builders such as WPBakery to build websites. Time has changed so much and this theme is about to revolution the DIY Podcast website industry. With SK, you can create your own podcast website about any topics you can think of. By using this two-point-O drag & drop page builder, you can achieve complex and very personalized layouts without a single line of HTML code. It also comes with a continuous podcast player with stunning real-time spectrum analyzer.
With StreamKing™ you can stream audio files that is hosted on many podcast platform such as Podbean, Libsyn, Icecast for Online Radios, Shoutcast, SoundCloud Podcast, etc. Streaming will happen directly in the incredible audio player with soundwave and spectrum analyzer which also support non-stop audio playback when you browse from page to page. See by yourself. This theme is the most complete Podcast web templates ever built. If you are running a Podcast show online, a web radio or even if you provide and sell audio books, this Audio Streaming WordPress theme should be a the top of your list. One of the biggest advantage to use WordPress for your website is that you can host media files with unlimited storage at very low cost. You can check the price for file hosted podcasts directly with your hosting company. Some web hosting even start with free hosting plan.
Best Suitable for:
Podcast Hosts;
Podcast Networks and Podcast Directory;
Radio Station;
Any podcast shows;
Intermediate WordPress Users.
Unique Features:
Option to host your own audio file or stream audio from an external podcast provider;
Import your RSS Feed with 1-click and keep it sync with your third-party media host;
Stunning Streaming Audio Player with real-time spectrum analyzer;
Compatible with any media host;
Continuous Streaming Player;
You can use any embeddable players;
Built a complete podcast network website;
Sell your audio book with WooCommerce or Easy Digital Download;
Mobile-friendly;
Easy to use;
Excellent price for all the features you get;
More Info / Download Demo Get Hosting
3. Podcastr Podcast WordPress Theme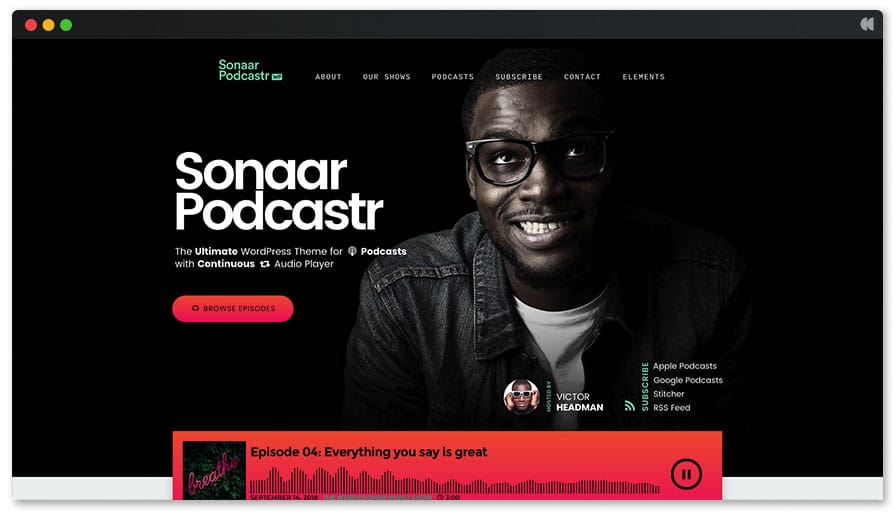 True to its name, Podcastr qualifies to be in the top choice when it comes to the best podcast WordPress themes. It is a fully responsive, ultra-flexible, and clean podcast theme which supports both audio and video blog posts. One of the great feature you will surely love with this template is the podcast audio player with amazing real-time soundwave graphic. It's very impressive! It also allows you to showcase your featured episode on your site's front page as well as an episode's grid that will play with a single click. The theme is easy-to-use and straight-to-the-point for anyone looking to create a simple podcast website.
In addition, Podcastr also includes all the tools you may need to create the most professional podcast website. WordPress will generate your RSS feed that automatically validates for iTunes, Apple Podcasts, Google Podcasts and Spotify. You'll have ultimate control over page layouts, features, and the design of your site. In my perception, this is the best podcast WordPress theme ever created yet! It's very similar to Podcast Web app or any app you can download on Apple Store or Google Play Store. Your website will literally become a "Podcast reader"…except it's gonna be your website too!
Best Suitable for:
Sports, Psychology and Social Podcasts;
Can be customized for any types of Podcast Shows;
Can be customized for any type of Podcast Networks;
Beginner WordPress Users.
Features of Podcastr
Comes with the best audio player for podcast which includes live visualizer and continuous playback;
Generate your RSS feed, iTunes feeds, Spotify RSS feed, and much more automatically for you so you will be ready to promote your podcast on the major platform;
Allows you to share your episodes on social networks such as Twitter and Facebook;
One-click import your current RSS feed and episodes straight into WordPress;
Translation ready which implies that you can design your website in any language;
Ship with Elementor Page Builder — The most popular drag and drop page builder on the planet;
Fully responsive and SEO optimized. It's fully compatible with Yoast SEO as well.
More Info / Download Demo Get Hosting
4. SpeakerPress Best Podcast WordPress Theme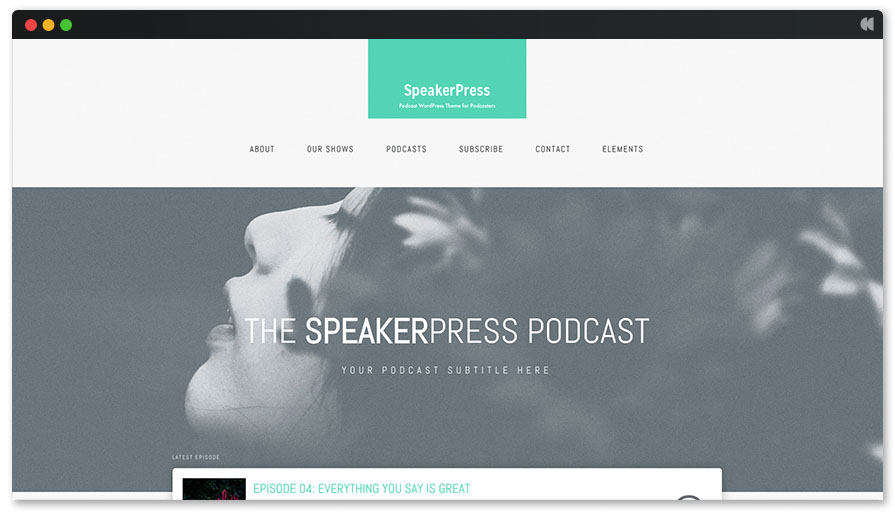 SpeakerPress is a sharp, modern and easy-to-use responsive WordPress theme for Audio Podcasters and video bloggers. This theme will work straight out-of-the-box. Speaker Press is a sophisticated WP Theme for Podcasting that will save you tons of time when create your podcast website. No coding experience or skill needed as it comes with one the best web builder editor called Elementor Page Builder. The white-ish and pale theme colour palette bring a smooth and pleasant look and feel to the interface and its navigation.
Thanks to all the well-structured theme options (and there is a lot!) to make this podcast template very flexible. It can be used with a wide range of podcast oriented website such as fashion podcast blog, podcast about luxury, religion podcasts or spiritual podcast website. That being said, if you have a religion and spirituality-based podcasts, make sure to put this PodCast WordPress theme at the top of your list.
Main features of SpeakerPress
Very flexible and easy-to-use;
Drag and Drop page builder;
Designed and developed by the well-reputed theme shop Sonaar Music known for their WordPress Music Themes;
RSS Feed imported tool included. No need to import your existing episode one by one;
Includes 3 excellent WordPress plugins: Elementor Page Builder (free version), Revolution Slider and Essential Grid
More Info / Download Demo Get Hosting
5. CastoPress Best Podcast WordPress Theme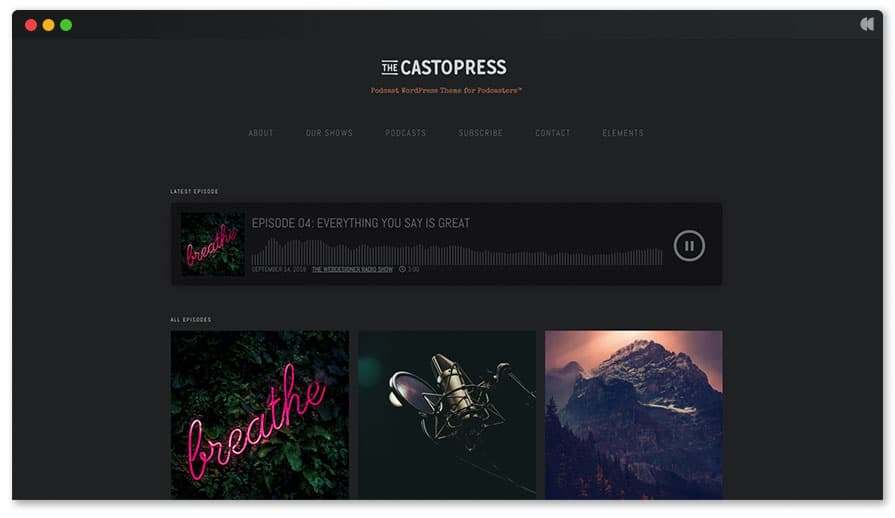 CastoPress is the next generation of WordPress Podcast Theme. Seriously, you've never seen a podcast template that look as amazing as this one. The theme is intuitive and includes all the necessary assets and options that will help you create a magnificent podcast website. CastoPress allows you to create podcast websites for a wide range of podcast shows: True-Crime Podcast, Science and technology blog, podcast about podcasting and marketing, corporate podcast blog, book and movies review podcasts as well as travel and general podcast blogging.
Furthermore, this WordPress Podcast theme is fully integrated with WooCommerce to sell merch and monetize your podcast, Elementor page builder plugin, custom widgets, and parallax image banners with smooth transition fx. Boost your listener's experience with its outstanding custom audio player that will play your episodes continuously across all your webpages.
Sneak Peek of CastoPress
Astonish Design and layouts;
Continuous AJAX podcast player;
Elementor Drag and Drop Page Builder included;
Import your episode into WordPress automatically;
Generate an RSS feed for you to use on any Podcast readers, including iTunes and Google Podcasts
Upload audio files directly into WordPress;
Use streaming link to keep your podcast on your third party platform and media host.
WordPress allows you to monetize your podcast with banner ad and dynamic ad platform;
More Info / Download Demo Get Hosting
6. Outlander Best Podcast WordPress Theme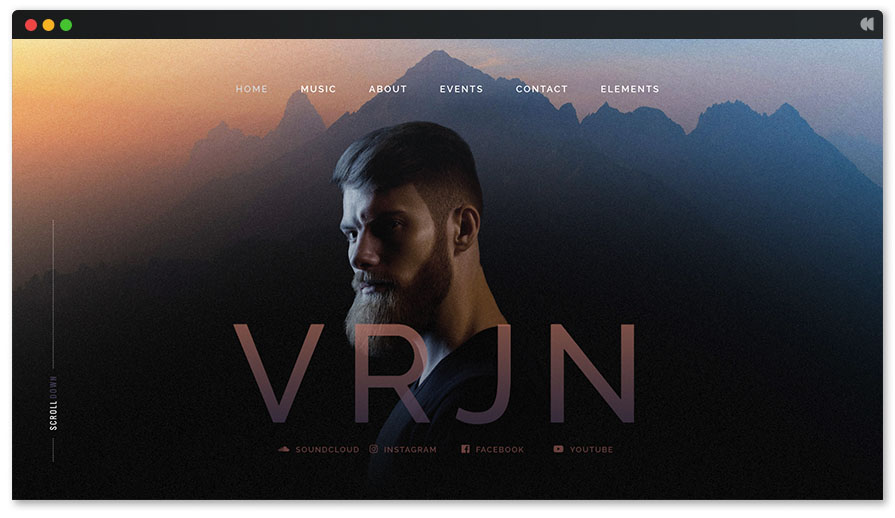 This theme never stops to amaze me. Whether you're looking for the best WordPress theme for DJ's, Musicians, Music Bands, or Podcasters, Outlander will always pop up at the top with its killer features: It's specially designed for the music and podcast industry.
Outlander WP theme is jam-packed with many features and options specifically designed to help podcasters create their dream site! You can craft a simple one-page podcast website or use the theme to create an astounding cornerstone podcast network! It is the most multilingual, yet flexible WordPress theme for music podcasting in the industry at the moment.
Features of Outlander
Amazing audio player with continuous playback;
Includes a drag and drop page builder called Elementor;
Generate your RSS feed or use an existing feed;
Compatible with WooCommerce to sell your podcast merch;
SEO optimized to help your show ranks on search engines;
Translation ready;
Supports all major WP plugins.
More Info / Download Demo Get Hosting
7. Mandala Best Podcast WordPress Theme
Mandala is among the latest music and podcast WordPress themes designed by Sonaar.io. The smart minds behind this masterpiece attractively designed it while keeping in mind all possible features and functionalities that may be required by a seasoned podcaster.
Mandala retails with lots of theme options and is very easy to configure & customize. This means you can easily give your personal touch to this theme and grant your website the look you desire. Better yet, it is greatly optimized for both SEO and Page Speed.
Features of Mandala
Podcast player with ajax continuous player;
Episode Custom Post type;
Podast Show Custom Post type;
Music and Playlist Custom Post Type;
Videos Custom Post Type;
Speed optimized;
Includes multiple header styles and layouts;
Lots of custom widgets to help you design your site;
Automatic updates available to ensure your podcast site keeps running smoothly.
More Info / Download Demo Get Hosting
8. Castilo Podcast WordPress Theme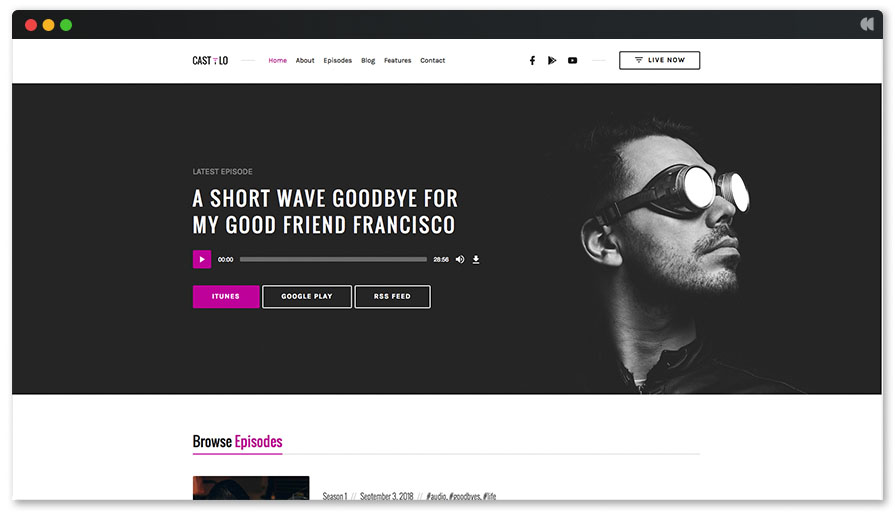 If you intend to share your site's content with your fans and followers on social networks, I bet there isn't a better theme option than Castilo. This theme comes with all functionalities required to create a prolific podcast site that connects you with your followers on all social networks.
Even better, Castilo is among those podcast WordPress themes that support all latest podcasting technologies available on the net. Therefore, without doubt, these features imply that Castilo will make your site stand out by all means.
Features of Castilo
You can import and synch podcast episodes you had posted on a different publisher;
Podcast RSS Feed;
Includes a 24/7 customer support service to help you out if you have any questions;
Translation ready;
Allows you to host audio files on your web server;
Fully responsive and mobile friendly.
More Info / Download Demo Get Hosting
9. Podcaster WordPress Theme for Podcasters
Another theme on our comprehensive list of the best podcast WordPress themes is podcaster. This is a gorgeous podcast theme specifically designed for the showbiz industry. Regardless of your podcast's topic and niche, Podcaster will do just the trick.
Besides, podcaster also comes with two distinct kinds of templates for you to choose from; Light and Dark. In addition to that, parallax scrolling also provides you the opportunity to create that great first impression among your fans and followers.
Features of Podcaster
Fully responsive and mobile friendly;
Retina ready;
Light and dark templates available;
Support BluBrry PowerPress & Seriously Simple Podcasting, the most popular WordPress plugins for podcasting;
Comes with parallax scrolling.
More Info / Download Demo Get Hosting
10. Audioatro Best Podcast WordPress Theme
Another we have listed in this enumeration is the latest theme by this themeforest author: SmartlyThemes. Audioatro is one of those fully responsive WordPress themes that are minimal in design but also boast all essential functionalities.
Audioatro retails with popular podcasting plugins, one click demo installation, and also supports Visual Composer drag and drop page builder.
This theme will allows you to create your podcast website a breeze. Better yet, it also permits you to see the changes you make in real time by using Visual Composer front-end page editor.
Moreover, Audioatro includes unlimited color schemes, podcast host pages, a streaming audio player, multiple layout choices, and many other awesome features you cannot afford to miss.
Features of Audioatro
User-friendly and easy to customize;
Speed and SEO optimized;
Well documented and regularly updated to ensure your site keeps running smoothly;
Includes a streaming audio player;
Fully responsive and will display well on screens of different sizes.
More Info / Download Demo Get Hosting
11. Bolden
Bolden is another elegant podcast WordPress theme that retails with exquisite options and features. This theme consists of the slider option which permits you to place your latest podcast episodes on the forefront of your site making them the center of attention. Not just that. With Bolden, you can also keep your fans and followers posted on upcoming episodes.
You can integrate a shop or store on your Bolden theme because it is WooCommerce compatible. Furthermore, it comes with several podcast custom widgets and posts types. If you choose this theme, you can rest assured that it won't take you more than an hour or two to create your site because Bolden retails with everything required to design a website easily.
Features of Bolden
Streaming audio player;
Great for Podcast blog site;
Woocommerce compatible;
Translation ready;
SEO and Speed optimized;
Regularly updated to keep your site running smoothly.
More Info / Download Demo Get Hosting
12. Viseo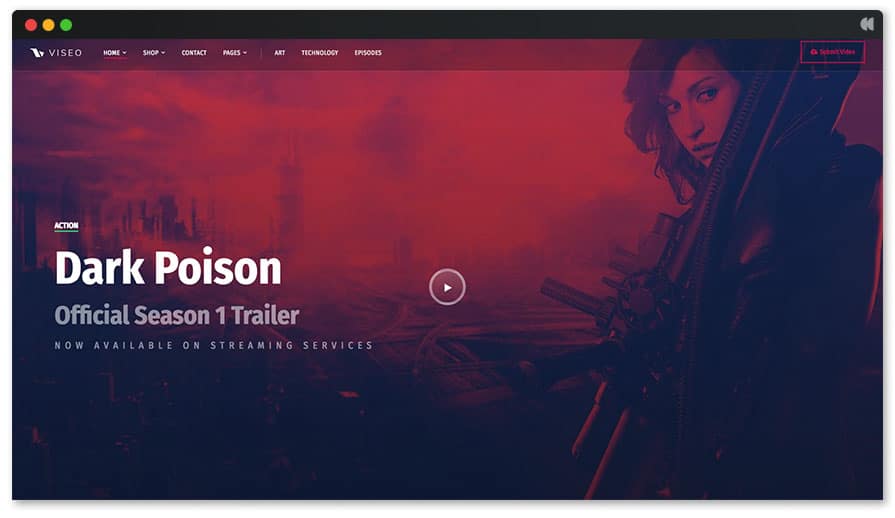 Viseo is yet another one of the best podcast WordPress themes designed by Progression themes. This product helps you take your WordPress podcast site to a whole new level; thanks to its unending list of hard to beat features and functionalities.
Viseo also comes with the drag and drop page builder. Thanks to this add-on, even individuals with minimal or no website coding skills can quickly create an astounding WordPress site using VISEO.
Features of Viseo
Photoshop files included;
Comes with unlimited color options;
Video and audio premium player and slider included;
Retails with demo content;
Features the drag and drop page builder.
More Info / Download Demo Get Hosting
13. Castpod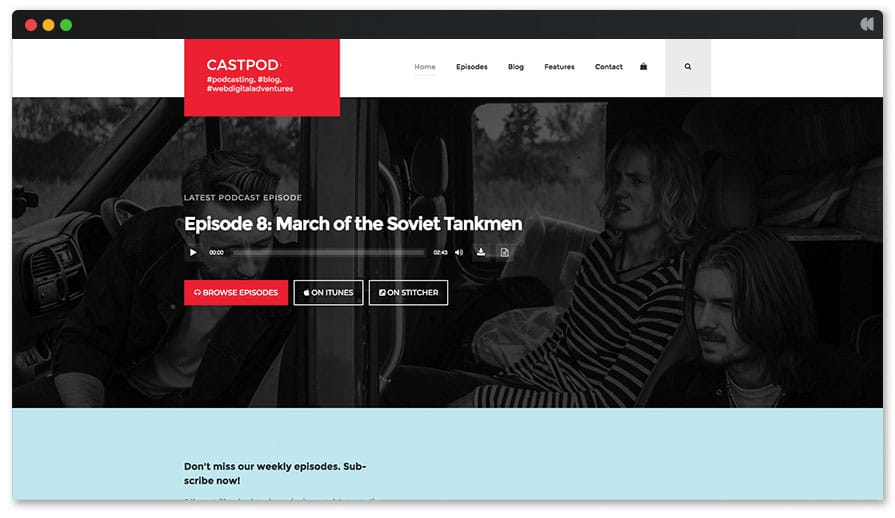 Last, but by no means the least, we have Castpod; a mobile-friendly and retina ready WordPress podcast theme. Castpod's attractive design, cutting-edge functionalities, along with the incorporation of a premium streaming audio player makes it the best choice for podcasters as well as musicians.
This theme makes it easy for podcast site owners to manage all aspects of their websites. Better yet, this theme is designed mobile 1st; which implies that it looks great on all browsers and devices of different screen sizes.
Features of Castpod
Fully responsive and mobile friendly;
Regularly updated by its developers;
Speed and SEO optimized;
User-friendly;
Includes custom headers and customizable footer text.
More Info / Download Demo Get Hosting
Conclusion
With everything said in mind, all these best podcast WordPress themes will help you to create your own podcast website unquestionably a no-brainer. You can also read more about why you should have your own podcast website if you're not convinced or ready yet.
That said, in case none of these themes met your needs and requirements, do not bounce just yet because I have a additional collections for you. Here are several music related WordPress Themes that will undoubtedly blow your mind.
I hope you can now create your own professional podcasting website. If you have questions, feel free to post it below. Thank you for browsing!