Here is a collection of the best Musician WordPress Themes in 2022. Before you set out on a quest of getting your 1st music awards, you will need to have an award-winning site. That is the first step toward getting heard and seen. In fact, it is the rock-solid foundation you need as you set out for the career of your dreams.
Having a well-optimized site implies you can promote your content to a target audience beyond your geo-boundaries. Your fans will be able to watch your videos, listen to your songs, learn about your new projects, contact you if they have any questions, share your new releases on social media, and even keep track of your concert calendar.
Would you like to create a musician website that allows all of this? If yes, then with these WordPress music blog themes, you will be able to do it blazing fast and with minimum investment. Whether you are an avid musician and would like to share your music or just an aspiring artist waiting for the right moment to become the next Rolling Stone, feel welcome to check out this curated selection.
Better yet, These WordPress themes for musicians will transform your business website into a nice looking band or music oriented website boasting all the features needed by bands and musicians. Now, make sure you use the right tools! This will make a big difference between a great music website and a mediocre one. I cannot say enough. The best website builder for musicians is Elementor Page Builder. Make sure to choose a theme that is compatible to it.
The best WordPress themes for Musicians:
Editor's note: We will continue to update this list of the best WordPress themes for musicians as more become available.
1. Moonlight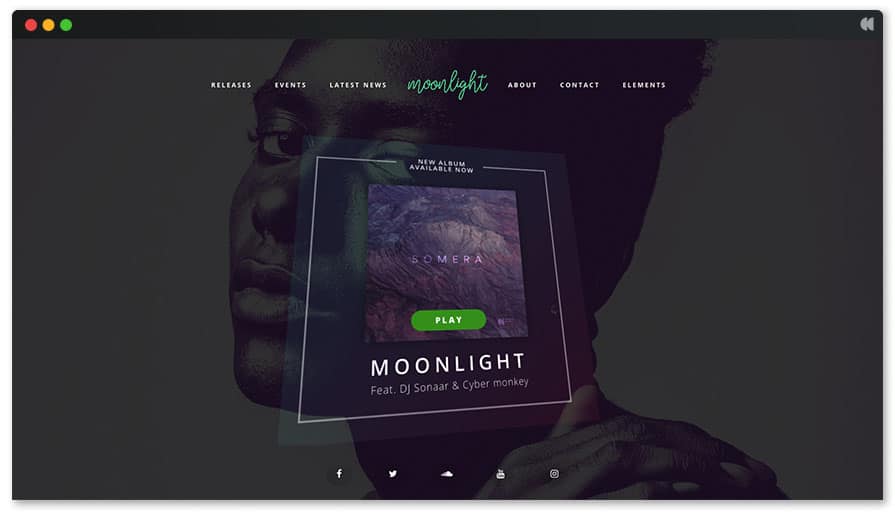 This astounding WordPress theme for musicians is among the best starting points for beginning singers, bands, and DJs. A WordPress website designed on this theme will showcase to your fans and followers that you possess a big perspective and won't stop until you have reached the top.
It simply sends all these messages. If I didn't know any better, I'd say this is the most simple, but still elegant, theme I have ever seen for artists. If you choose the theme, your best images will be displayed above the fold (i.e., on the upper part of your website) such that every visitor will be able to see who you are at first sight.
Navigating the theme is instinctively understandable. As the user, you will find everything you are interested in with ease. The music player is also already built in, implying that your fans now have the opportunity to listen to your songs as they read more about you and your story.
Features of Moonlight
Multi-color schemes are available

This theme has a whole lot of features you will need to display your content; including, galleries, events, the slider, and anything music related. These features will make your site look great.

Boasts the single click installation and configuration.

has a testimonial section

Comes with a visually appealing call to action button which is more than sufficient when it comes to encouraging your visitors to take specific actions.
More Info / Download Demo Get Hosting
2. Apex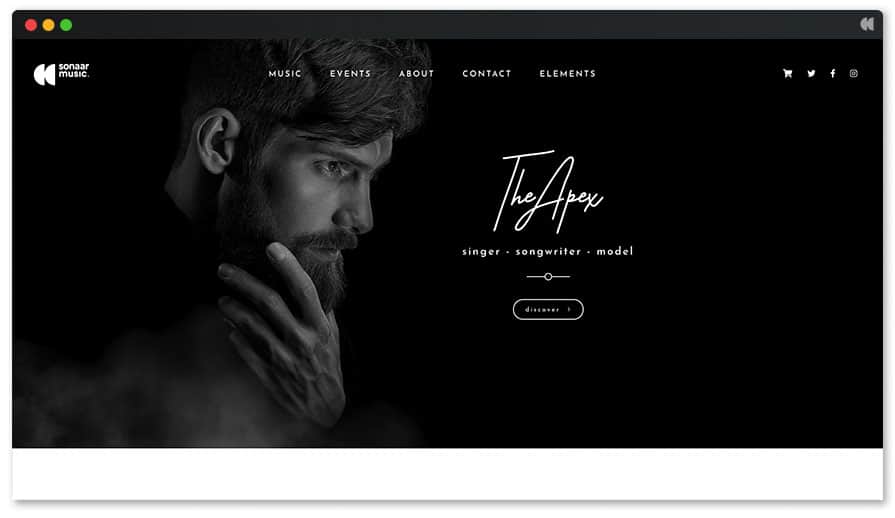 Apex is a beautiful WordPress theme designed for DJs, musicians, and bands. This premium theme has a unique yet straightforward theme design, and also features a distinctive split-screen layout with your content on the right and prominent branding on the left.
Some of the prime benefits and features of Apex include custom fonts, customizations options, super-fast page loading, seamless site-wide audio playback, and gigs management. We will list more features on the "features" section.
Besides the massive no of features and benefits, the one thing that everyone seems to love about Apex is its stylish and modern design. If you choose this theme, you can rest assured that your website will have the right feel and look to help you take your music career to its next level.
Features of Apex
Has a gigs management section

If you would like your fans to download your music from your page, you can easily incorporate the download link into this WordPress theme

Has a mobile-friendly and responsive design

Has a blog page where you can share news regarding your new projects or future shows and tours

Comes with professionally designed social icons

Has a contact form

Multiple widgets and templates for you to choose form
More Info / Download Demo Get Hosting
3. Sonaar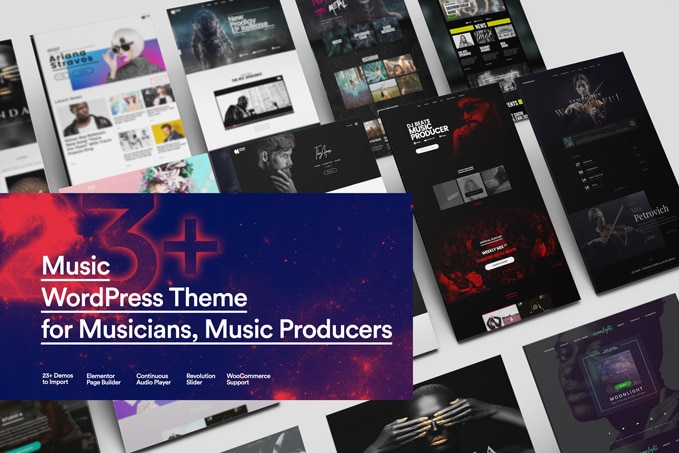 Sonaar is one of the best Musician WordPress themes ever made. It comes with more than 23 unique demos that you can import in 1-click and start customizing your musician website right away! It's very flexible and you can build any kind of musician websites. It's 100% compatible with Elementor Page Builder, Revolution Slider and Essential Grid by Theme Punch.
This Musician WordPress theme support a continuous audio player which allows your fans to listen to your music without any break when a new page is loaded. This is a very impressive and unique feature that is available with all the theme's demo. It also supports audio streaming, video backgrounds and every basic features you can think of. I can't remember 1 single thing you CANNOT do with this theme. Highly-recommended
Features:
23 Demos that can be imported in 1-click;
Very flexible. You can build almost ANY kind of website with Sonaar;
Translation-ready and mobile-friendly;
Continuous Audio Streaming Player;
Support YouTube, Vimeo and HTML5 player;
Built for Musician by Musicians;
One of the Most Popular Musician WP theme on the market.
More Info / Download Demo Get Hosting
4. Mandala
I can assure that Mandala WordPress theme will bring you, as an artist, a step closer to the world's top performance stages. Furthermore, if you are looking for the best disco club musical WordPress theme, then you have still got to check out this theme.
It is a perfect fit for Artists, DJs, bands, music clubs, and of course musicians.
The unconventional placement of info sections, social buttons, and menu panel dramatically contributes to the appeal of this WordPress theme. Remember, it is also optimized for search engine optimization and comes with custom post types such as FAQ, Portfolio, and Our Team.
You can even create an event schedule, start a blog for fans and followers interested in your story, and install the Google map widget.
Features of Mandala
Exceptional full-width template

Has a tap to call function which allows your visitors to call you directly using your website itself

Comes with a straightforward and effective navigation bar

Social icons have been already integrated into the theme

Has different color schemes to choose from

Strong theme customization panel and soothing fonts

Several musician templates, such as blog and contact us, have been incorporated into the theme
More Info / Download Demo Get Hosting
5. Milend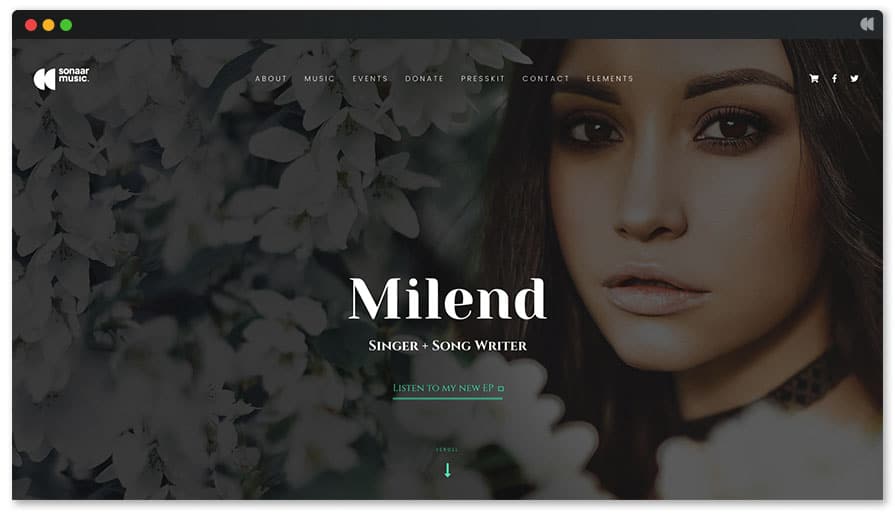 This is one of the most elegant WordPress themes for musicians I have ever seen. Black & white color schemes, sophisticated fonts, and a monochromatic photo make this theme look very beautiful and up to date.
Animation effects of the slider will hypnotize your visitors with graceful and slow movements. Every section of this WordPress musician theme is placed on the homepage in a gallery-type of way. This way, every visitor that comes to your site will quickly find everything he or she wants in the blink of an eye.
This template also boasts an online store functionality, so that you will be at liberty to sell your products and services on your site.
Features of Milend
Has a simple yet attractive blog layout where you can place your images, albums and articles easily

Uploading your icons and logos has been made easier with this theme

You can easily include a call to action that compels fans into taking specific actions

Has a responsive layout and 24/7 support team available.
More Info / Download Demo Get Hosting
6. Croma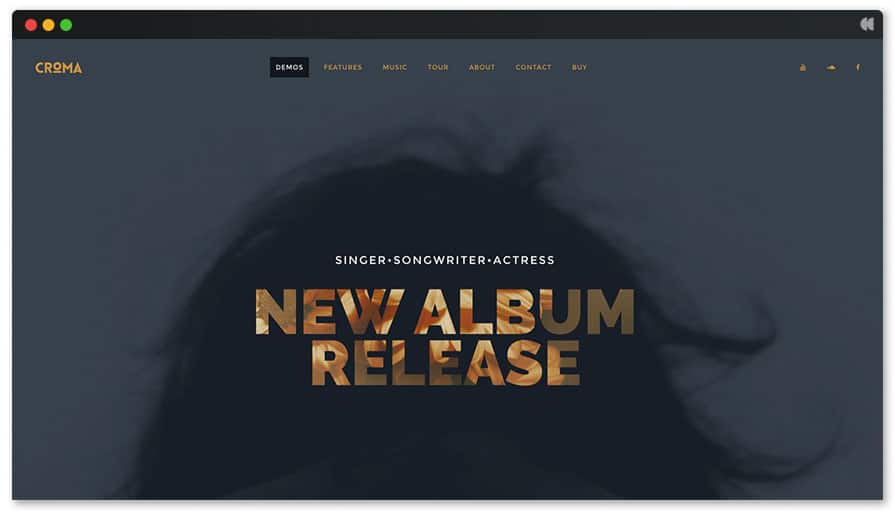 Croma is a versatile and gorgeous WordPress theme. It is suitable for bands, music producers, music labels, musician, and singers who are on a quest of creating a stunning WordPress website that they can use to promote themselves.
This theme has been designed using AJAX and comes bearing music playback functionality. Croma also boasts a heap of distinct design options and every functionality you will need in a musician website; including the ability to display upcoming Dj events/album events and sell merchandise or products (such as snapbacks and t-shirts) with WooCommerce.
Better yet, if you chose this theme, you will be able to have individual artist pages with discographies, events galleries, featured songs, bio, videos, and a continuous audio player for music albums and tracks.
Features of Croma
You can design the theme to have an introductory video in the slider of the theme's homepage. This helps you reflect the core of your artistry and get more engagements from your visitors.

You can display your latest video collection on your homepage. This further brings in more sales since it provides more coverage

You can activate a subscription form. This helps you create your mailing list and also gets you more and more subscriptions.

Also has an event search option which enables a user to search an even by typing in the relevant keywords or event dates.

Comes with a single event listing section. This is designed for showcasing your best content.

You can customize the theme in such a way that users can review your music content.
More Info / Download Demo Get Hosting
7. FWRD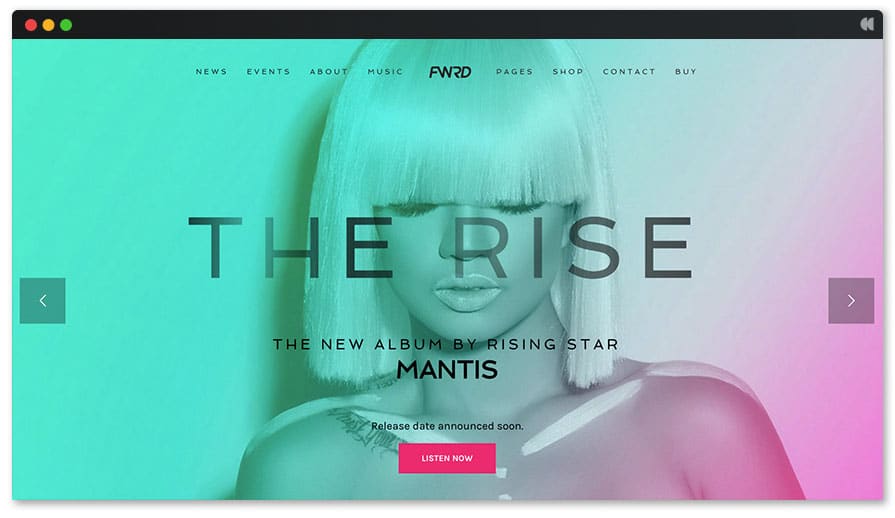 I can confidently attest that FWRD is one of the best Dj, artist, and music WordPress themes available in the marketplace today. This theme is designed with a mesmerizing menu dimension, a powerful mp3 player for your own music samples, multiple page/header designs, and a full-featured events page where you can showcase where you will be playing next and when.
The other reason you will fall in love with this theme is the gorgeous photo gallery which makes it extremely easy for you to show off your performances.
Features of FWRD
Comes with video embedding and uploading features

Will support all major audio and video formats

Has an inbuilt registration module

You can activate the subscription box which will allow you to collect more emails

 

from your fans

Is 100 percent responsive and also boasts support social share
More Info / Download Demo Get Hosting
8. Noizzy
Noizzy is a dream music theme for any talented singer, band, musician or DJ who wants to stand out from the crowd. Designed to perfection, this modern theme is an ideal toolkit both for WordPress newbies and experts since it combines outstanding ease of use and endless features.
Noizzy is packed with a large number of layouts you can use to showcase your albums, announce tour dates or share relevant details about upcoming singles. For instance, there is a stunning set of discography layouts that allow you to include links to sale pages, add song lyrics, reviews, and more. You can also highlight certain albums, since Noizzy offers striking album pages where you can enable purchases, feature songs, or include cover art. Apart from this, you will be able to embed your playlists and songs from some of the world's most popular music platforms and share them with your fans. There is even a blog layout called Soundcloud that lets you include your songs or albums into your stories.
When we talk about Noizzy, we have to mention its flexible music player which you can easily add to any section of your site. Additionally, this theme integrates versatile tour templates, blog layouts, and shop functionalities. Whether you want to add your tour dates, sell tickets or write detailed tour reports – Noizzy has you covered.
Features of Noizzy:
Striking album pages
Discography layouts
Album player
Blog, tour, and shop templates
More Info / Download Demo Get Hosting
9. Lush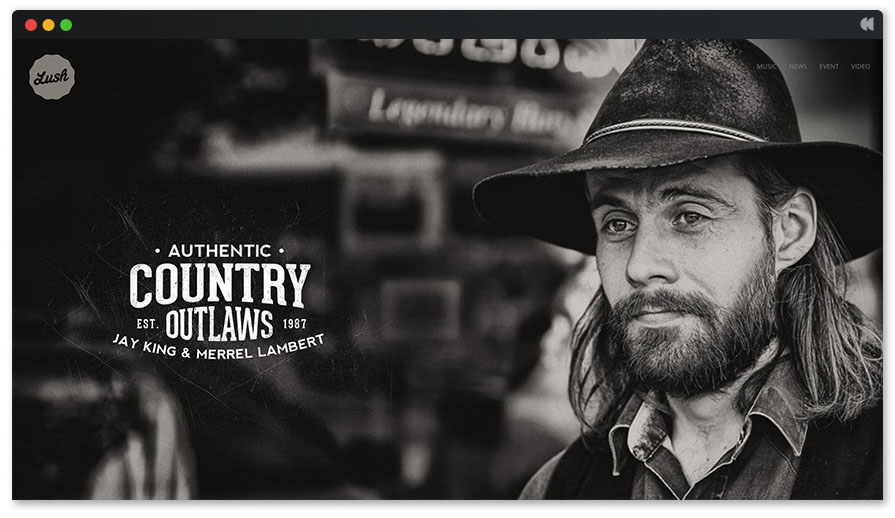 This WordPress theme was designed specifically for a talented and charismatic performer who would like to exhibit his or her astounding personality on the web.
The stylish color scheme and thought out layout structure amalgamated with great functionality makes this theme the ultimate choice if you would like to display demo music, video library, and upcoming job gigs.
Lush is also great if you would like to publish live concert videos, details regarding your upcoming tours, photo sessions, or blogs so that your fans, as well as the entire creative community, could stay posted on your newest achievements.
I have been choosing WordPress themes for singers and musicians for a long time. Better yet I have spent lots of time reviewing plenty of WordPress themes. This means I can confidently say that Lush won't disappoint.
Features of Lush
You can easily embed your own video on the homepage with the help of the video box fit on the theme.

You can also display recent blog posts on the homepage

Advanced styling options are also available

Boasts SEO features which would be helpful when it comes to increasing your websites rank on search engines such as GOOGLE.

Mobile compatible and many color options available

Has an impressive header section

Highly responsive theme

It's effortless to navigate and configure on the admin panel
More Info / Download Demo Get Hosting
10. Dezibel
Are you an avid artist? Would you like to become the next Beatles and stand a chance to gather large crowds at your shows with your record label? If you answered yes to any of these questions, then Dezibel is the best WordPress theme option for you.
Why? You may ask. Well, for starters, Dezibel comes featuring a top slider animation, drop down menus, and different information sections (just to name but a few features offered by the Theme.)
Dezibel also comes boasting an inbuilt music player and video integration.  You can now treat your followers and music fans with video streaming and fresh audio demos. The theme also features testimonials and a contact form template in order to help you reach out to your target audience and still hear their feedback at the same time.
Making good use of this theme can have a profound advantage on your artistic career. Even better, using the theme is very easy since all setup and installation instructions are included in the package.
Just go grant it a try and see your career skyrocket in the music industry.
Features of Dezibel
Highly responsive. Just like the Croma WordPress theme, Dezibel also retails with the responsive design which works well on all devices.

Compatible with every web browser

Comes boasting multiple color options. This is adequate to capture the attention of everyone who visits your website.

Greater header section. This holds text slider where you can quickly add banners.

Has an attractive opt-in form which allows your followers and fans to contact you directly.

Allows you to add unlimited beautiful photographs of our events and concerts to your website.
More Info / Download Demo Get Hosting
11. Kentha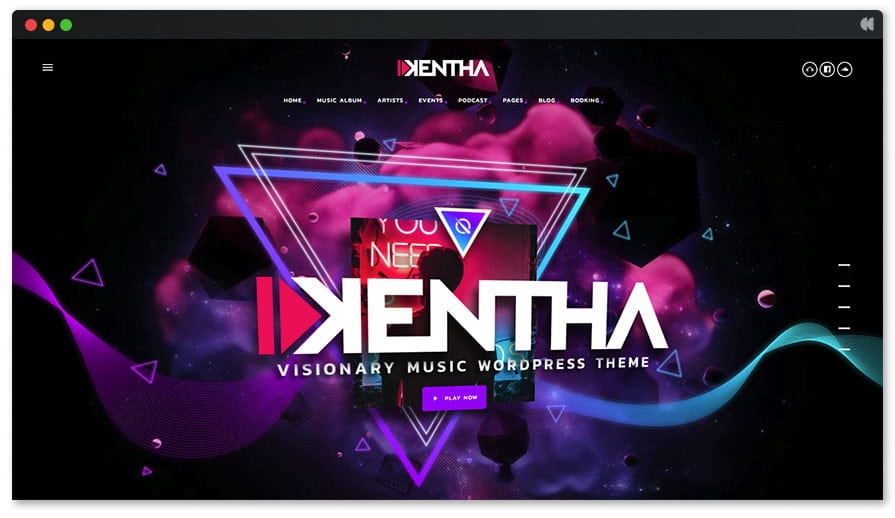 Kentha is one of the few modern Musician WordPress themes featuring a myriad of useful video and audio related features. Among the long list of 26 website demos, I can guarantee that you will surely find a design that has been tailored to your needs and requirements.
If this is not the case, I still have an alternative for you. The customization and configuration tools on this WordPress theme are on hand and will help you make the necessary changes to the appearance of the theme until it meets your needs and requirements. Impressive right?
Here is a point you should note before we go any further. Most, if not all, WordPress themes I will review on this blog post are easy to customize until they meet your needs. In fact, that was one of the main features I was looking at while coming up with this detailed review post.
Features of Kentha
It is extremely easy to use the theme's admin panel

Has multiple color skins

Has been designed with 26 distinct website demos

Has sections for options such as blog and testimonials.

Has inbuilt default website templates including, but not limited to, blog, footer widgets, fexible header, event manager, and contact full width

Using the theme, you can create event galleries and configure time, location, and dates.

Fully compatible with different devices and all web browsers.
More Info / Download Demo Get Hosting
 12. IronBand
IronBand is a band's and DJ's WordPress theme with a distinct look. Regardless of your needs, I can guarantee that you will love this theme. However, as with every item out there in the marketplace, a product will never please everyone.
That said, in case the IronBand demo mode does not meet your branding needs and requirements, you can quickly customize the multiple aspects of this theme. Do not worry; the theme is easy to customize and configure; for experts as well as beginner WordPress users.
Through this themes control panel, you can easily personalize the layout settings, colors, fonts, and much more.
Features of the IronBand
Boasts the ability to display images of any size on the home page (full-width slider.)

Has an appealing gallery.

Also comes with a call for reservation button at the top right corner of the website on the homepage

Also as sections, you can use to showcase your testimonials and client comments

Call to action button has also been incorporated.

The option to integrate Google map on the contact page

Four different templates are available; contact, blog, full width, and default.
Do not fail to grant this hard to beat theme a try.
More Info / Download Demo Get Hosting
13. Lucille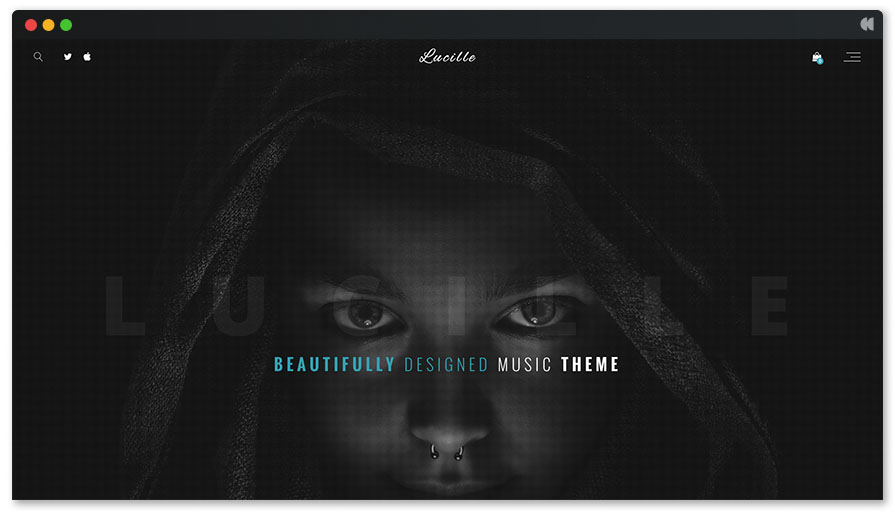 All WordPress themes for Musicians should be bright and attractive, and so is Lucille. This WordPress theme displays everything you could need, and all this has been created in saturated colors that are hard to ignore.
Better yet, the theme is well coded and corresponds with all HTML-5 standards.  There is also a blog template so that you will be able to share your new projects and upcoming gigs with your fans and followers.
If any problem with the theme occurs, you can quickly reach friendly tech support via chats and tickets then they'll quickly help you find a solution to the problem.
Features of Lucille
Responsive theme on all browsers

Easy to customize and configure

Comes with exclusive sliders that make your Musical website even more eye catchy

Reaches optimal speed. If you code the theme cleanly, it will make your site load remarkably faster compared to all your competitors.

Allows you to place Adsense ads on your website and earn some extra cash.
More Info / Download Demo Get Hosting
14. Aqura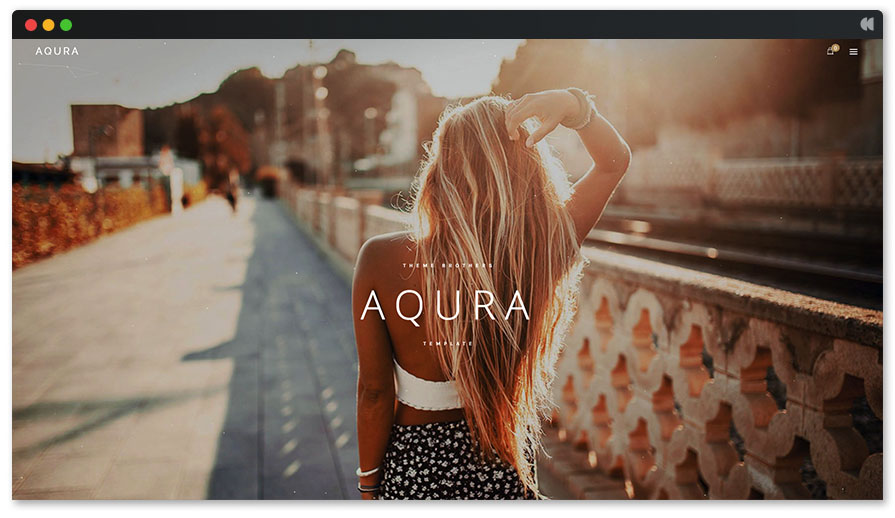 Like the best WordPress themes for Musicians, Aqura grants you multiple website demos and page layouts to choose from. You will also get access to the premium visual composer page builder plugin (drag and drop feature), which grants you even more creative options.
With this theme, you can display content from your social networks, share your latest music, and also add an online store to your business website.
Features of Aqura
Has a built-in contact form so your fans can reach you easily

You can embed videos to the homepage or any other page

Easily to customize and configure

SEO supplemented to help your site rank higher

Has a beautifully styled gallery which provides the perfect exposure
More Info / Download Demo Get Hosting
15. The Pasquales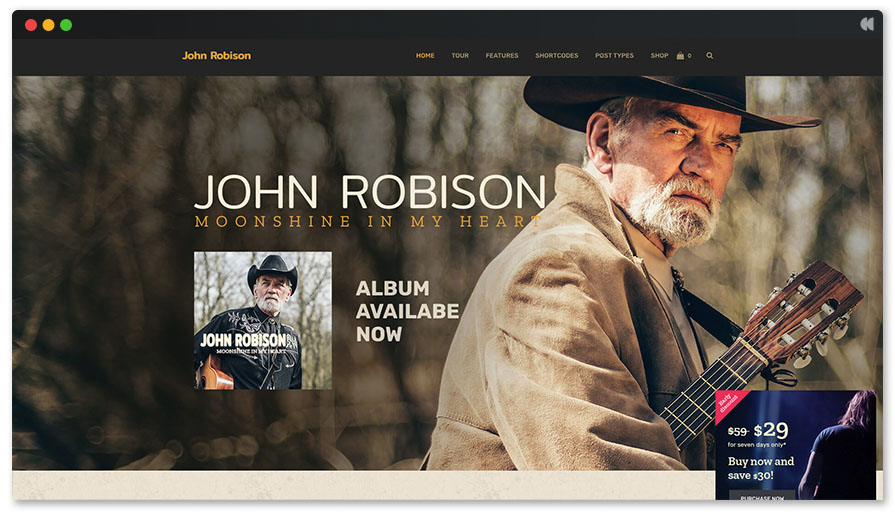 If you are on a quest of finding a content-rich layout, this WordPress musician theme is the perfect option for you. Its front page will easily display everything, from popular articles and news to videos and testimonials.
Give the theme is WPML ready, you can smoothly run a multilingual site that will attract music fans from all around the world. Just like other themes we have reviewed on this post, you can customize The Pasquales to meet your needs and requirements if the original layout does not impress you.
Features of The Pasquales
Has a child theme included

CSS and HTML has been enabled

Has an inbuilt contact form you can use to connect with fans via Email

Cross browser compatible, which implies it will look fabulous on every device

It's easy to navigate and configure the theme on the Admin panel
More Info / Download Demo Get Hosting
16. Mixone
Mixone is all about the music. Even though this masterpiece was released a couple of years ago, it has maintained its up to date and modern look thanks to the regular improvements and updates executed by its developers.
Sharing podcasts, tracks, and mixes on this theme is pretty straightforward. Thanks to the integrated content management system and audio player, you will not face any trouble when it comes to getting your music out there and keeping all your files neatly organized.
Features of Mixone
Quick setup with the single click installation

Social media ready icons

Responsive on all devices and web browsers

If problems ensue, you can easily contact the support team

Theme background color is appealing
More Info / Download Demo Get Hosting
17. Polyphonic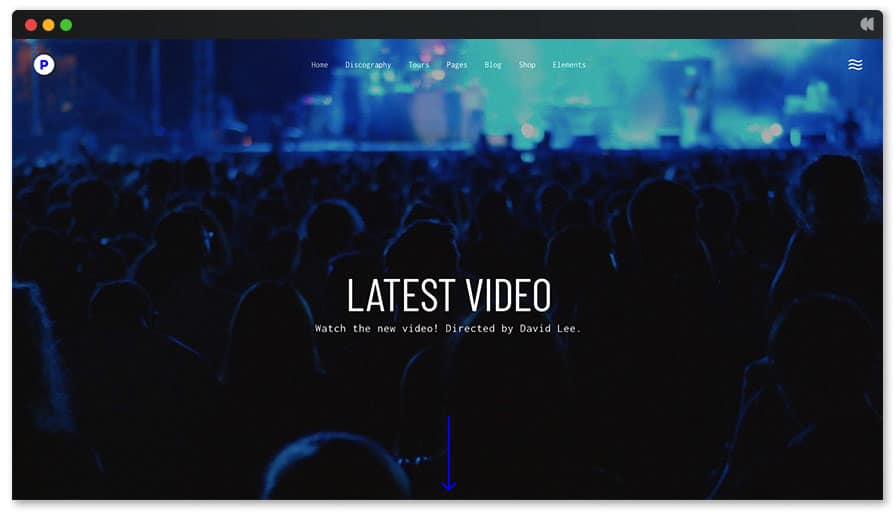 Polyphonic is a mobile-friendly WordPress theme which comes with a filterable slider, formats, custom post types, and portfolio to present your music content.
Thanks to social media integration, your fans and followers will be able to quickly follow you on social media platforms and share your content there with ease. In regards to visuals, Polyphonic features a contrast of light and dark tones spiced up with charming accents.
As this theme is fully editable, you can customize it until it meets your needs and requirements.
Features of Polyphonic
Simple one click installation

Clean code and post formats layout

Supports all major audio and video formats

Compatible with the latest WordPress version

Responsive on all web browsers
More Info / Download Demo Get Hosting
18. MusicFlex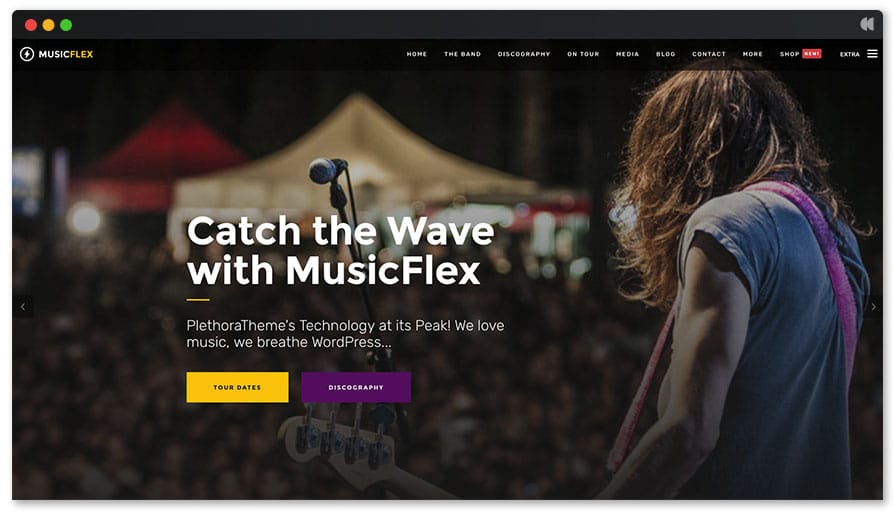 Are you looking for a professional WordPress theme for musicians? Check this one out. This is notable for a stylish visual framing fueled by innovative functionality from the inside. You can introduce yourself or your music band with the help of a simple page wide slideshow.
There is also an inbuilt gallery with a zoom in option and filters that allows you to explore your previous categories with ease. Also, feel free to choose from different gallery layers; depending on the number of columns you will. With this design, your visitors will find it a breeze to utilize your site.
Features of MusicFlex
Has social icons which expose your site to as many people as possible

Inbuilt SEO features to boost your site's rank

Has a gallery where you can showcase your best images

Call to action button

24/7 support
More Info / Download Demo Get Hosting
19. Audioatro
Audioatro boasts a fantastic mix of striking design-appeal and features that have earned it a place in this ultimate collection of the best WordPress themes for musicians.
Since this is a multipurpose musician theme, you will also get a good selection of pre-built-in designs to pick from your website. Getting started is also straightforward thanks to the one-click demo importer tool.
Features of Audioatro
Has a responsive layout and 24/7 support

Built in contact form so fans and followers can reach you

Simple but unique blog layout

Social icons integrated into the theme

Easy to customize and configure
More Info / Download Demo Get Hosting
20. DJ Rainflow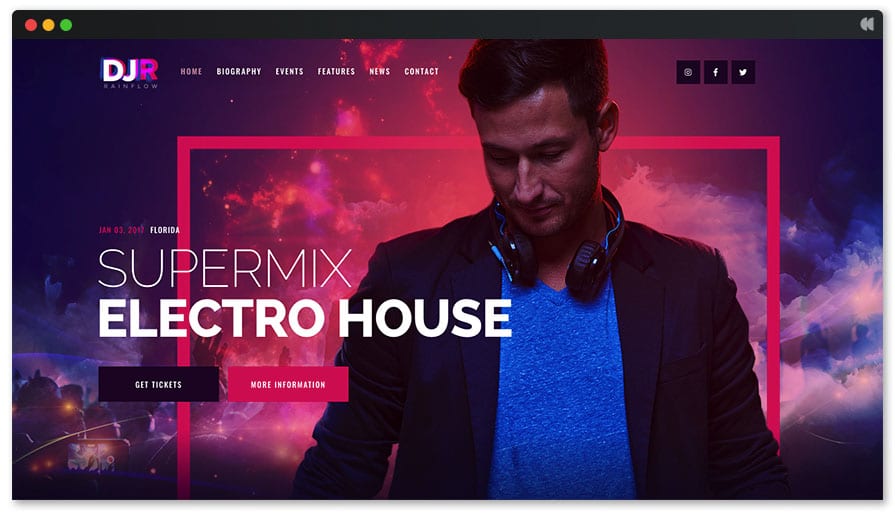 DJ Rainflow boasts a great design that musicians, as well as bands, will undoubtedly appreciate. Other than the stylish homepage layout, DJ Rainflow also comes with musician theme options for all other areas you will need to design on your website; including designs for your contact pages, about, discography, and gallery.
The compatibility with the events calendar plugin also makes it extremely easy for you to promote your upcoming shows on your website.
Features of DJ Rainflow
Stylish homepage layout

Includes a call to action button

Comes with a blog section where you can keep your fans posted

Option to integrate the google map plugin into the contact page

Features a beautiful opt-in form
More Info / Download Demo Get Hosting
21. TheBand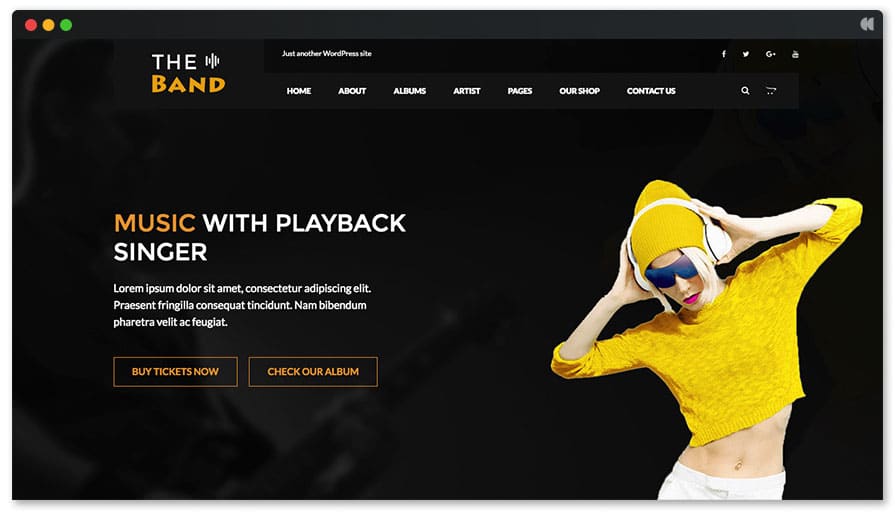 TheBand is a beautiful looking music WordPress theme specially designed for musicians, artists, music bands or anyone else working in the music industry. This WordPress theme bears a modern design and is exceptionally flexible because it allows you to customize it accordingly until it meets your needs and music style.
Theband music WordPress theme comes with a responsive masonry archive layout, full-screen slider, and a custom post types for music albums, photo gallery, events, and discography.
Even better, TheBand music theme is very easy to navigate and configure, both for beginner and expert users because it is designed using the drag and drop page builder WPBakery Page Builder for WordPress (formerly regarded to as the Visual Composer.)
The theme is responsive and will look perfect on every device.
Extra features of TheBand
Features Touch Swipe support

Album pages

Events pages

Shop pages

Grid system and responsive design

Bootstrap 3

Blockquote

Extremely SEO optimized

Contact form

Cross browser compatible

Google fonts support
More Info / Download Demo Get Hosting
22. Zona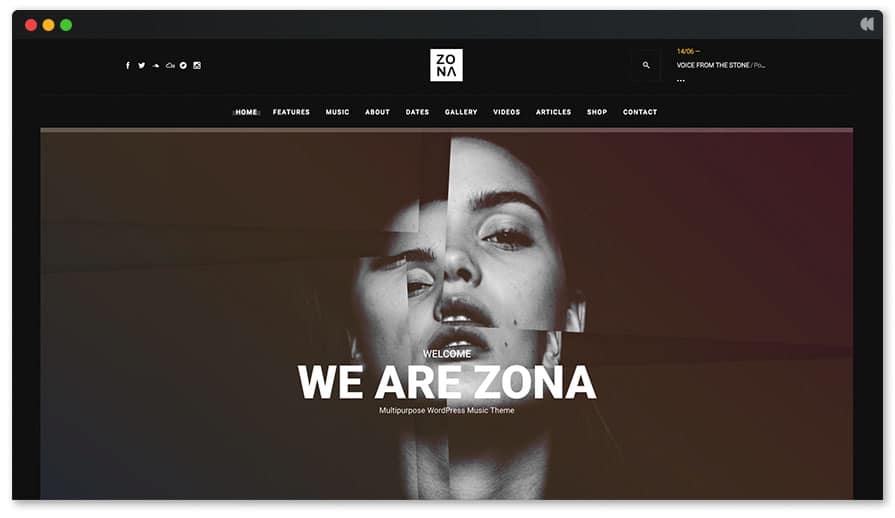 Zona is among the newest WordPress themes for musicians in town right now and it also comes with lots of multi-purpose options packed within itself. From inserting video and mp3 audio files into your WordPress website to using the drag and drop page builder to come up with custom designs, Zona is exceptionally versatile.
Getting started with this dynamic theme is easy too, thanks to its helpful theme documentation and once click demo importer. I went through multiple customer reviews while checking out this WordPress theme and I am confident that every musician should grant it a try.
I have not used it personally, but everyone who has tried it out seems to have been utterly satisfied.
Features of Zona
Easy to utilize the content management sections as well as visual front end editor which makes your website extremely easy to maintain.

Has a testimonials section which helps your previous clients say what they think about you. I have a feeling you're a wiz at what you do so this section will come in handy.

Has a fantastic slider that you can utilize to showcase any sized photographs

Boasts impressive mobile compatibility and lots of color options.

You also have a blog section where you can write anything and keep your die-hard fans posted on your recent developments.

Has a custom CSS option. This will make it simple to make a couple of tweaks. At least you will not have to open your theme files because doing that may break down your whole site
More Info / Download Demo Get Hosting
Conclusion:
If you are looking for a great website builder for musicians,  WordPress is a great choice. WordPress is one of the most popular content management system (also known as CMS) in the world.
Quick tip: Make sure that the selection of templates available in your theme corresponds to your needs. If you want to create a website with online stores, start with a WordPress theme that supports WooCommerce.  But to give more chance to succeed, it all starts with a great WordPress hosting. When you will come to your hosting options, make sure your host gives you enough of disk space as your digital music files will take up some space.
If you're involved in a band, you can check out our Music Band WordPress Themes for more WordPress template selections. They will skillfully amalgamate advanced functionality with mesmerizing aesthetics that will compliment your sounds visually.
Now let your site rock! 
BONUS: We made a listing of the best websites for musicians by musicians which is available here. I'm sure it will give you inspiration for your next music website.
If you couldn't choose your theme in this collection, you might want to check all our Music WordPress themes. Thank you for browsing!