If you are a singer or songwriter, then you comprehend how imperative it is to boast a robust online presence. I presume that notion is the prime reason you are here looking for the best WordPress themes for singers.
Your fans and followers ought to be able to listen to you and easily find you online. Furthermore, official musical bands need to portray exactly what you have to offer to the world. With that introduction in mind, I took it upon myself and set out on a quest of finding the best singer WordPress themes that can help you attain your artistic goals in next to no time.
By using these website templates, you will gain a competitive edge, and your fans will appreciate the high quality and innovative website as a result.
The best WordPress themes for singers and songwriters:
Editor's note: We will continue to update this list of the best WordPress themes for singers and songwriters as more become available.
1. Sonaar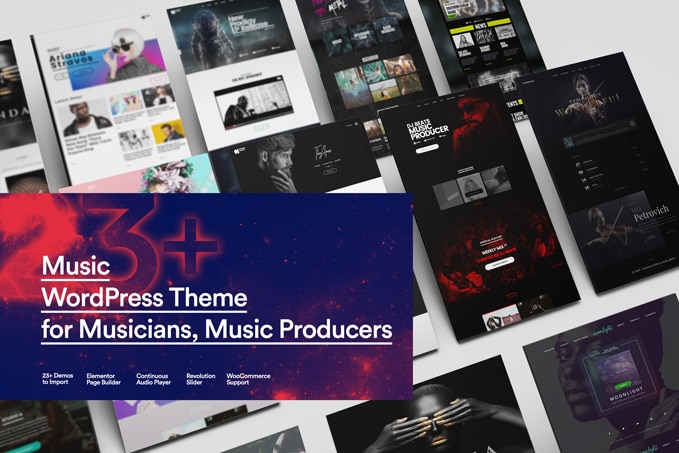 Sonaar is the perfect Singer and Songwriter WordPress Theme made for beginner or advanced WordPress users. It's very easy to use. Install the theme and choose the theme's demo you like the most and import it in 1-click. Once your favorite demo has been imported, start customizing your website by changing the texts and images using an easy Page Builder (Elementor).
You can add unlimited tracks and albums, playlist and compilations, display your upcoming and past concerts, add lyrics sections and sell tracks and albums with WooCommerce. Sonaar is the most popular music wordpress themes for Singers in the world right now. You should take a lot right away because the designs are incredibly stunning!
Features:
23 demos that can be imported in 1-click;
You can translate it in any language;
Optimized for mobile and tablets. Designed with 'Mobile-First' approach;
Clean typography. Made by professional designers;
100% compatible with Elementor Page Builder.
More Info / Download Demo Get Hosting
2. Apex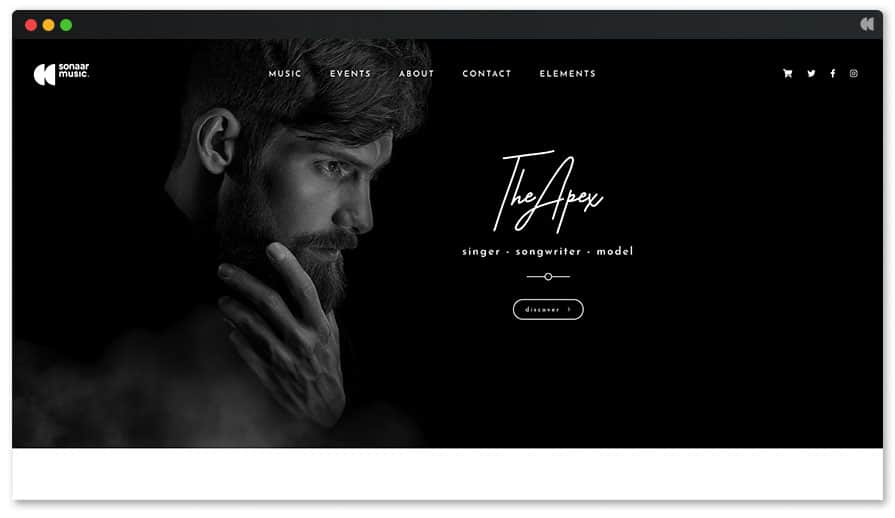 My desire while writing listicles is to ensure you do not need to scroll further than option number one. This implies that the first item on my reviews is always a well-thought item with the potential to make all your wildest musical dreams come true.
You may be asking yourself, what makes Apex such a great WordPress theme for singer and songwriter? Well, to begin with, Apex is a modern, slick, intuitive, and clean Music WordPress theme crafted explicitly for Songwriters, singers, producers, and musicians.
Better yet, Sonaar.io ensured the theme's homepage showcases a large full-width slider as well as nice blurry effects when you scroll down. The theme also boasts a continuous music and video player that won't stop when you visit a different page.
If I were to list all benefits of Apex WordPress theme, this blog post would be pretty endless. LOL.
Features of Apex
Retails with six premium plugins included
Includes the WPBakery page builder
WooCommerce integrated so you can sell your items online
Comes with the Sonaar Vault gallery
Boasts the Sonaar Ajax Mp3 player
More Info / Download Demo Get Hosting
3. Mandala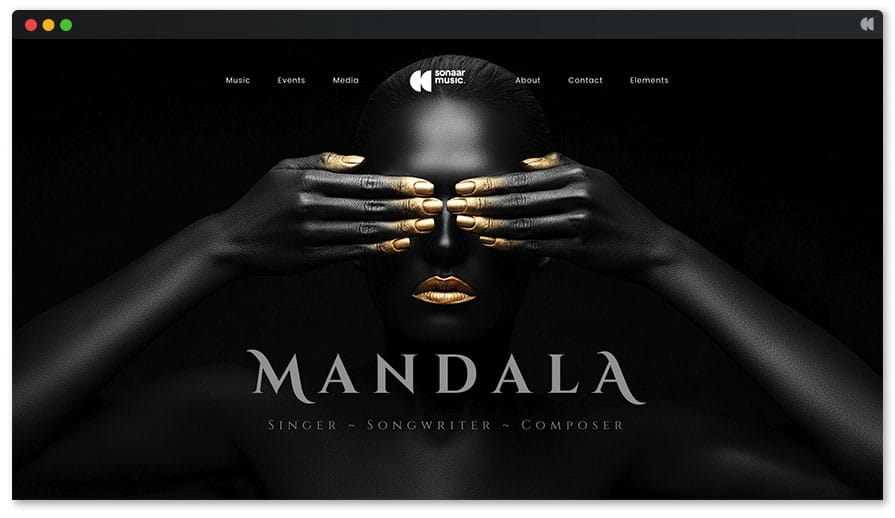 Taking our second position is another hard to beat innovation from Sonaar: Mandala WordPress theme. Just like Apex, Sonaar Specifically designed Mandala for artists, producers, musicians, and singers who care about their brand and what they deliver.
Try out this masterpiece, and you will tell instantly that it is all about harmony, simplicity, and balance which augments your music website to a whole new level.
Furthermore (to further prove why Mandala is worth a try), Sonaar designed this singer WordPress theme with one clear objective in mind: To award artists, bands and musicians, the attention they deserve through showcasing simple, yet effective elements on the homepage, such as new album releases, featured playlists, two simple photos, and a biography section.
Features of Mandala
Comes with six premium plugins included
Includes the Sonaar Ajax Mp3 and video player
WooCommerce integrated so you'll be able to sell your music and merchandise online
100% responsive and mobile friendly
Works well with all major web browsers
More Info / Download Demo Get Hosting
4. Milend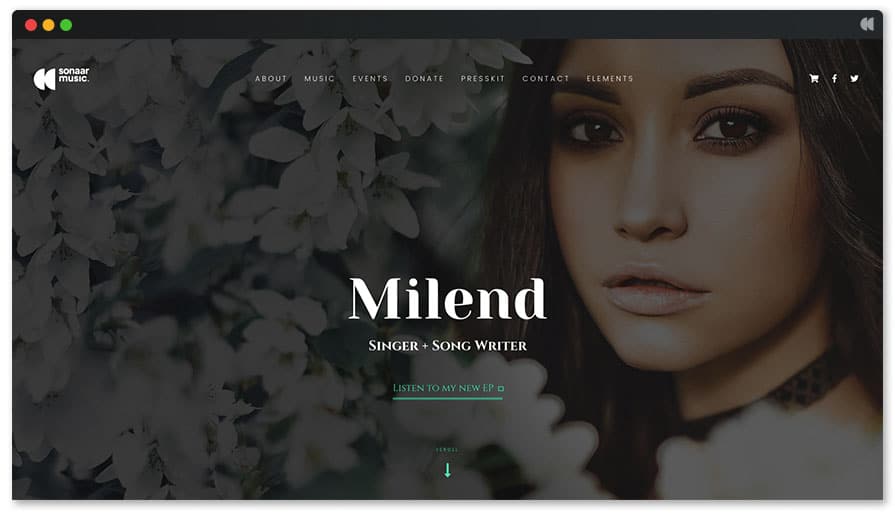 Is your website already well-laid out? If not, do not be ashamed. After all, lots of musicians do not even own a site because they simply cannot find the time to build or maintain one.
With that thought in mind, I bring to you a solution that will help you create a professional WordPress website straight out of the gate. All you need to do is activate the theme and start posting content. The solution is none other than Milend.
Milend also retails with a visual composer page builder, boasts AJAX integration, has unlimited colours, parallax effects, custom background images on each page, integrates with MailChimp, and also integrates with all social media platforms.
Features of Milend
Comes with the visual composer (the new WordPress drag and drop page builder)
Allows you to integrate your site with all social media platforms
Very affordable compared to most themes on this list
Integrates with MailChimp
boasts AJAX integration
More Info / Download Demo Get Hosting
5. Nika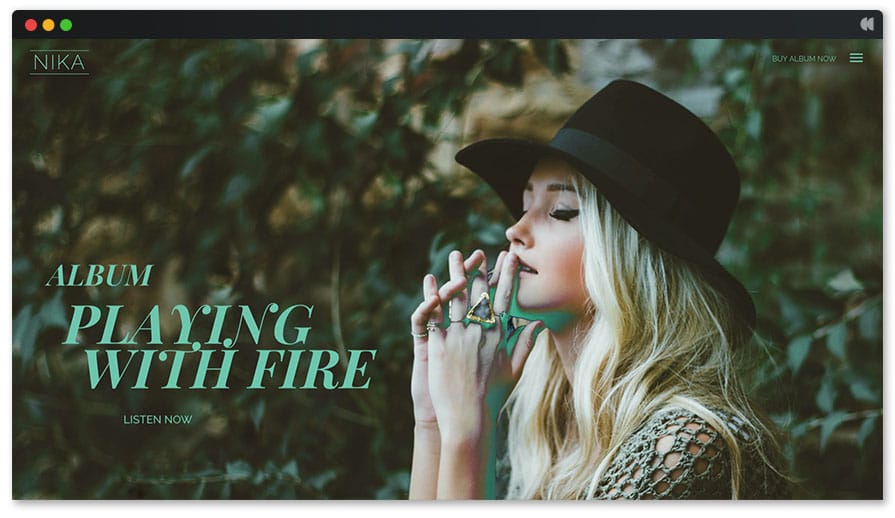 Even though Nika does look like most WordPress themes out there, I must point out that I like its default layout and typography.
This theme comes with an audio/video player, events discography post type, custom widgets, custom post types, WP Instagram widget, a contact form, recent tweets widget, breadcrumb, and the ability to create new page layouts; just to mention but a few,
Nika is also fully responsive and translation ready, implying that your fans and followers from all around the world can visit and understand your website content. Try it out and let me know what you think.
Features of Nika
Includes a contact form
Compatible with all WordPress themes
Will look good on all major web browsers
Comes with hundreds of google fonts
WooCommerce compatible
More Info / Download Demo Get Hosting
6. The Rise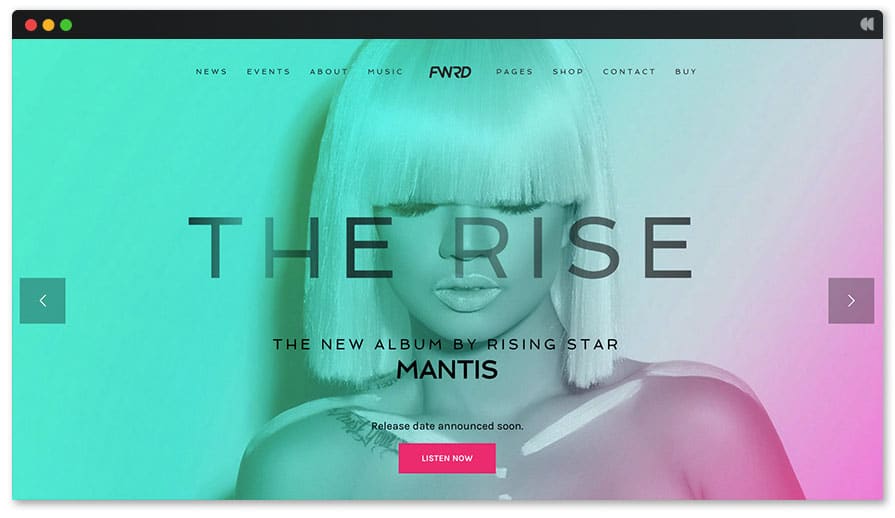 The Rise is a simplistic theme boasting a clean and responsive design. This masterwork retails with more than five modern homepage layouts, custom widgets, album lists, google fonts, offers 24/7 support and is also SEO optimized.
There isn't much to say about The Rise apart from the fact it surely does deserve a position this high up. If you would like a modern looking theme without all the annoying plugins and animations, this is your go-to product.
Features of the Rise
Responsive and mobile friendly
SEO optimized to help your website rank higher
WooCommerce compatible
Includes unlimited skins and color schemes
Multiple shortcodes available to allow for easier usage
More Info / Download Demo Get Hosting
7. Kimchee
Before I review Kimchee, I ought to point out something first. Just because a theme's position on this listicle is lower does not imply that it lacks in any way. I merely picked the best Singer WordPress themes out there and mixed them up without arranging them in a particular order.
With that said, Kimchee is a premium WordPress theme for singer that is visually amazing to look at and 100% responsive on all devices.
Thanks to its extremely user-friendly interface, this theme also retails with tons of options for you to customise and configure the way you would like to.
Features of Kimchee
Fully responsive on all devices
Includes a gigs and events manager
Comes with a WordPress audio and video player
Boasts custom logos and menu options
Compatible with all WordPress plugins
More Info / Download Demo Get Hosting
8. The Voice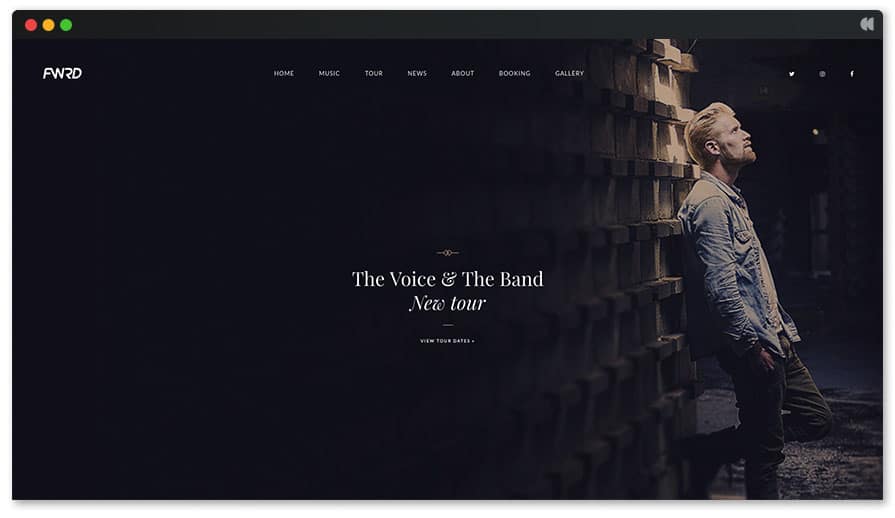 Presented to you by FWRD on ThemeForest, The Voice is not a free WordPress theme for singers and songwriters but it worths the investment. Thanks to the thousands of reviews from prior users, this innovation surely deserves a mention in this comprehensive review.
Designed with a responsive and sleek layout design, The Voice intends to provide satisfaction to all your fans and followers by delivering your content in a mesmerizing way that is hard to ignore. Furthermore, The Voice is extremely easy to use and fully responsive on all devices.
The Voice's perks do not end there. If you choose The Voice, You can efficiently manage events and share your content with fans and followers on social media platforms.
Features of The Voice
boasts a retina ready and responsive design
WooCommerce compatible so you can sell your music and merchandise online
Includes a gallery and blog layout
Comes with a gigs and events manager
Compatible with videos from platforms such as Vimeo and YouTube
More Info / Download Demo Get Hosting
9. Solo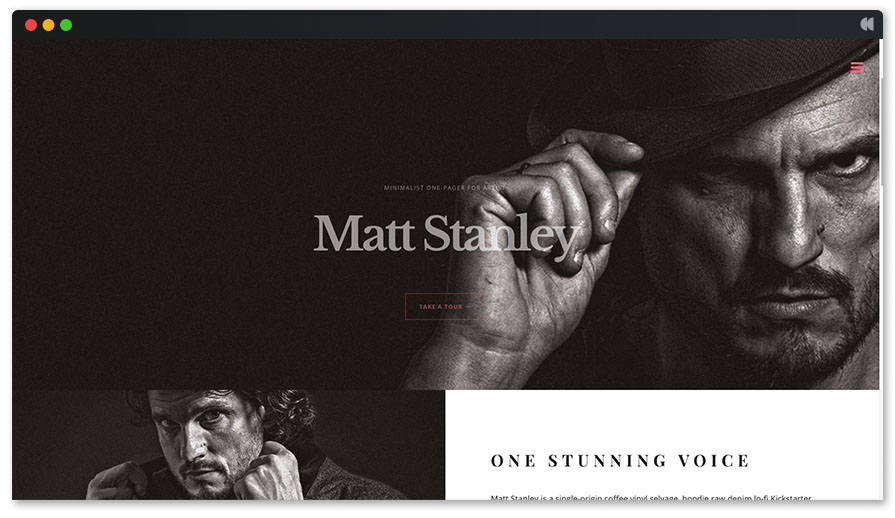 Here comes another stunning WordPress theme for singers that I wholeheartedly recommend. Explicitly designed for songwriters and singers, Solo can function as your portfolio, blog, or even simply a music promotion WordPress theme.
It is retina ready and fully responsive. The layout is also visually striking and ideal in case you are looking for WordPress themes that will captivate your fans and followers right away.
With Solo, you can create and organise your plans and gigs for upcoming events and share them with lots of ease. If it were up to me, I would say Solo is designed explicitly for the music industry.
Features of Solo
Custom logo and header option
Includes the full screen featured image option
Comes with a blog based layout option
Boasts sliders and carousels
Mobile friendly and responsive on all devices
More Info / Download Demo Get Hosting
10. Croma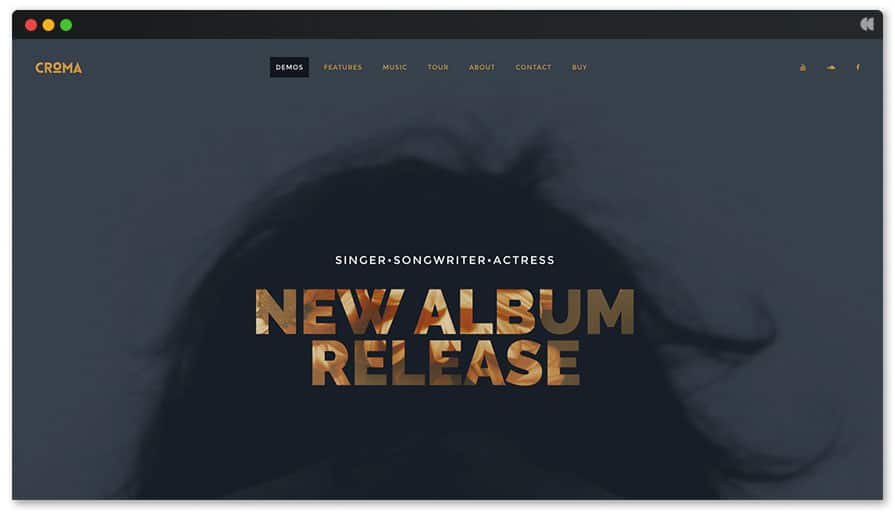 Execute a simple search on Google, and you'll see that most, if not all, theme developer refer to Croma as the music theme for the year 2022.
Hyperboles aside, Croma Music WordPress theme retails with plenty of demos (this makes it extremely easy for you to customize), a responsive design, flexible headers, visual composer, a continuous audio player, a music album feature, gigs and events manager, and also awards you the ability to add hotlinks to any page on your site.
There are lots of things you will surely love about Croma. Check out its ratings on Theme Forest, and you'll get an idea of what I'm talking about.
Features of Croma
SEO supplemented to help your site get ranked higher on search engines
Loads fast
Mobile friendly and is compatible with all major web browsers
Includes the visual composer
WooCommerce compatible
More Info / Download Demo Get Hosting
11. FWRD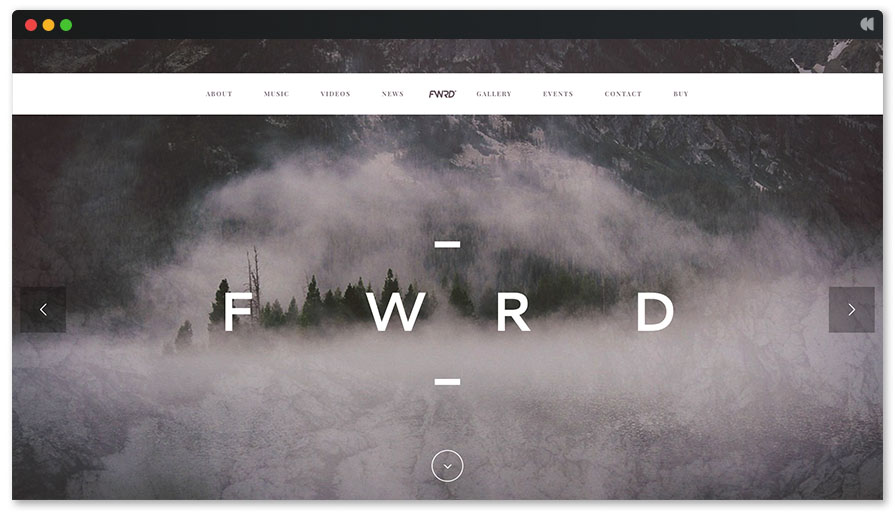 Speak of another well-known WordPress theme in the realm of musicians. FWRD comes with a visual composer and page builder, easy menu builder, video backgrounds, parallax scrolling, an events and gigs manager, slider revolution, retina HD and responsive design.
Generally, FWRD is more like Croma and is comparable in its features set. The only way to break the tie between the two is to determine which one you'll like better in regards to ease of use, functionality, and design.
Features of FWRD
100% responsive design
Includes an easy menu builder
Comes with the visual builder and slider revolution
Retina HD
Translation ready
Includes unlimited fonts, colours and layouts
More Info / Download Demo Get Hosting
12. Moonlight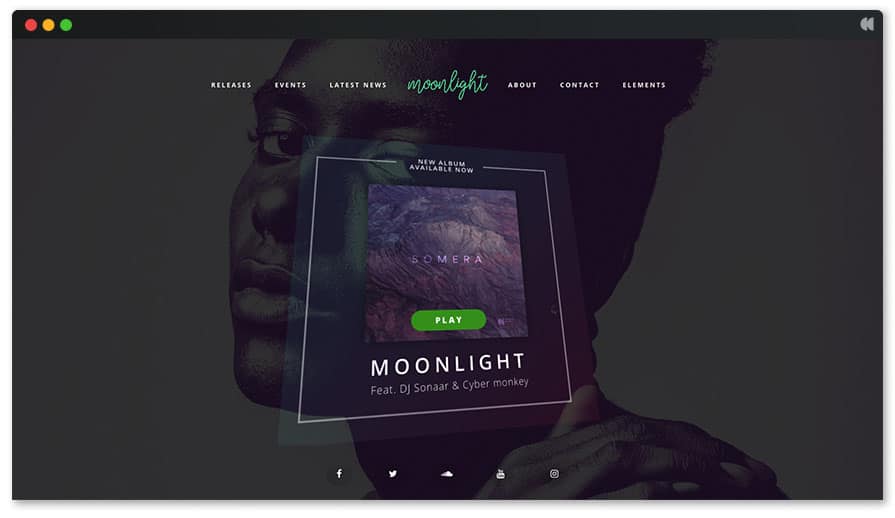 Just like its name insinuates, Moonlight is an attractive and simplistic WordPress Music theme created explicitly by Sonaar with the intention of meeting all your artistic, online marketing requirements.
Correctly optimized for mobile and other devices, Moonlight also ensures that your site looks stunning at all times. Furthermore, this theme offers all essential music features such as discography management, even promotions, online shops, as well as an audio and video player.
Features of Moonlight
Boasts a tour and event management section
SEO optimized to rank higher on search engines
Speed optimized to help it load faster
Easy to customise and configure
Multiple colour schemes to choose from
More Info / Download Demo Get Hosting
13. Outlander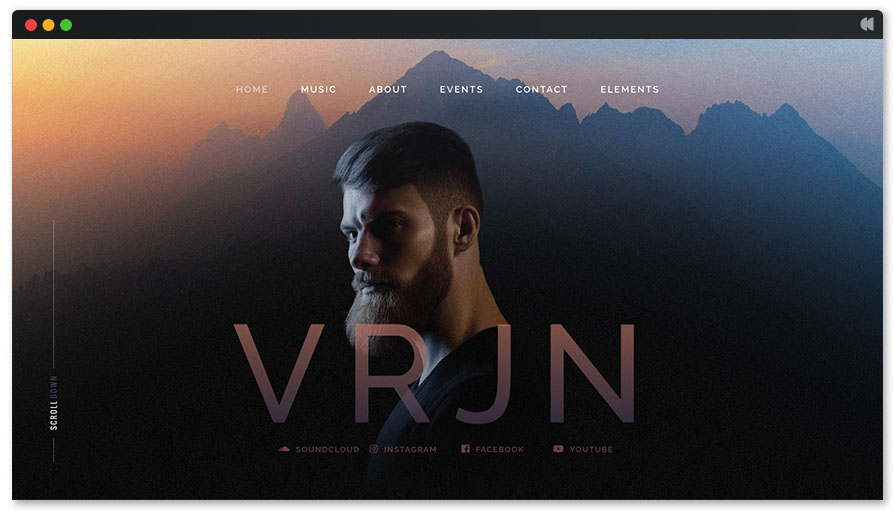 Outlander is a proficiently built and carefully designed WordPress Music theme for Songwriters and singers. Also, best suited for virtually everyone in the music industry, this WordPress theme boasts everything you may require to develop a website that stands out.
Would you like to create a platform where you can share your music releases or even sell your merchandise online? Outlander is the perfect WordPress theme for you.
Features of Outlander
Retina ready and fully responsive
Has a ticket booking system integrated
Regularly updated to keep your site running smoothly
Compatible with every browser
More Info / Download Demo Get Hosting
14. Lush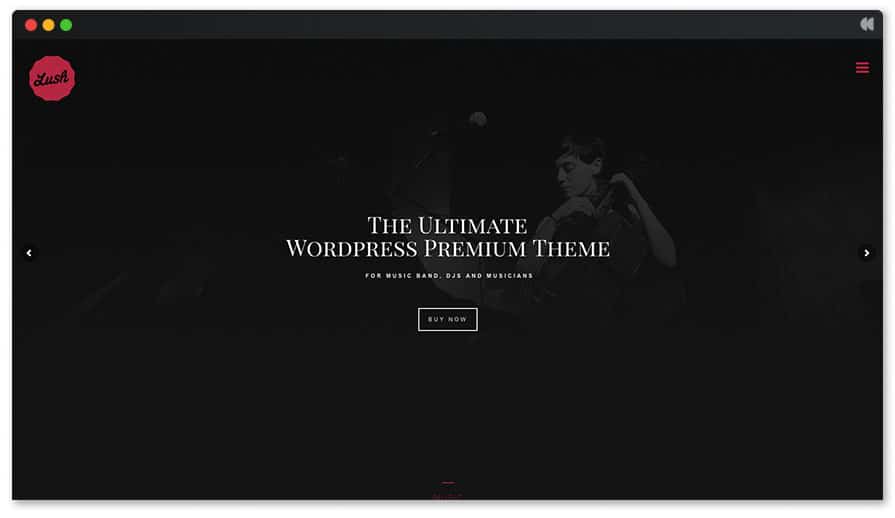 Lush has been repeatedly labelled as one of the best WordPress theme for singers in the world for anyone in the music industry. In the past, I have personally created a brand WordPress site using the theme, and I have to admit, there is more to Lush than meets the eye.
Lush also comes with multiple templates you can choose from, including but not limited to, Solo Awake, Spintable, Grenade, Outlaws, Classical, Hipster, and much more. This allows you to choose the appropriate theme so you can get started quickly. This also proves that lush will work for pretty much everyone in the music industry: May you be a music producer, artist band, songwriter, record label, singer, or musician.
Features of Lush
Will work for anyone in the music industry
Compatible with all WordPress plugins
Includes a visual composer
100% responsive
Comes with unlimited layouts
Includes an audio and video player
More Info / Download Demo Get Hosting
15. Light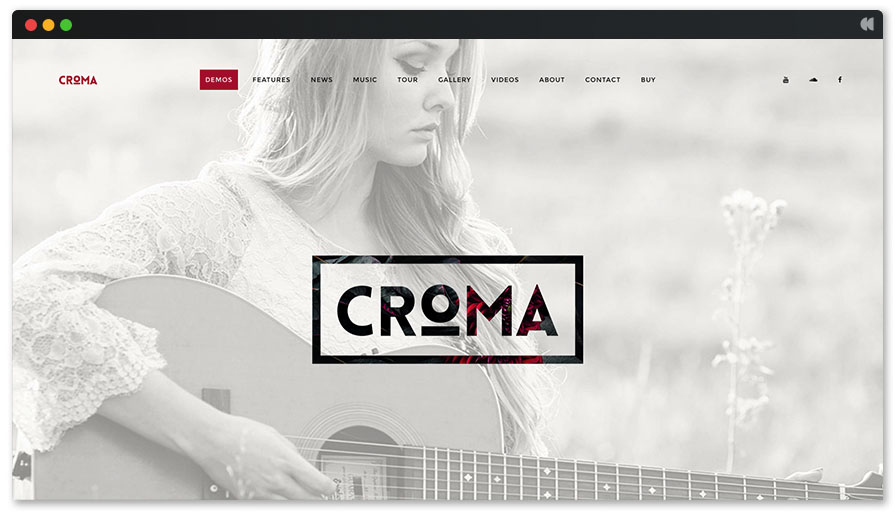 Last, but by no means the least, Light.
Light is an incredible option for anyone on a quest to find a premium WordPress music theme with AJAX and continuous music playback. On the surface, Light boasts a loud and brash appearance that remains consistent throughout all layouts.
There are also other features included in the theme to help you create your music site easily. For instance, there is a fully features music player and lots of customising functionalities for creating event pages, and profile layouts
Remember what I said, just because Light is at the bottom of this list, it does not imply that it lacks in any way- If anything, Light boasts lots of positive reviews on theme forest compared to most themes on this list.
Features of Light
.WooCommerce compatible
Comes with the Custom Audio Player
Unlimited sidebar options and layouts
One click demo import
Jetpack support
Allows social networking integration
More Info / Download Demo Get Hosting
16. Flicker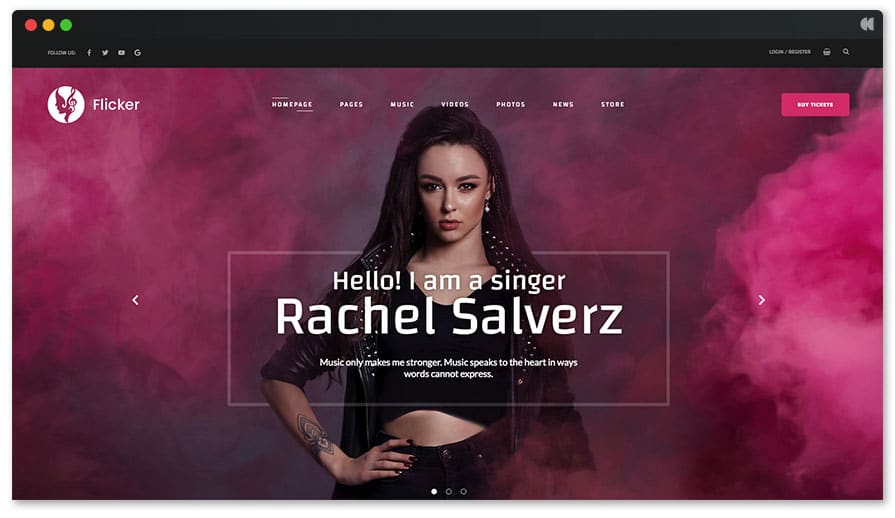 As one of the most powerful and ultra-flexible themes on this list, Flicker is a premium WordPress theme that will leave all your fans, visitors, and followers stunned when they visit your site. With a well organised and clean interface for you to work on, this singer WordPress theme combines the Muttley Framework with WordPress to ensure you have everything you may need to make your site stand out from your competitors.
Flicker is also retina ready and fully responsive. Better yet, the theme comes with an exclusive Music player that boasts a lighting fast load time and full SoundCloud API support.
Flicker is compatible with WooCommerce.
Features of Flicker
24/7 support available to help you out when the need arises
Includes the drag and drop functionality
Comes with a contact form
Revolution slider included
Easily integrates with social networks
More Info / Download Demo Get Hosting
17. Music Club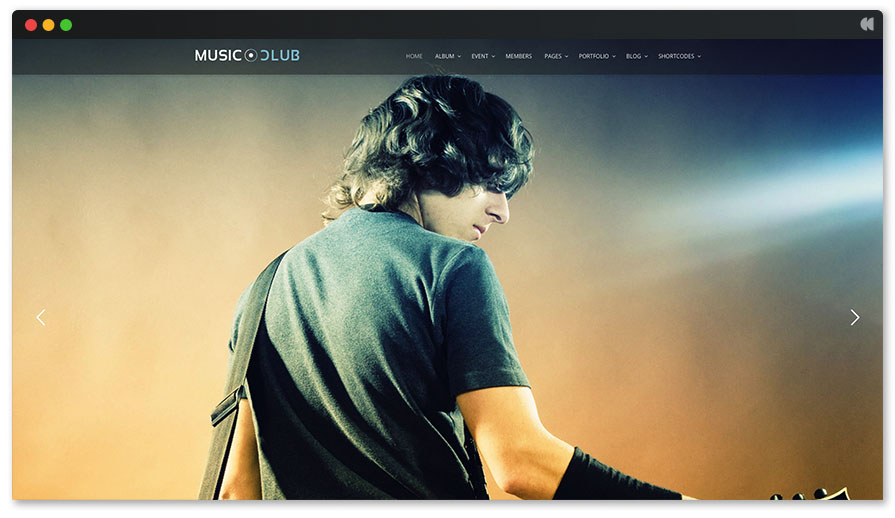 You can guess by its name that Music Club is a premium WordPress Music theme that has been specifically designed to meet the needs of anyone in the music industry. Music club's powerful admin panel allows you to modify and customise any element of the theme with ease.
Even better, compatible with WooCommerce, this theme supports connection with significant music shop platforms such as Google Play and iTunes.
Features of Music Club
WooCommerce compatible
Compatible with all WordPress plugins
Lots of shortcodes available
Multiple custom sidebars
Includes an advanced event management section
More Info / Download Demo Get Hosting
18. Hipster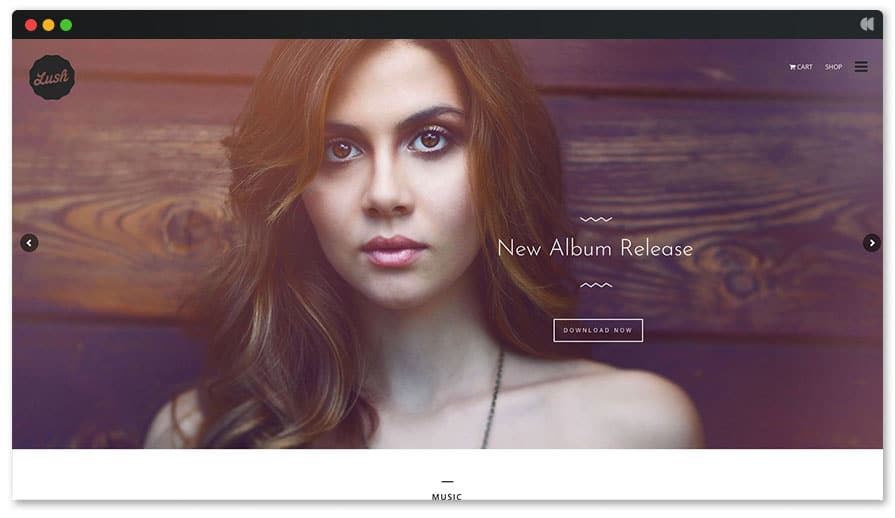 As a creative and visionary WordPress music theme for Singer and songwriters, Hipster is retina ready and 100% responsive.
Thanks to its professional interface and feature-rich quality, this theme is also best suited for everyone involved in the music industry.
Hipster's primary attraction is, without doubt, the real-time music visualizer with a continuous AJAX music player. This feature allows fans and visitors to listen to your music on your site even when they have visited a different page on the web.
Features of Hipster
Allows for podcasts and live sets
Comes with three unique menu designs
Includes a gigs and events manager
Comes with a custom MP3 player
SEO optimised
More Info / Download Demo Get Hosting
19. Cornerstone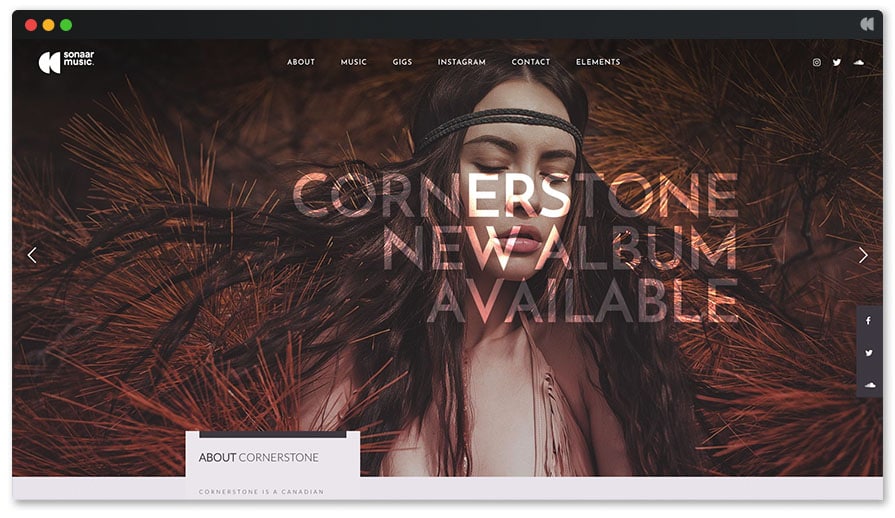 As the list comes to an end, it gets more and more interesting.
Just as the name suggests, Cornerstone is the ideal WordPress theme for any DJ's, music companies', record producer's, songwriter's, and singer's website. We can attribute this perk to Cornerstone's impressive visuals and interactive design.
Better yet, Sonaar has ensured this theme allows you to share your music, and blog content with the world on social media networks and platforms.
Features of Cornerstone
WooCommerce compatible
Shortcodes available for easier usage
Comes with unlimited skins and colour scheme options
Mobile friendly
SEO optimised to help your site rank higher
More Info / Download Demo Get Hosting
20. Lucille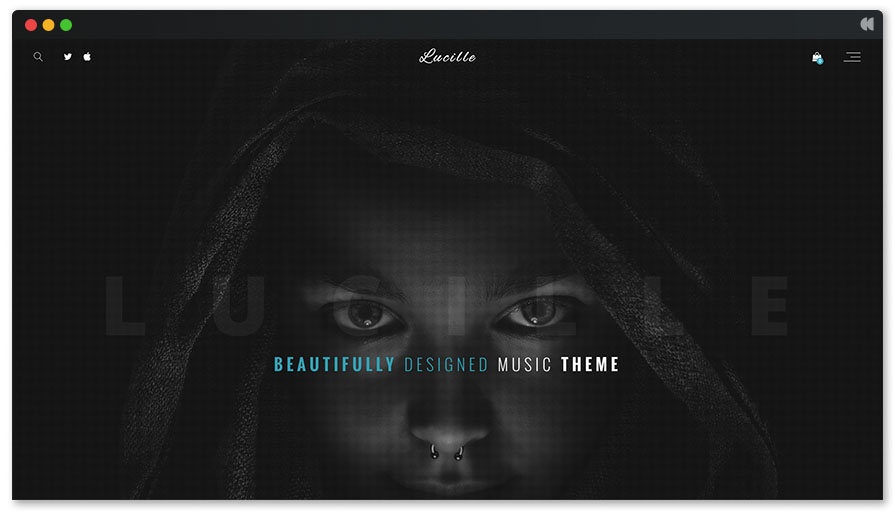 When you are creating a site to showcase your prowess, you probably are not after a complicated page structure. You want your visitors to find what they are looking for straightaway: whether that is your upcoming gigs, music, or something else entirely.
To help you achieve this, Lucille enables you to offer the maximum amount of info without overwhelming your fan or follower. Better yet, this theme's home page is the complete package offering readers a way to view your music, images, and gigs without navigating anywhere else.
Features of Lucille
Fully responsive and will display well on devices of all screen sizes
SEO supplemented to help your site rank higher
Includes the visual composer (the new drag and drop builder)
Comes with multiple demo templates
Is compatible with all WordPress plugins
More Info / Download Demo Get Hosting
21. The Moons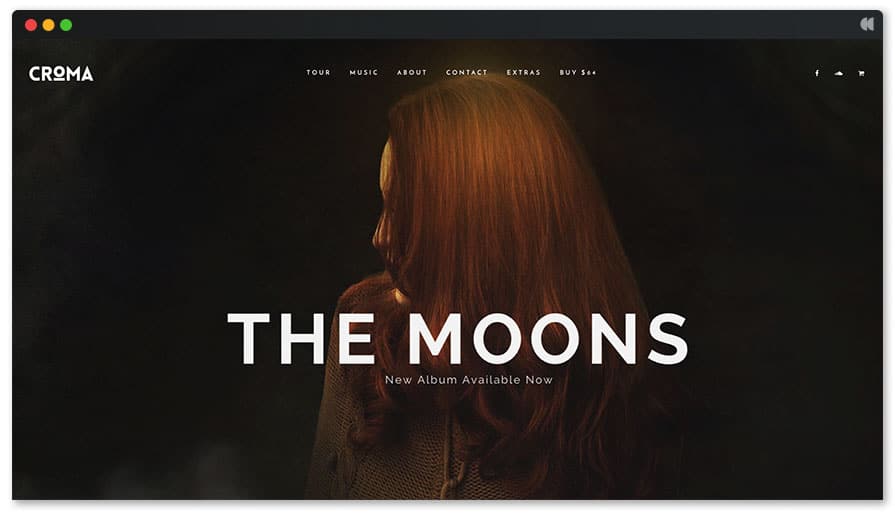 Simply colourful, vibrant, and visually amazing to look at. The Moons is a popular WordPress theme for singer that guarantees to ensure your site is as captivating as possible. Each element on this theme has been designed and crafted by genius minds to ensure your users are left stunned.
That said, The Moons is more than just looks because it's also packed with advanced and powerful premium features. Let's take a look at a couple:
Allows for social media integration
Comes with an advanced playlist manager
SEO optimised to help your site rank higher
Regularly updated
24/7 customer support available
More Info / Download Demo Get Hosting
Conclusion
Thank you for sticking to the end, and I hope you found what you were looking for; i.e. the best WordPress theme for singers and songwriters.
In case you did not, then do not bounce just yet. I urge that you take a quick look at this blog post on "The Best WordPress Themes for Musicians" before you leave. You never know, you may find what you are looking for in there.
Thank you for browsing.