Every bestselling album to have ever existed started in a recording studio. In fact, to be successful in the audio and music production realm and the digital age, being creative and talented is only half the battle. In 2022, the other half consists of proper advertising and marketing of your music products, services, and business activities so that final product can reach its end users in a timely manner: and that's where a recording studio comes into play. Furthermore, considering we are living in the age of the internet, I am precise a recording studio would not be as successful without a music producer website. Most importantly, the first thing you should think about before creating the site is how it is going to look like.
It is crucial to create an aesthetic, and high-end website that engages your audience as required. For that, you will need the best most popular WordPress themes for studio recording in 2022.
Without further delay, here is an enumeration of the best WordPress themes that you can use on your music producer website despite if you are have an home recording studio or the best professional studio in the world.
The best WordPress themes for recording studio:
Editor's note: We will continue to update this list of the best WordPress themes for recording studio as more become available.
1. Studio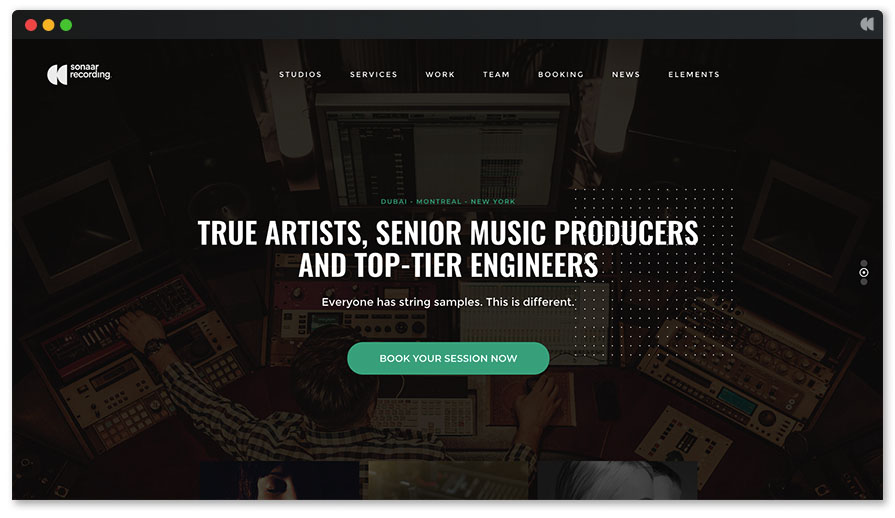 First in our list, and for a good reason, is Studio WordPress theme. Sonaar.io's specifically designed this premium and hard to beat theme for record labels, musicians, and music producers.
By using this theme, you can promote your freelancer services, portfolio, client lists, equipment, studio photos, and easily showcase a catalog of artists you manage under your record label.
Better yet, Studio WordPress theme retails with premium plugins like WPBakery Page Builder (Formerly regarded to as Visual Composer), Essential Grid, and Revolution Slider. These plugins will come in handy when you design the site.
Features of Studio
Compatible with most, if not all, WordPress plugins

100% responsive and will display well on all devices and technology.

Comes with an event slider where you can update your fans and followers on your upcoming events

Easy to customize and configure

Compatible with the WooCommerce plugin
More Info / Download Demo Get Hosting
2. Cinematic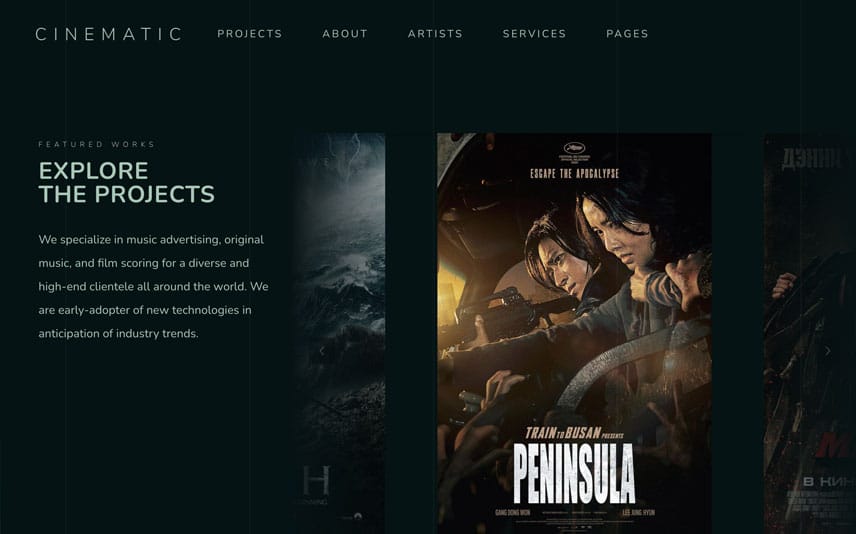 Cinematic is a stunning Film Scores WordPress Theme for Studios & Music Producers. If you compose soundtracks for films, Cinematic is undoubtedly the best WP theme to promote your work.
By combining an eye-catching design with a super fast and robust framework, an editor powered by Elementor Page Builder, Cinematic is the best WordPress theme dedicated for film soundtrack composer and movie producer ever made.
It includes over 30 pre-designed Elementor templates designed for film and music composers. It also ships with premium WordPress plugins such as Slider Revolution and Essential Grid. It has unlimited customizability, a built-in header menu, dynamic footers, many widgets, and a typography manager. This theme has full WooCommerce compatibility if you want to sell music and soundtracks, typographic options with over 900+ Google fonts, an easy-to-use theme options admin panel, and tons of useful visual elements with micro-animations; available with just 1 click!
Features of Cinematic
Great theme for soundtrack composer or movie score producers

Very flexible and versatile. You can also customize just about everything in this theme

It's full compatible with Elementor Page Builder

It's a 100% AJAX theme. It uses the latest javascript technology so you're in good hands here.

It works straight out of the box. Import the full theme demo in one-click!
More Info / Download Demo Get Hosting
3. Beats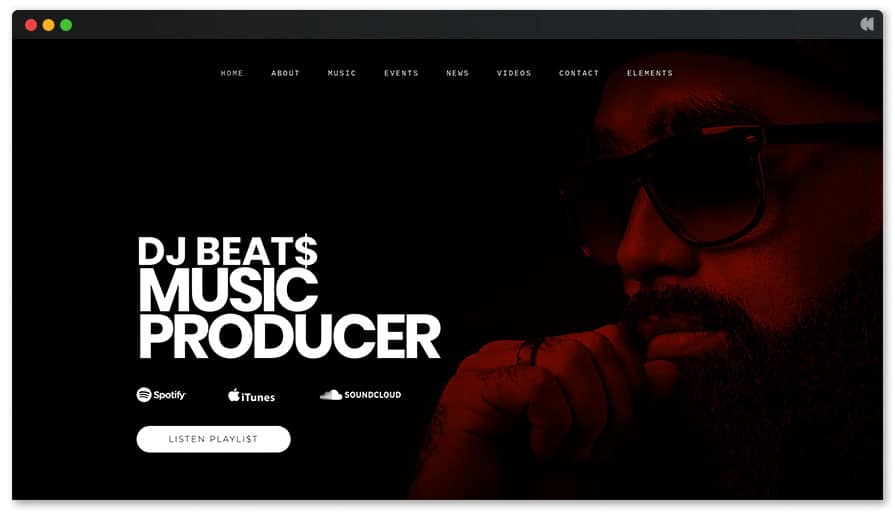 Most themes discussed in this comprehensive review are dedicated to recording studios and music producers, but Beats is a professional WordPress theme created for the new generation of music professional such as Singers bands, musicians, sound composers, Dj's as well as recording studios.
In a nutshell, anyone in the music industry who intends to open a website project in order to market their products will find this theme alluring.
Beat's potential is infinite, and its flexibility is incredible. For starters, this theme is compatible with all WordPress plugins and can be customized to meet your needs and requirements. Try Beats' out and let me know what you think.
Features of Beats
Includes an event and gigs manager

Compatible with Woocommerce so you can sell Your record's Music and Merchandise

Comes with photo and video galleries

Designed with Newsletter Support

Is search engine optimized to help your site rank higher
More Info / Download Demo Get Hosting
4. SoundRise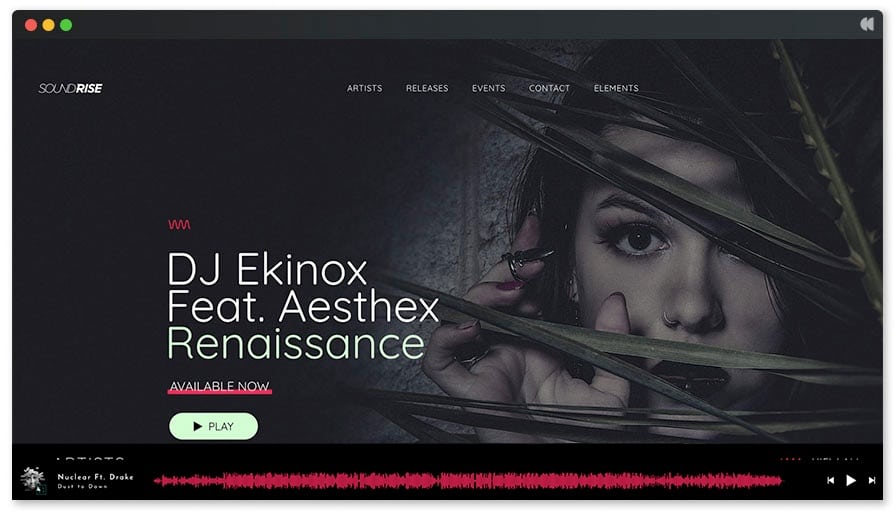 Simply one of the best record labels', music producers', and artists' WordPress theme. SoundRise retails with seven beautiful homepage designs that you can change at any time according to your liking.
This is the perfect WordPress theme if you would like to promote your label's music catalog, electronic press kits, and online merchandise stores.
Another feature worth noting is SoundRise's beautiful colors. This theme's amalgamation of colors will definitely captivate anyone that visit's your site and will give you enough room.
Features of SoundRise
Includes impressive photo albums

Child themes included and much more

Provides slider revolution

Has been designed with the 3D push menu

Comes with a visual composer and page builder (this is the newfangled drag and drop feature on WordPress)
More Info / Download Demo Get Hosting
5. FWRD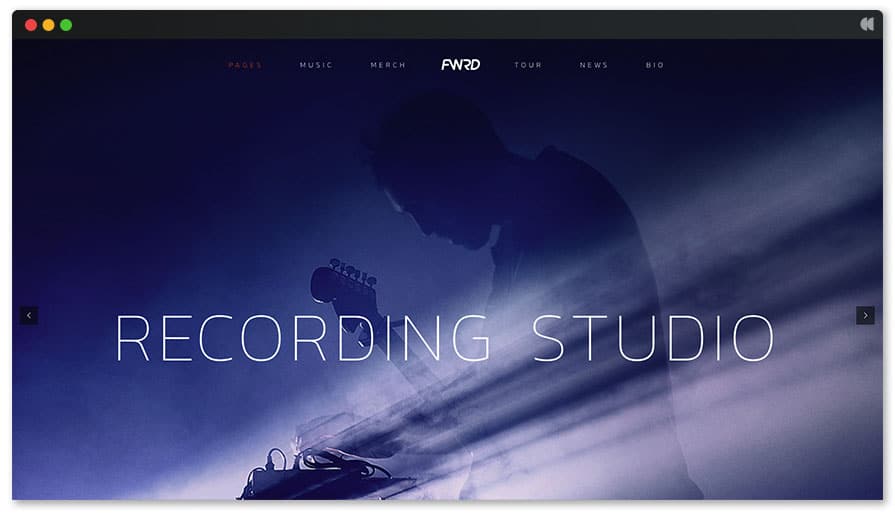 FWRD is probably the best-looking WordPress theme in this review, no doubt about that. You may argue that there is more to a theme than just how it looks. Even though that is true, remember that your visitor's first impression of your site will be based off of your website's look.
Yes, you also want a theme that is secure, easy to work with, and likely to be evergreen; but you also want a theme that will make you stand out at first sight. With that in mind, don't let my preceding points fool you into thinking that FWRD only has its looks to offer.
This is a very modern and flat theme, and better yet, Essential Grid and Visual Composer will be included in the package.
The Author, IronTemplates, has been designing premium WordPress themes for Recording Studios for years now, and FWRD is no exception.
Features of FWRD
Retails with unlimited fonts, colors, and layouts

Includes 24/7 support to help you out in case anything happens

Is fast, responsive, and SEO optimized

You can quickly change it with a different theme if it no longer meets your needs and requirements

Translation ready
More Info / Download Demo Get Hosting
6. Recording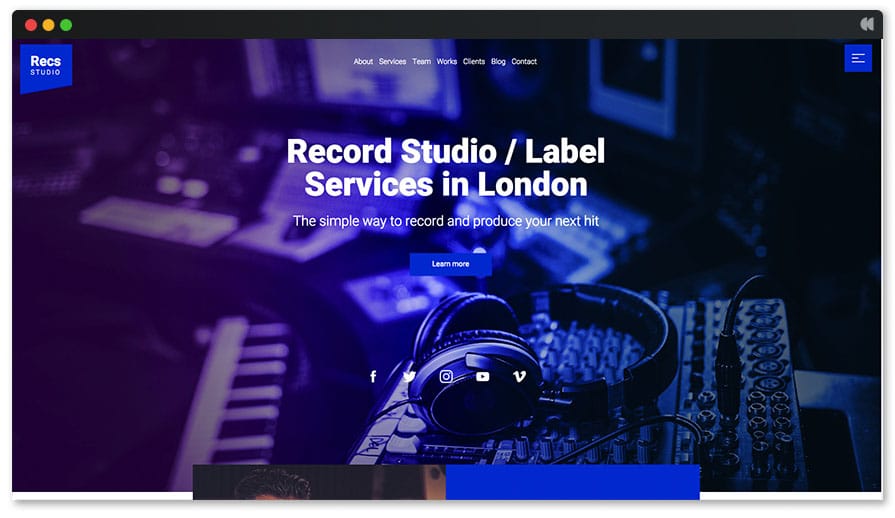 Recording is a gorgeous WordPress theme for Recording studios and music producers. This innovation is highly customizable with multiple layouts, templates, color choices, backgrounds, custom headers, and live customizer.
The Recording also comes with gigs management, playlist management, audio player, and custom widgets to add to your music and gigs any place you like on your website. This theme is also fully ready to be utilized with the drag and drop page builders such as Beaver Builder.
Features of Recording
Compatible with most, if not all, web browsers

Supports Widgets and WordPress functions

Regularly updated

Compatible with all WordPress themes

24/7 customer support available

100% rigid and responsive

Allows for monetization and ads
More Info / Download Demo Get Hosting
7.
Recording Studio
While not necessarily for music bands (even though it would still definitely work), Recording Studio deserves a spot in this top spot because it is an excellent theme that will work for just about every other part of the music industry; not just recording studios.
It is an incredibly flexible theme that looks great, loads extremely fast, and comes with pre-designed options for studios, producers, instruments and gears studio, and labels. If you are looking for the best recording studio template, then you cannot pass this one.
Furthermore, if you are a manager, producer, or label, Recording Studio would be an excellent option for you as well. It is very customizable, boasts a superb grid aesthetic, and comes with pretty much every feature you will need for your site in the music industry.
Features of Recording Studio
Will fit anyone in the music industry

Loads very fast

Regularly updated by its developers

Includes 24/7 support. Do not hesitate to send a message in case some problem ensues.

Comes with a social sharing feature to help you connect with fans and followers on social networks
More Info / Download Demo Get Hosting
8. Morning Records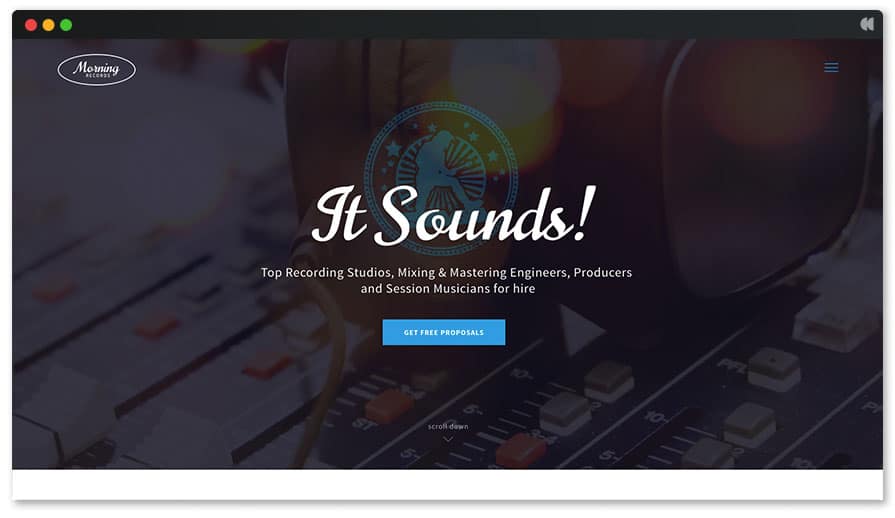 When it comes to promoting and establishing your record label's online profile, Morning Records does not fail. It is, in fact, one of the top quality record label WordPress themes that retail at an incredibly affordable price.
With this theme, you can make a comprehensive list of your services, specialize in areas you are better in, showcase celebrities and artists working with you, share the best images of your label's activities, and also leverage your endeavors into more tangible deliverables using this WordPress theme.
Better yet, make your website content easy to find and digest and choose your exclusive style and exemplify your best quality through the digital profile you can find on the Morning Records.
Features of Morning Records
Compatible with WooCommerce where you can sell your label's' music and catalog

Includes the latest visual composer and page builder

Inbuilt audio player and discography

Child themes are included inside

Affordable compared to most themes on this enumeration
More Info / Download Demo Get Hosting
9. Vice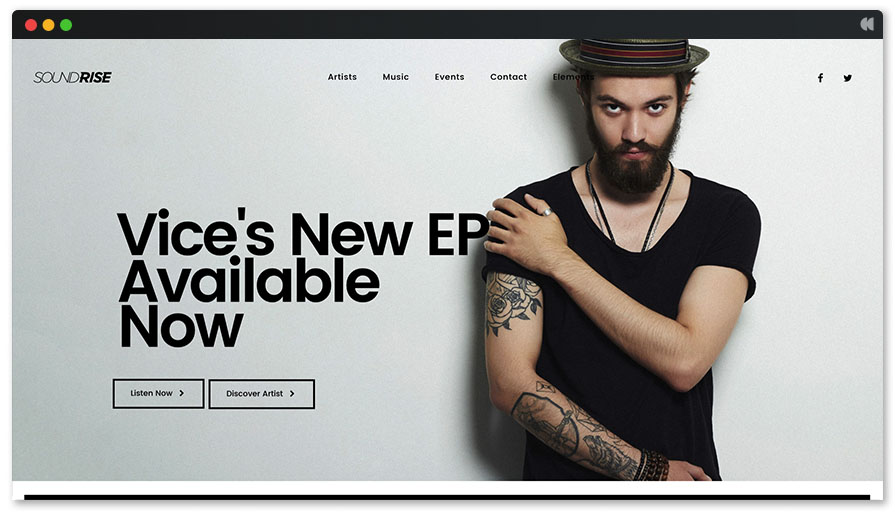 Vice stands out as an incredibly modern, flat and very polished WordPress theme for recording studios in 2022, which executes the one-page website style quite well. It also allows for actual pages, but the option is there in case you prefer a one-page site.
The standout feature for Vice, however, is the add-ons for when you need to create physical documents. The smart author behind this theme has created InDesign templates for EPK brochures, business cards, and one-page press kits that match the theme perfectly.
Once you have sufficiently customized the colors of your website, simply make the exact same changes to the document templates, and you will get instantly matching hardcopies to go with your site.
Features of Vice
Allows your label to list its music albums

Comes with a continuous music audio player

Includes podcasts option

Translation ready so fans from all around the world can visit and understand your site

WooCommerce ready. Feel free to sell music and merchandise on your site

100% responsive and will look good on all devices
More Info / Download Demo Get Hosting
10. Noisa
It's time to put your microphone on! Noisa is a WordPress theme for Recording studios and music bands. It retails with a beautiful audio track widget, powerful social media integration, and easy to use slider.
Better yet, Noisa comes with an inbuilt events calendar to promote tour and event dates. It also retails in five color styles and easy setup and customization alternatives.
Features of Noisa
Impressive photo album

Audio player and discography

Slider revolution

Child theme included

Visual composer and page builder

Retails with a gigs manager and events countdown
More Info / Download Demo Get Hosting
11.
Strings
If you are looking for a modern, simple, and sleek WordPress theme with every basic necessity for WordPress music themes, then this is the perfect theme for you. Strings is not overly flashy, but I guarantee it looks pro and will capture your visitor's attention right away.
Features of Strings
WooCommerce ready, which implies you can sell your merchandise on the website

Includes an event grid layout

Comes with an easy to spot mixing music player

Translation ready

SEO optimized to help your site rank higher

100% responsive
More Info / Download Demo Get Hosting
12. Meloo
Here comes another "full-features" WordPress theme for recording studios. Everything you would need to make your studio website shine beyond its counterparts has been included in this package.
The brilliant author behind this evergreen innovation did an unmatched job of ensuring that the WordPress theme is entirely compatible with the new versions of WooCommerce and WordPress. There are also lots of customization and configuration options. Tweak the theme until it meets your requirements.
Features of Meloo
SEO optimized

Speed Optimized

100 percent responsive

Includes a music player

Comes with retina ready icons and graphics

Compatible with all browsers
More Info / Download Demo Get Hosting
13. Replay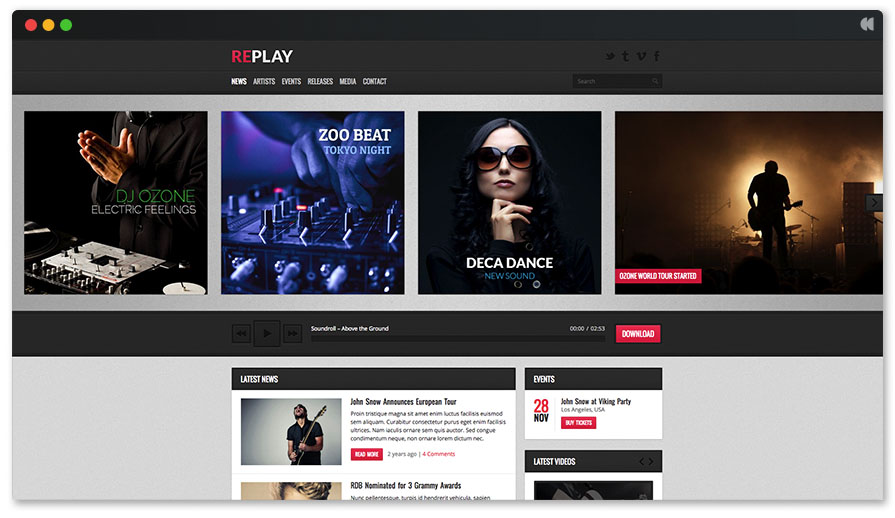 As I mentioned in a previous section of this post, all themes in this review are dedicated to recording studios and audio equipments related, but themes such as Replay have proved to be also a good fit for music bands, solo artists, DJs, Music producers, and all entertainments related websites. It comes with an inbuilt event management module that allows you to add upcoming tour dates easily.
Replay also works gorgeously with video hosting sites such as Vimeo and YouTube. It also comes with multiple ready to utilize social media integration, quick setup, color schemes, and beautiful slider.
Features of Replay
Comes with social network sharing features

Boasts multiple page styles

Has a 100% responsive design

Regularly updated to match WordPress' ever upgraded system

Plenty of widgets that allows you to tweak the site to your liking

SEO optimized to help your site rank higher
More Info / Download Demo Get Hosting
14. Magnetic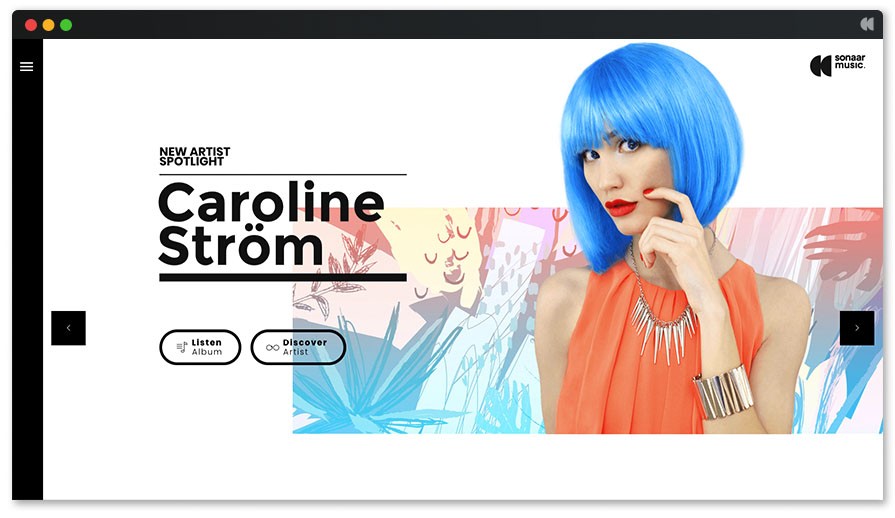 If you want to start an online website to sell your musician's music, then Magnetic will make it super easy for you. This beautiful WordPress theme for recording studios retails with powerful features such an inbuilt mp3 player, video player, a blog section, and galleries.
When used appropriately in conjunction, these features can make your website the best WordPress site in town. Better yet, Magnetic comes with a fully customizable and configurable home page slider, discography, widgetized homepage area, and band member pages.
Try out this innovation, it never fails.
Features of Magnetic
SEO optimized to help your site rank higher

You can fully customize the theme options until it meets your needs and requirements

Comes with plenty of widgets you can avail

Regularly auto upgraded to keep it up to date

Includes multiple page styles

Boasts social sharing features

100% responsive design and extremely fast
More Info / Download Demo Get Hosting
15. Remix
Remix has been around for a couple of years now and is still being updated by its designing team. Do you know what that means? The fact this gorgeous theme has been around for a couple of years and still exists in this latest list should show you that it's an evergreen invention.
Remix is touted as a flexible, fast, and powerful theme using some neat features such as AJAX versions of the site, an excellent mp3 player, and also supports most major plugins.
Built around Visual Composer, the theme is also easy to customize and even includes an event management section where you can include your artists' shows and tours.
Features of Remix
Easy to monetize with ads if you wish to

Allows you to customize easily

Has impressive reviews and ratings on

SEO supplemented

Allows for social media integration
More Info / Download Demo Get Hosting
16. Indigo
Hammer is a WordPress music theme boasting a minimalist approach to design. It features a large slider on the homepage with social media widgets and an aesthetic site wide video and music player.
Indigo also retails with a masonry-style blog section with an attractive display of featured images. It also comes with gig management, custom font support, video library, and discography sections.
Features of Indigo
SEO optimized to help your site rank higher

24/7 customer support available

Includes a gig management section

100% responsive

Consists of a music player
More Info / Download Demo Get Hosting
17. Croma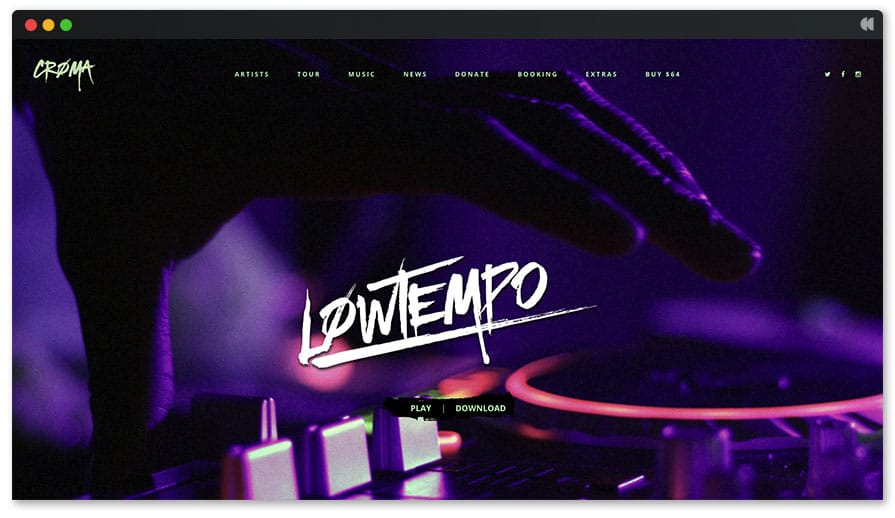 Croma is an astoundingly sleekly and extremely attractive, fresh and youthful, polished and minimalist, as well as readily responsive WordPress multipurpose theme for popular recording studios websites.
This theme is a sophisticated platform that intends to streamline the building and designing experience for webmasters of any skill level. Even if you're a beginner, I guarantee you won't find it hard to customize and configure this theme.
Features of Croma
Comes with the visual composer and page builder

Translation ready

Includes a gigs manager and events countdown section

WooCommerce ready so you can sell your music online

Retina HD
More Info / Download Demo Get Hosting
18. Mozo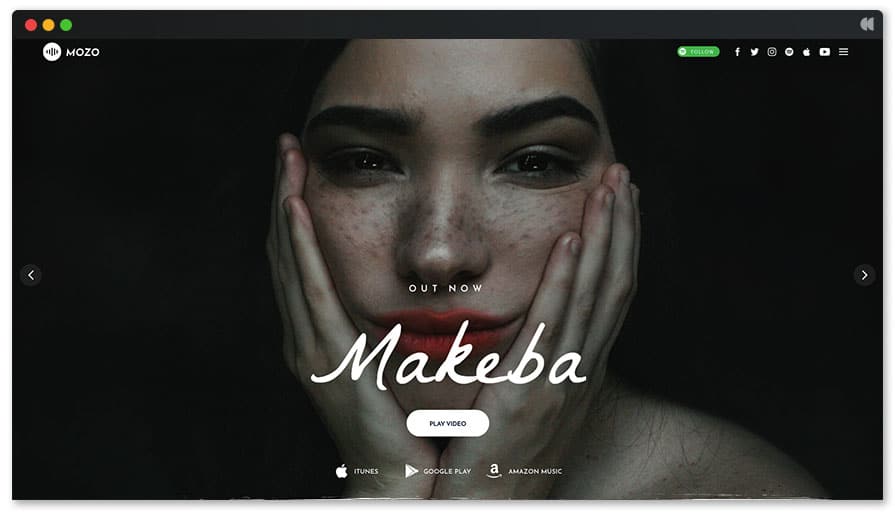 Mozo is a lovely WordPress theme specifically designed for recording studios as well as musicians, music bands, music producers, and DJ booth. The list of features that won this theme a place in this list is pretty endless, but I'll mention a few.
To begin with, it comes with a video and audio library, galleries, discography, and the visual composer and page builder. For those not accustomed to the visual composer and page builder feature at this point, it is the new drag and drop innovation that allows you to design your desired website in a matter of hours (even if you do not have prior experience.)
Features of Mozo
Includes the visual composer and page builder

Newsletter support

Allows social media integration

Translation ready

Comes with the continuous mp3 and video player
More Info / Download Demo Get Hosting
19. OnAir2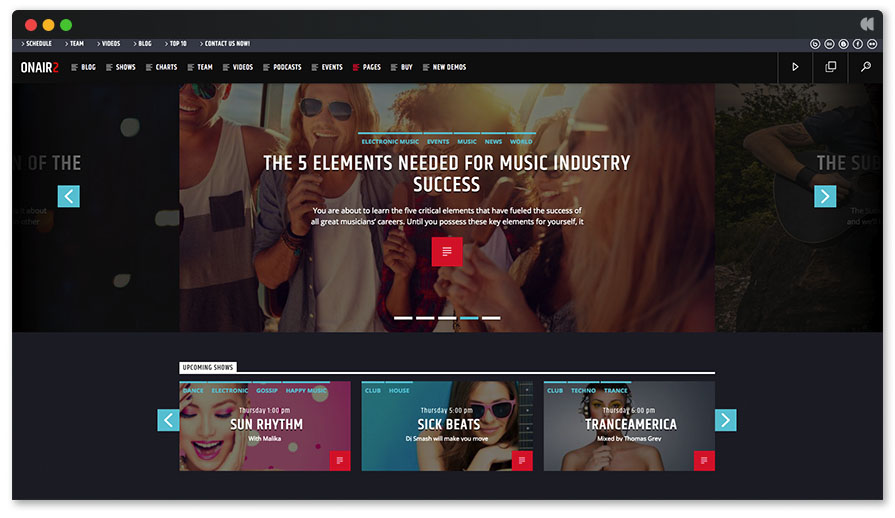 If you're looking for an attractive and responsive theme for your radio or recording studio, you do not have to look any further as OnAir2 can do the job. Do not let its position in this list fool you. OnAir2 has been voted multiple times as one of the best WordPress themes for Recording Studios and radios.
The team behind OnAir2 carefully designed an all-inclusive set of widgets, functions, tools, and plugins to make your website developing an excellent experience. Better yet, OnAir2 contains a complete list of types of layouts to manage pop up players, radio channels, and schedules.
Features of OnAir2
Includes a music player

Comes with a section for you to display albums, discography, and new releases

WooCommerce compatible

Includes gigs and events manager
More Info / Download Demo Get Hosting
20. Amita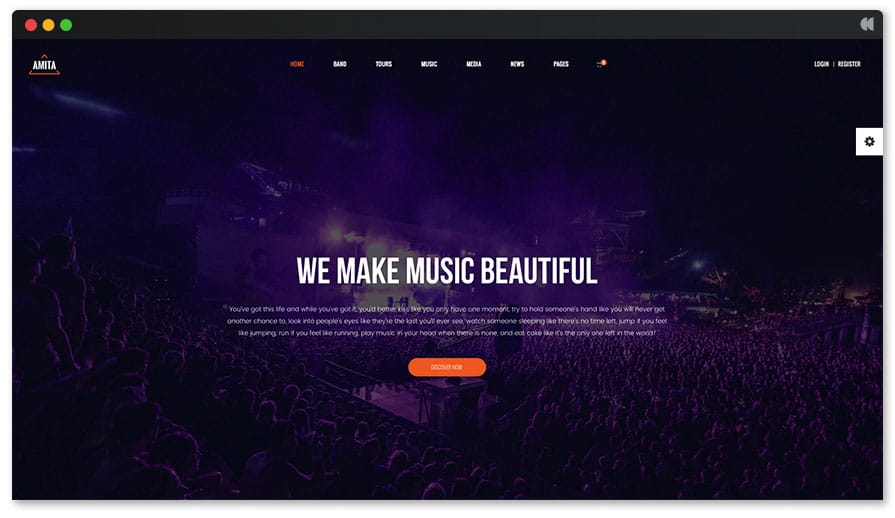 Amita is a WordPress theme with striking graphics built for recording studios, musicians, DJs, and music websites in general. It comes with different color schemes, social media integration, homepage template, inbuilt events calendar, and is WooCommerce compatible.
In simple words, it boasts everything you will need to make your website shine past your competitors'. Amita also allows you to include music from Vimeo, YouTube, and SoundCloud with the slider widget in order to showcase your videos and music on your website.
Features of Amita
Multiple page styles

Regularly upgraded

Will work on all web browsers

24/7 customer support

SEO supplemented
More Info / Download Demo Get Hosting
21. Merchato
Merchato is calm, cool, and collected. Nothing too over the top, and the black and white look always gets the job done. A dynamic playlist allows auto updates without skipping a song and is also compatible with sound cloud and MP3 files
Navigating this theme is straightforward thanks to the myriad of options, including, but not limited to,
Tracks Manager

Gallery

Events

Slider

Portfolio
Features of Merchato
Regularly updated

Photo and video galleries available

Has an event and gigs manager

Includes three style options
More Info / Download Demo Get Hosting
22. Marly
Last, but by no means the least, the Marly. Marly is indeed somewhat different from the other themes I have reviewed in this list, and that is a good thing. This theme looks more like a photography theme or maybe a portfolio theme.
However, do not let that cloud your judgment you. This theme was designed explicitly for recording studios. Better yet, so far in this list, Marly is one of the few WordPress themes to boasts BandsInTown integration to help you reach your social fans and let them know where you'll be touring next.
Marly includes several layouts, Retina Support, WooCommerce support, and even the ability to sync your social presence with your site.
Features of Marly
Compatible with all WordPress plugins

SEO optimized

Has a responsive design

Mobile Friendly

Social sharing features

WooCommerce ready which allows you to sell merchandise on your site
More Info / Download Demo Get Hosting
Conclusion
We hope this comprehensive article helped you find the best WordPress theme for studio recording or your general music website. In case it did not, do not bounce just yet. You may also want to take a look to see our all-inclusive list of the Best WordPress Themes for Musicians.
Remember, our goal is to serve you and ensure you find what you're looking for. With that in mind, keep visiting our site for more awesome content.
Thanks for browsing.