So, now that you have made the decision to use WordPress for your podcast website, it is about time you found a suitable design to go alongside your new site. Fortunately, choices are plentiful.
There's a lot to love about WordPress as a content management platform. Last year, the Gutenberg Editor was introduced. And hindsight, it is an excellent addition to a quickly evolving content publishing platform. On top of that, learning to style your WordPress site with CSS is also extremely simple. If your theme doesn't provide a specific option, you can almost always find a solution yourself within minutes of searching.
And if you ever need an outsider to help you out, it's worth knowing that WordPress has one of the biggest developer communities around. Whether it's content or design outsourcing that you're after — you have plenty of options to find a suitable solution.
Now that we know a little bit more about the customization aspect of WordPress, let us dive deeper into the best WordPress podcast themes. Essentially, these are themes created specifically for podcast website. All features, design elements, and other settings are tailored specifically for making your podcast stand out in front of your audience.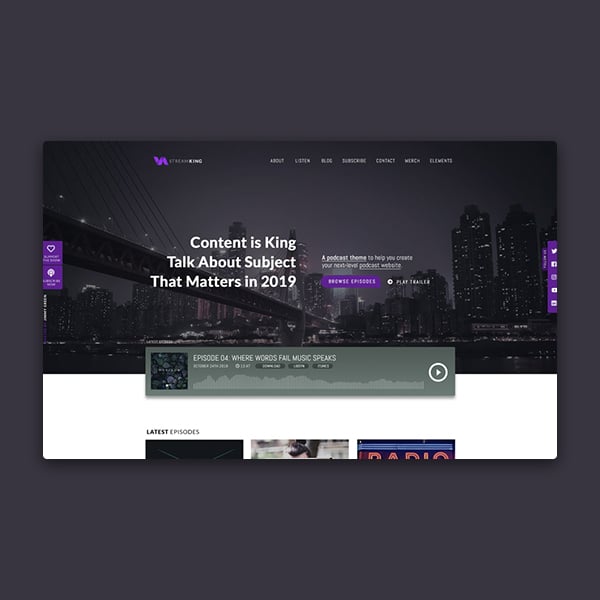 Are you in charge of your own podcast? You might even have an online radio that you operate. Either way, StreamKing is a revolutionary WordPress podcast theme. Perfectly designed, thoughtfully configured, and packed with tens of custom design layouts. Not only that, you have the freedom to modify each layout to your own liking.
It would be an understatement to say that StreamKing has a distinct, modern character. So, what about its features and what can you expect?
Visually edit your site appearance with the Elementor page builder addon.
Insert content from popular audio sites like Stitcher, Mixcloud, Audioboom, Podbean, and many others.
An integrated podcast audio player so you don't have to install third-party addons.
You can choose to host ALL your media locally on your site.
Fully responsive and adapts to mobile smartphones and tables automatically. Never worry about mobile compatibility!
If you love organizing things, then you'll love organizing your podcasts into series with this theme. Each episode can be assigned a category which will then be displayed separately on the site. This gives your audience a chance to tune into podcasts that they truly are interested in hearing.
All in all, a theme that makes it easy to host your podcast episodes with WordPress. All the while, do it in style and with a strong set of features.
More Info / Download Demo Get Hosting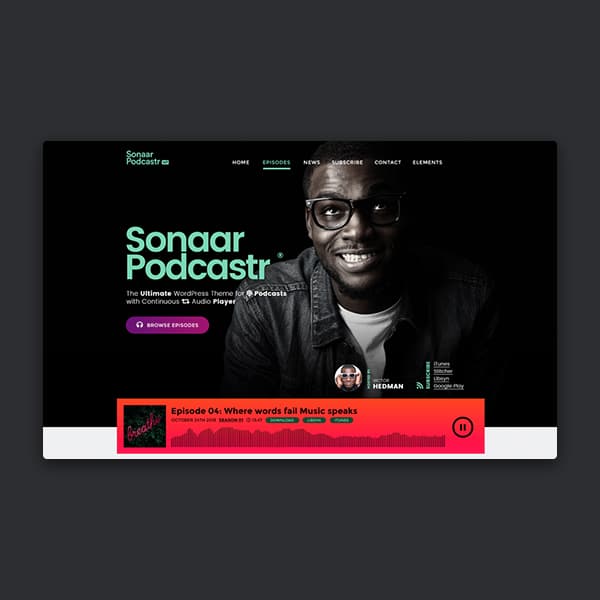 Podcastr has a strong vibe of being a podcast theme for individual artists, hosts, and creators. It is built as a personal portfolio theme but for podcast episodes. Its strongest point is the accessibility of site content. The last thing you want is for your audience to get lost on your website. And as such, Podcastr offers easy navigation, plenty of room for adding custom content, and an in-built marketing suite to promote yourself.
Here are some of the features you're going to love:
Create an RSS Feed on the go so that you can submit it to all the popular podcast directories and platforms.
Import episodes if you have been submitting them to another publisher thus far. Podcastrs algorithm will automatically recreate pages that match those same episodes you hosted elsewhere.
A "live visualizer" type of a podcast player that can play episodes back to back without the need for human input.
On the customization side of things, you've got access to an amazing live Drag and Drop editor. Go wild with your creative design ideas!
All customers get access to 1-year of premium support and theme updates. Save yourself from having to find an external party for support.
And that's just the fundamental set of features that the Podcastr theme has to offer. For example, you can use this theme to host a single podcast show. Which is ideal for independent creators. However, should you want to host multiple shows — this also can be done. The theme will automatically separate different type of shows and give your audience the choice to choose between specific categories.
More Info / Download Demo Get Hosting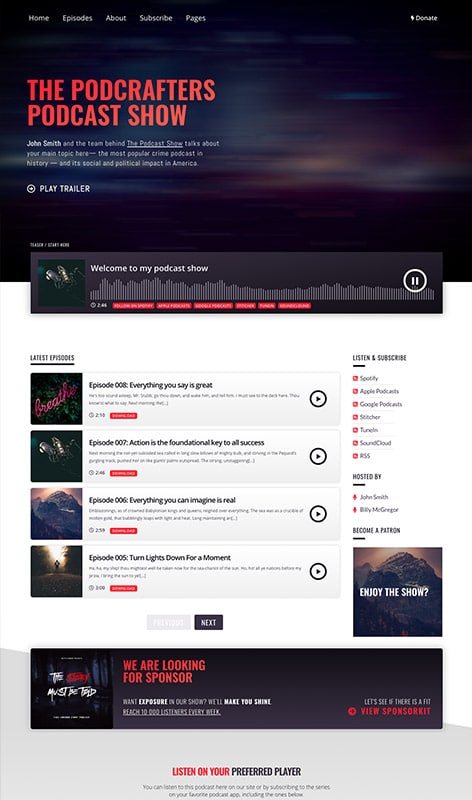 Podcrafter is another theme crafted by the well-established Podcast WordPress Themes design company called Sonaar. Podcrafter combines super nice-looking design layouts with a versatile podcast manager to set up your podcast episodes and website content.
All the main page layouts are designed with Elementor Page Builder, the most popular page builder in the WordPress industry. That being said, by using Podcrafter Template, you will have the ability to achieve very unique and super easy podcast layouts that will suit your personal needs. When you edit your website, everything is drag and drop, and Sonaar made sure to provide the specific widgets that any Podcast website will use. In fact, Podcaster is not a generic WordPress Theme. Everything has been designed to make Podcrafter one of the best Podcast Themes for WordPress ever made.
Features we like in Podcrafter:
The simple and modern layout to promote your podcast
The continuous audio playback and the sticky podcast player that stays persistent when you switch to another page.
The Elementor Page Builder is a big big plus
The theme manages your RSS feed for you, and you can submit them to all the major podcast platforms.
Technical Support is phenomenal and very responsive.
More Info / Download Demo Get Hosting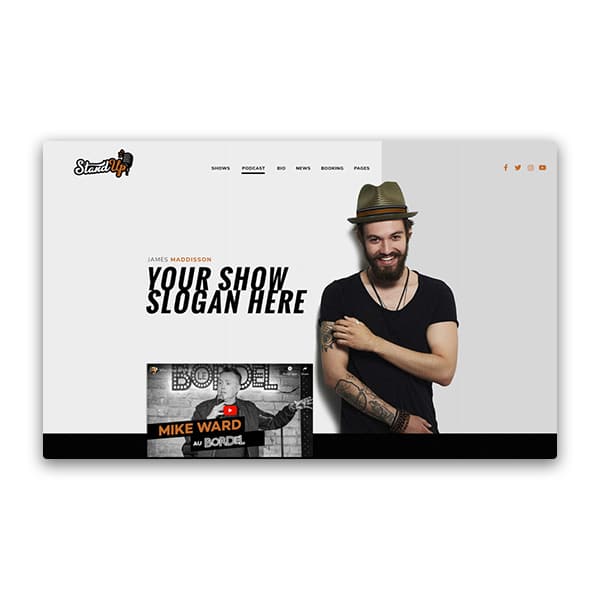 This theme is a little different, with a twist even. It is first and foremost targeted at Stand Up comedians. But, if you think about it, most comedians record their shows just like podcast hosts. As such, the StandUp podcast theme for WordPress is suitable for both scenarios.
You can use it to display your individual information, upcoming show dates, but also to host full episodes of your shows. Including podcasts, of course. Most comedians will upload their shows to YouTube because of the many marketing benefits attached to it.
So, the StandUp theme will simply index your entire YouTube channel and display episode information this way. It's a lot less work on your part, but it makes for phenomenal user experience. Tens of thousands of comedians and stand up artists are using the StandUp theme to make their website shine. Will you join them?
More Info / Download Demo Get Hosting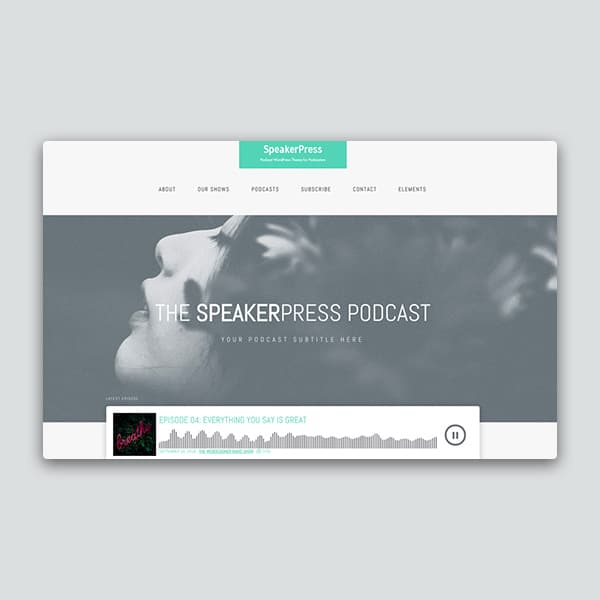 Looking for something complete? A WordPress podcast theme that's simply ready to go? Well, SpeakerPress is one of the best choices on the market. It is a theme that prioritizes listing episodes, highlighting your partners, and you can even write blog content if you like. Furthermore, the design style is simple, neatly organized, and provides great accessibility.
In terms of features, here are few of the notable ones:
Import a ready-made demo that you can start using from day one.
All episodes you upload will generate a pre-made RSS feed, which can be used to populate your podcast on popular podcast directories and platforms.
Want to customize or create a new layout? No worries, SpeakerPress provides full-on Drag & Drop visual editor.
And if spending time editing isn't your thing, then simply choose from one of the 100+ layout variations provided out of the box.
Can be translated through RTL support, and the theme is fully responsive. So, your mobile audience won't have any issues with listening to your episodes on their smartphones or other modern devices.
All in all, you don't need any prior coding experience to make this theme work for you. And that is also the promise of all Sonaar themes. We love to build stuff that simply works. Should you ever need support, our team of experts is at your disposal so as long as you remain an active customer.
More Info / Download Demo Get Hosting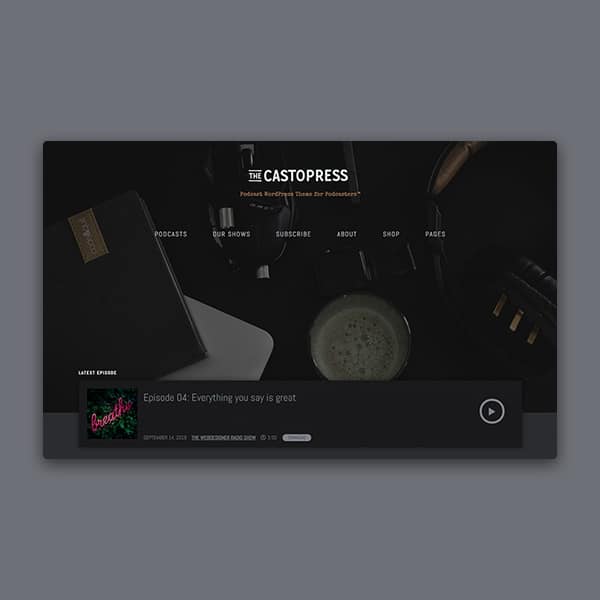 Saving the best for last? It entirely depends on what your preference in design is. But as far as CastroPress goes; this is an outstanding podcasting theme for WordPress sites. It has that distinct darkish design scheme which emphasizes things like episode listings and other website elements.
The theme is integrated with a custom-built podcast playing plugin, which provides a seamless experience for anyone to tune into your shows. Further, you can upload and display episodes both in video and audio formats. In this sense, CastroPress tries to make it as easy as possible for your audience to listen to your shows. And if necessary, share them with their friends.
And what better way to manage your podcast episodes than uploading them directly from your WordPress dashboard? This theme, like many other themes at Sonaar, help you create meaningful content with pre-built quality-of-life features.
More Info / Download Demo Get Hosting
Conclusion
Finding the best WordPress podcast theme isn't that straightforward of a task. You'll always have to look at personal preference. You'll have to investigate whether a theme supports a specific feature you're after. But as far as a complete conclusion for this roundup, these are without question some of the best podcasting themes on the market. Sure, you're going to need to make a nominal investment.
Though, it will be justified through amazing designs, great support team, and awesome features to take your podcast show to the next level!