How to sell music online with WordPress is a very large question and there is no one single correct answer. It mostly depends on what kind of music you want to sell and what your music business model looks like.
Having a WordPress website is probably the cheapest and easiest web builder to build an e-commerce platform to sell music in today's era. It's super versatile and powerful, but choosing the right tools, templates and WordPress plugins to successfully achieve it can be overwhelming.
In addition, this article will guide you on the best WordPress plugins to use to sell music and merch online.
6 different ways to sells music on your website
There are different ways to sell music directly on your WordPress website and I have separated them below. Every musician, music label and music producer has different needs and will use different tools. Here are 6 common categories:
Offer premium access to a portion of your music catalogue or website;
Provide access to music streams via recurring memberships;
Grant weekly, monthly or yearly membership access;
Sell digital music downloads;
Sell physical music copies and band merch with traditional shippings
Sell music licensing and royalty-free music licenses;
Choosing the right plugin
By choosing the right plugin to achieve your goal, coupled with a professional Music WordPress theme, your musical website can become a very successful e-commerce platform that is fully customized for you!
Now let's get to the point of this article and see the image below. We've prepared a decision tree diagram to help you decide which plugin to use according to your music business.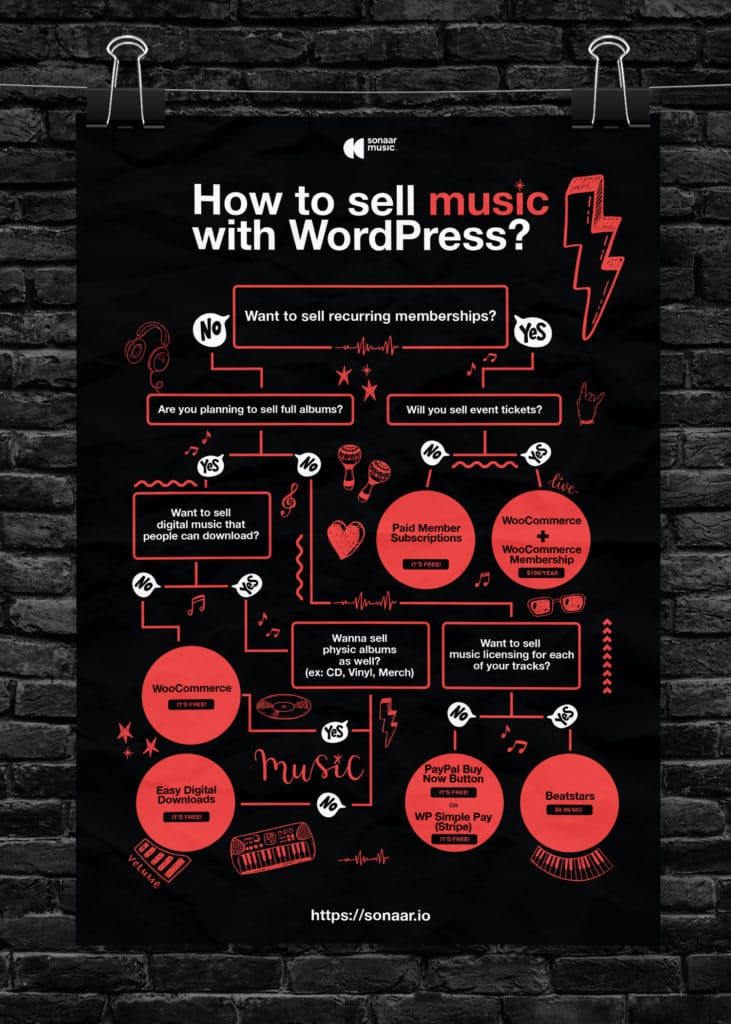 Either you want to sell a single track or album, sell a subscription, or sell access to a certain part of your website (including album download or streaming access), you will need to use one or more plugins to achieve it. Some are paid, some are free.
The best plugins to accept payment on your website are:
MP3 Audio Player Pro
You can now easily sell your digital music, memberships, or subscriptions and keep 100% of the profits with MP3 Audio Player Pro. This audio player seamlessly connects with WooCommerce, the world's most popular free eCommerce plugin, making it easy for you to get started right away.
But that's not all. It' one of the most customizable audio player for WordPress, allowing you to create the perfect music shop experience for your customers. Add call-to-action buttons, customize your music shop's layout, and even manage music license agreements with ease.
And with powerful analytics and reporting features, you'll always know how your music is performing. Get insights into the number of plays, downloads, and times directly in Google Analytics.
Try this live demo and see how easy it is to create a successful eCommerce music shop.
WooCommerce
WooCommerce is the most popular eCommerce platform for WordPress and it's easy to create an online store with it. You can sell anything such as Music, goodies, tickets, etc. It's very capable of building a super huge catalogue (we are talking like 20 000+ products) but its also very easy to use for small shop owners.
You can build almost any kind of music store with WooCommerce but sometimes, it might be just too big for what you need, or not enough specialized. The creators of WooCommerce are the same that built WordPress.
WooCommerce is free and will always be. However, depending on your musical needs, you may have to couple it with premium or paid add-ons.
Audio Player for WooCommerce: https://sonaar.io/mp3-audio-player-pro/
Free version: https://wordpress.org/plugins/woocommerce/
Official website: https://woocommerce.com/

WooCommerce Memberships
WooCommerce Memberships is an official WooCommerce add-on. You just have to install the free WooCommerce plugin and this plugin will transform your website into a professional membership solution that brings your content, shop and memberships together.
It's the best membership plugin for WordPress we have seen so far, yet the most expensive. It comes at $199/year.
Learn More: https://woocommerce.com/products/woocommerce-memberships/

Easy Digital Downloads
Easy Digital Downloads is a very nice plugin to accept any kind of payment in exchange for digital downloads. A lot of major record labels use EDD on their website for their eCommerce part. It manages members and customers, downloads (digital products), promo codes, etc.
EDD is free but you may need one or two paid extensions to bind your music store together depending on your need. Check out their paid products before jumping in.
Free: https://wordpress.org/plugins/easy-digital-downloads/
Premium EDD extensions: https://easydigitaldownloads.com/downloads/
Paid Member Subscriptions
This is a free plugin that gives you the ability to build a super nice customized membership website. It manages all the subscriptions, members and payment part. It allows you to restrict access to premium content as well. It's very complete and plays well with Elementor WordPress themes. This plugin is fully translatable in any language.
The pro addon gives you extra power. It can collects Tax & EU VAT, accept recurring payments through Paypal standard and Paypal Express, Stripe and allows multiple subscriptions per user. You will also be able to generate invoices. Pro version cost $149

Free: https://wordpress.org/plugins/paid-member-subscriptions/
Pro: https://www.cozmoslabs.com/wordpress-paid-member-subscriptions/

Paypal Buy Now Button
If you want to accept PayPal payments in a very simple way, the PayPal Buy Now Button plugin is what you need — It comes in both a free and premium version.
The free version at WordPress.org lets you create a simple button for one-time payments, while the premium version adds support for features like Discounts and coupon codes, Taxes, Multiple quantities. Premium version starts at $70/year
Free: https://wordpress.org/plugins/wp-ecommerce-paypal/
Premium: https://wpplugin.org/downloads/easy-paypal-buy-now-button/
WP Simple Pay
To accept quick and simple payment, WP Simple Pay is the way to accept payment via Stripe (one of the most popular payment gateway in the world. It accepts all major credit cards). It comes in both a free and premium version as well. The freemium version available at WordPress.org is the one you'll choose if you want to accept one-time payments only.
The premium version offers additional options such as offering coupon codes, set up recurring payments and subscriptions, add a complete payment form (compared to just a payment button with the freemium version) and also it plays well with Apple and Google Pay! The premium plan starts at $99
Free: https://wordpress.org/plugins/stripe/
Premium: https://wpsimplepay.com/

BeatStars
BeatStars is a very specialized beat and music licencing platform that every music producer will enjoy. While it's not explicitly built for WordPress, you can literally embed your Beatstars page into your WordPress website and the result is awesome.
There is a free plan to try but you will rapidly see that you must use one of their paid plans to use it soon or later. The paid plan starts at $9.99/month with unlimited music uploads.
Learn more: https://www.beatstars.com/

Now the question you may ask yourself:
What else will you need to sell music beside WordPress and one of these plugins?
You need at least a domain name (we recommend GoDaddy.com) , a good web hosting (we recommend Cloudways.com) and a jaw-dropping music WordPress theme (We recommend, of course, our own templates at Sonaar.io )!
If you are new to all this, don't miss out our free ebook on How to Make Musician Website with WordPress to get started. Cheers!