If you are considering to have your own website for your podcast it's probably because you want to reach a larger audience and get new subscribers. But there are plenty of other good reasons why you should have your own podcast website. It can be used as an extension of your existing podcast show where you will be able to offer a bonus, goodies and freebies and promote something else than just your podcast episodes. It can also be used to centralize your information, social media and content in one place.

Thus, having your own website for podcasting will boost your brand reputation because you gonna offer something unique which stands out from your competitions and you will have total control over all aspect of your podcast website: You will finally control your podcast's destiny and that's the point.
You are probably wondering: Why should I create my own podcast website? Here are 5 simple reasons why you SHOULD have your own website.
1. Reach a larger audience and get new subscribers
By owning your website, you will have the possibility to reach a wider podcast audience while targeting a specific niche for your podcast. A website can be viewed from any computers, any devices and any countries. It's a channel of communication just like your social media or your existing podcast platform. Don't put your eggs in the same basket.
There are millions of people who don't know yet about your podcast show and I think it's highly unlikely that everyone will discover and subscribe to your podcast just by searching for it on Apple Podcasts or Podbean! You must be everywhere because people are everywhere.
If your podcast is about 'Neuroscience', chances are that LOT of people will search for that content on Google search. They will search for something like 'brain and neuroscience podcast'. If you are not there, they won't find you and they won't subscribe to your show.
And the thing is you probably might have already a podcast webpage provided by your actual podcast hosting company…but there is a problem with these generic, template free web pages. They are all the same and Google don't like it — AT ALL. If your topic and your webpage are the same than your 50 other competitors, why Google would rank your first? By using these free podcast webpage, you are in a dead end.
You know, there are several free website builders for podcast such as Wix or Squarespace but honestly, have you already seen one of these websites rank first on Google Search? Nope! They are too similar and Google penalize plagiarism. That said, there are other ways to rank your podcast on Google and I'm about to tell you soon how to create a podcast website with WordPress that ranks on Google. Keep reading.
2. Use your website as an extension of your podcast shows
There are several ways to monetize your podcast and having your own website for your podcast is a great addition to generate more incomes. You could provide your prospect sponsors valuable information on how it costs to sponsor your podcast, what your show is all about and also you could offering a downloadable EPK (also known as Electronic Press Kit) that would include your biography, company profile, a description of your product and services, photos of your studio, etc. You could also list your existing sponsors in the footer of your website. I'm sure they will love to see their logo and name there!
Another useful way to use your webpage as an extension of your podcast is to offer extra or bonus contents to your fans and subscribers. You could generate traffic to your website by promoting it at the end of your episode, telling your audience that you have giveaways on your website or extra content to download. You can link there your partners and do cross promotions with other podcasters and ultimately, run contest directly on your website by asking people to subscribe to your newsletter to win prizes, etc.
3. Centralize your information and content in one place;
A website is the best place to centralize all content in one place. You should regroup links to your social networks and even offer sneak peek of what people gonna find on your social media (you could display your latest 6 Instagram photos, your last podcast episodes, etc..). It's a great place also to generate content other than your podcast. You could have a blog section, news about your shows and events you are going to attend. Another idea is to link to your Patreon page or a simple Paypal donation button! You can do what you want with your own podcast website.
I like to think that your podcast is a funnel just like your Facebook page, Twitter and Instagram accounts, AdWords campaigns, Newsletters, YouTube Channel, etc. Your website is the place where you are selling and monetizing your podcast. It's the right place to show everybody who you are, what you do and what makes you stand out from your competition.
4. Stand out from the crowd and your competition ( by offering something unique, authentic)
Having your own website for podcaster means to have total control over your identity. It's one of the easiest ways to stand out from your competition because you gonna create something unique and authentic to yourself. By using a website builder for your podcast with WordPress by example, you will be able to create a website that truly makes you different.
With WordPress, coupled with a premium Podcast WordPress Theme, you can build unique, beautiful and killer WordPress podcast website very easily but most importantly, something original that will evolve with you the way you need to.
"The person who follows the crowd will usually go no further than the crowd. The person who walks alone is likely to find himself in places no one has ever seen before." – Albert Einstein
5. Boost your brand reputation, awareness and have credibility for your show.
Your podcast might be different but is your brand apart from the crowd? Having your own website for your podcast show will give you a lot of credibilities but be aware. A poorly designed website is a backfire. I might not be the first one who tells you this but you should really avoid using free templates to build your website or hire some random guys on fivers.com to build it. This will never EVER work!
I'm talking about podcast brand awareness and what you want is to create a successful website for podcasters. I can guarantee you that if you design a great website for your podcast, it will ultimately boost your podcast show.
6. How to create your own podcast website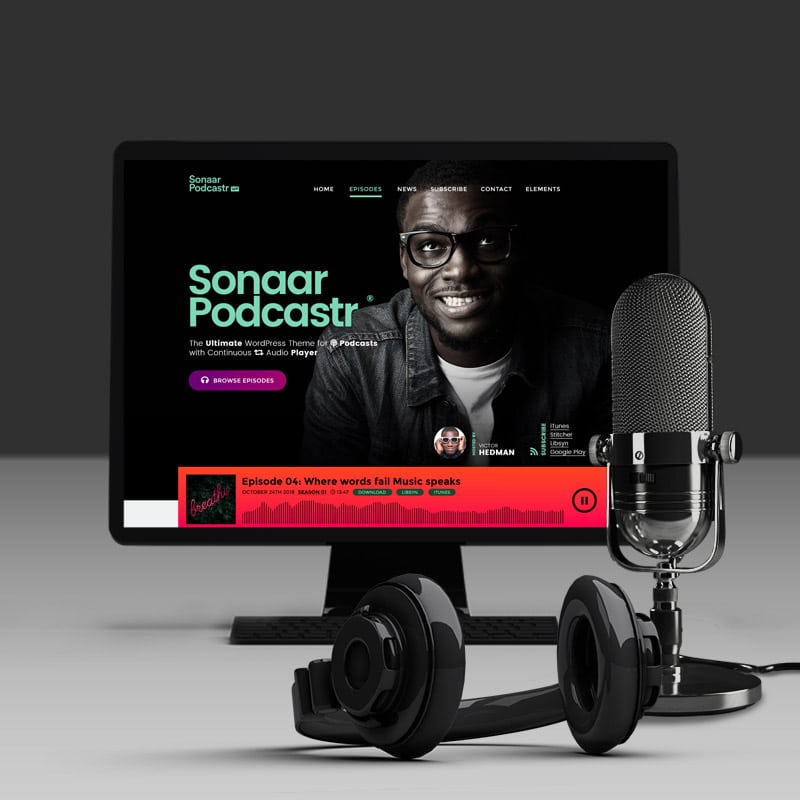 While this article does not focus on how to create a website for podcasting, here are some tips to get you started and links to learn more about how to design a website for your podcast.
Use WordPress
WordPress is the most popular website builder in the world. There are around 500 WordPress websites being built DAILY compared to only 80 with Squarespace. [Source: CodeinWP ].It has proven to be the most easier and flexible site builder in the world and it's also open-source! WordPress for building a podcast website is definitively the best web tool to get started
Use a WordPress Podcast theme
In order to save you a lot of time when building your website, we strongly recommend using a theme for Podcasters. A Podcast WordPress Theme is like a "skin" that you install on WordPress. Simply put, it's a creative layout to kick and start your podcast website. It offers extended functionalities especially made to build a podcast website. A Podcast WordPress theme will provide you with a look and feel as well as all the extra features you need to build a professional podcast website.
Get a WordPress Hosting
To use WordPress, you need a web hosting. It's very cheap. I strongly recommend CloudWays as one of the best Web hosting in the world right now. It's a very good host and cheap too. They specialize in WordPress and the customer support is exceptional and free! check it out: http://sonaar.io/go/cloudways
Get a domain name
If you don't have a domain name for your podcast show (ex: www.yourpodcastshow.com), it's time to get one now. It cost between $9 and $15 per year. You can get a domain name at Godaddy. Once you got the domain name, you only have to point it to your web hosting. GoDaddy and your hosting provider will be able to help you with this, free of charge.
Hope you've liked this article! If you have any questions, feel free to ask. Consult our blog for tips and tricks on how to build a podcast website.