Using a page builder for your musician WordPress website will save you enormous amount of time and energy and will allow you to design unique page layouts without writing a single line of code. Elementor Page Builder plugin is the most popular drag and drop page builder plugin for WordPress. It's reliable, fast and incredibly easy-to-use. We bring you here a list of the top 10 Best Music WordPress Themes for Elementor in 2022.
Combining a great Music WordPress theme with an exceptional page builder such as Elementor will make your musical website more functional, authentic and powerful. Unfortunately, there is not a lot of great music WordPress Themes compatible with Elementor yet but our team make sure that you will be petrified by how powerful and jaw-dropping the Sonaar WP Themes are when coupled with Elementor Page Builder. The best music WordPress This is a perfect match and you won't look behind after using it.
Therefore, here's our list of the Best Music WordPress Themes for Elementor in 2022. All the WP themes below have something special. They work great on all devices, they are responsives and mobile-friendly and the design is simply outstanding and you no coding skill is required to enjoy them.
The best music WordPress themes for Elementor:
Editor's note: We will continue to update this list of the best music WordPress themes for Elementor as more become available.
1. Apex for Elementor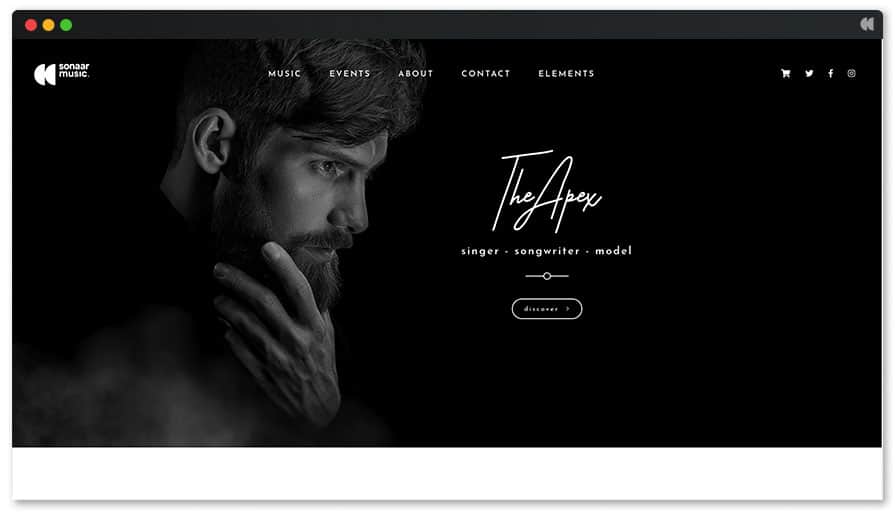 More Info / Download Demo Get Hosting
Of all WordPress themes I've tested, Apex Musician WordPress Theme is one of my favorites to pair with Elementor Page Builder. Better yet, this premium music template boasts tens of thousands of installations to-date and the number keeps surging day by day.
With its one-click install feature, all you have to do is import the template content to get started, and immediately start designing your dream music website by using the visual page builder. Look at the theme's preview and it should give you an idea of why the theme qualifies as one of my favorites.
In terms of performance, Apex is lightweight, minimalist, versatile, and extremely mobile responsive. Keep in mind that the black and white color palette can be changed by any colors you want. You can also swap the fonts, the logos and all the content by your own to give your musician website your unique twist.
Features of Apex
Unlimited Colors, Google Fonts and layouts
Compatible with WooCommerce
Compatible with Revolution Slider to create outstanding carrousel animation
Affordable
The number of features is impressive and they keep adding new ones.
SEO friendly
2. Sonaar Mega Bundle of 23+ Music WordPress Theme for Elementor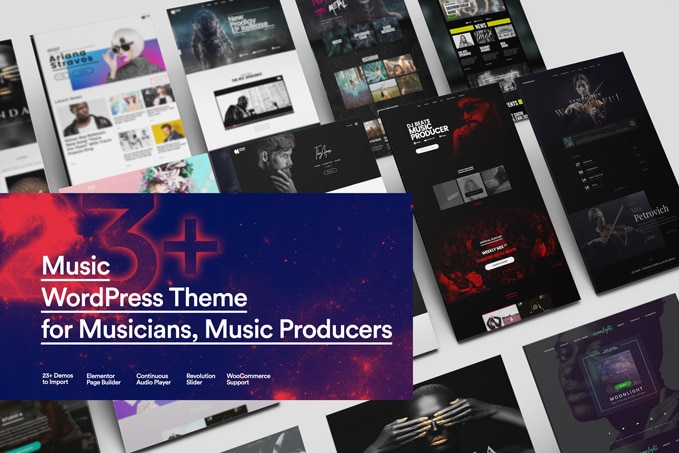 More Info / Download Demo Get Hosting
Sonaar WordPress themes are without a doubt, the best themes for music, musicians and music bands in 2022. Recently, Sonaar has bundled its best themes and offer it for only $89 for a limited time. It's a pretty good deal for what you get. The Sonaar themes are 100% compatible with Elementor and Elementor Pro and includes more than 10 Elementor widgets specifically designed for artist and music producer websites.
The widgets included are a very nice sticky audio player, discographies widget, podcast player with real-time spectrum analyzer widget, an event manager plugin for Elementor, a video gallery, a dual color heading widget, a RSS Feed importer for podcasters, an essential grid and revolution slider Elementor widget, as well as extra options for the native Elementor heading widget which will give you gradient color picker and also an integrated playlist picker in the native button widget of Elementor. This is the most advanced and specialized Music WordPress Theme for Elementor ever built.
Features of Sonaar:
The designs are slick and very impressive;
100% Compatible with Elementor and Elementor Pro;
Header and Footer Builder;
10+ Sonaar widgets designed for Elementor;
The best music wordpress themes in its category;
Very well maintained with regular updates;
You get 23 demos for only $89 or you can buy 1 single theme for a reduced price;
1 year of free customer support;
They have a live chat available if you need help so you get your issue resolved pretty fast;
3. Milend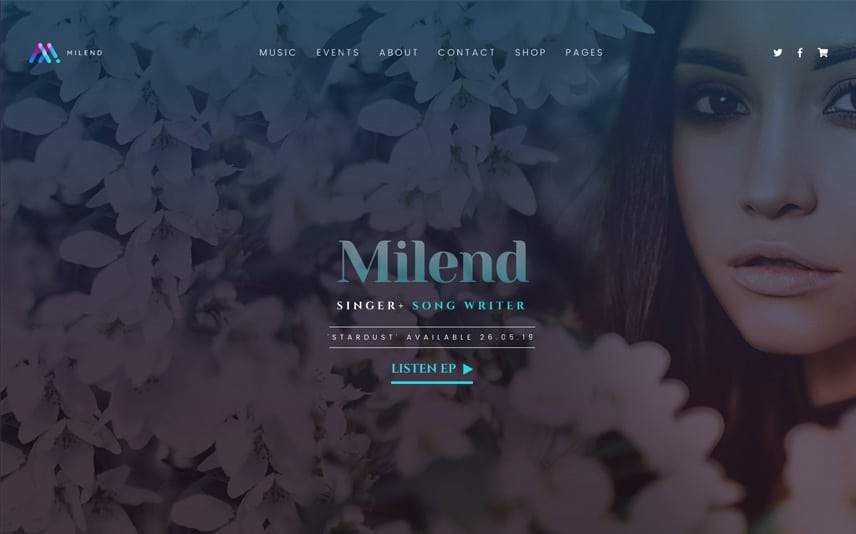 More Info / Download Demo Get Hosting
Milend Music WordPress Theme for Elementor Page Builder is amazing and is my second favorite. The image background can be swapped with your own in 1 click and it will truly give another feel to your artist portfolio website. The theme will automatically adjust the dimension for you so you have nothing to crop. Also, Milend (like all the Musician Templates on this list) is fully responsive and very mobile friendly. The magic happens when you start using Elementor! Milend become a true Music Web Builder online tool that allows you to create your own musician or music band website with no coding skill at all!
Record Label will love to work with Milend since it's very user-friendly. Thanks to its multiple layouts, anyone in the industry will be able to list events, display artist's biography, highlight merchandise items for sale, incorporate discographies, and sell music. You can accomplish all this through the visual composer plugins included in the product.
Along with its compatibility with Elementor widgets, you can edit pages in real time with a live previewer on the left side. The theme's control panel also boasts unlimited colors. Topping it all off is a great ajax audio player and discography manager. Milend is among the most feature-rich themes in this enumeration.
Features of Milend
Very versatile
Image or Video Background Options
Elementor Page Builder ready
Compatible with most, if not all WordPress plugins
Translation ready with WPML or Polylang
4. Moonlight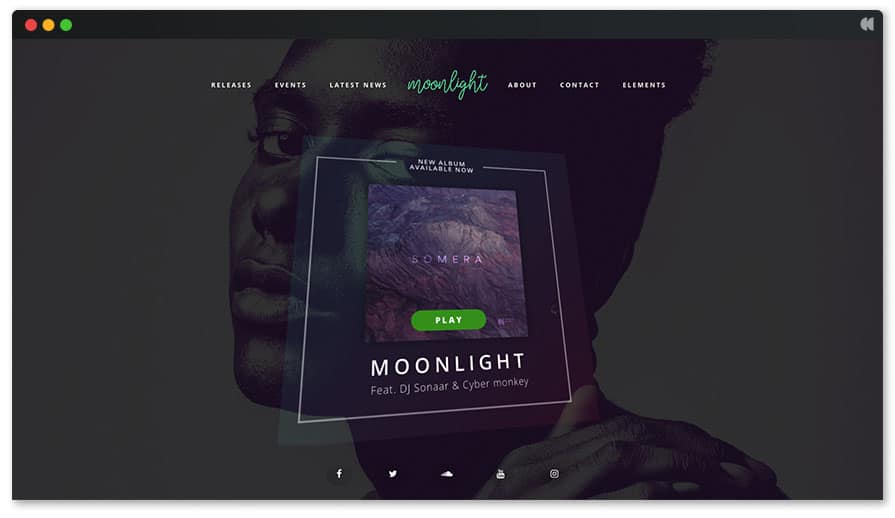 More Info / Download Demo Get Hosting
Moonlight is in the same music band wordpress theme category than its sister template Milend. The huge image background gives Moonlight an immersive experience. It's suitable for any kind of artists, from hip-hop music to k-pop music and solo vocalist. Moonlight WordPress Theme has been specifically designed for Elementor. It looks great on devices of all screen size. As long as you want to stand out among other artists in the competitive realm of musicians, I urge you to check out this masterpiece. With Moonlight, you can upload music and videos if that is what will keep your audience hooked and entertained.
This theme is also highly extendable and lightweight so you can use it to create any sort of artist sites such as an e-commerce site, music blog website, or a trendsetter portfolio. You are not limited to couple this theme with Elementor. In fact it's compatible also with WPBakery Page builder but we highly recommend using Elementor Page Builder to build your music website for all reason mentioned above.
Features of Moonlight
Fully responsive on devices of different sizes.
Different appealing color skins
Retina ready
Supports WooCommerce
Custom support is free, friendly and reliable
Great design to stand-out from the competition
5. Outlander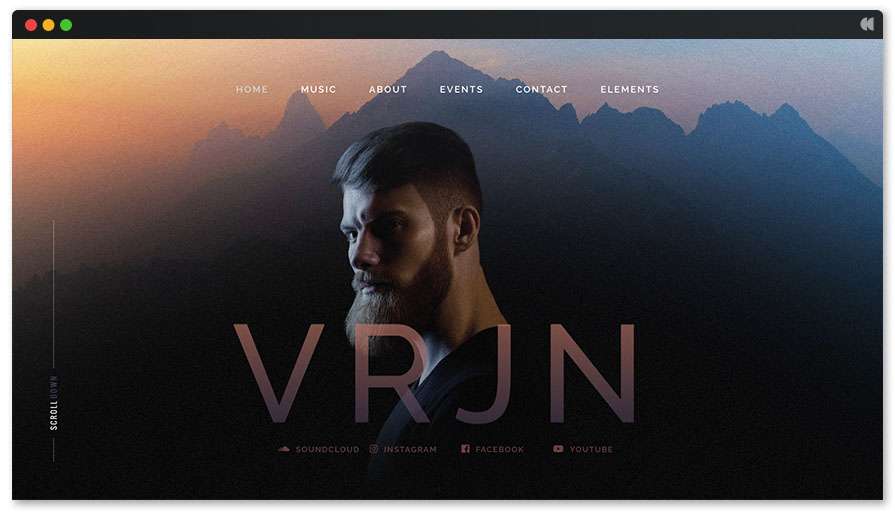 More Info / Download Demo Get Hosting
Outlander Music WordPress Theme for Elementor has got character and style, and for that alone, It was an easy next pick for me.
This music template for Elementor is also great to create fast and super nice landing pages, where you can easily showcase your posts, podcast episode, music, discographies and upcoming events all in one area. Coupled with stylish visuals and animations, Outlander WP Theme by Sonaar is sufficient to keep your site visitors locked and coming back for more…and more.
Outlander does lots of other amazing things too, such as allowing you to quickly customize your next event dates or integrate the theme with SoundCloud. Using the theme with Elementor is also an option, awarding you thousands of ways to edit and modify your website. Whether you're an guru website designer or a beginner with no experience, I can guarantee that designing this theme with the help of Elementor won't be a hustle, and the good thing is NO coding skill is required. It's all using a Visual Page Builder!
Features of Outlander
Regularly updated
Super cool design to get started with
Unlimited layouts and landing pages
Responsive design
Continuous streaming audio player
SEO optimized
Unlimited color schemes
6. The Crew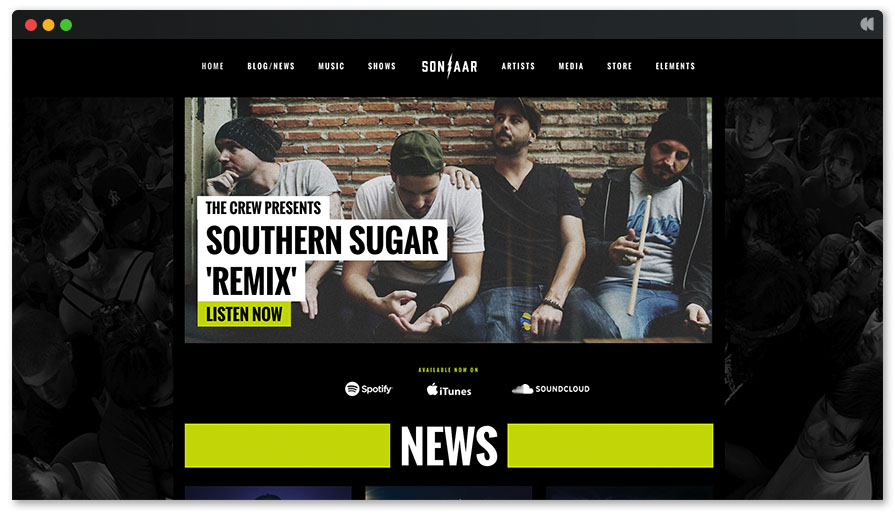 More Info / Download Demo Get Hosting
The Crew is one of the best music blogger theme that works with Elementor page builder. This amazing theme is one of the most flexible template and can be used by anyone in the music industry. Every single thing about this premium WordPress theme from Sonaar.io is simple and attractive, from the image animation to the nicely executed Video Background that picks up the source directly from YouTube! (and Yes, you can host the HTML5 video as well if you don't have a YouTube account just yet)
Furthermore, it retails with everything an blogger may need in order to present their musical projects to their fans, readers and followers. With a little help from Elementor Web Builder, I guarantee your fans and social network followers will keep coming back for more as well.
Features
Highly customizable using both Elementor and the admin panel
HTML5 Video Background, YouTube or Vimeo Supported as well.
Compatible with WordPress 5.0.2 or higher (Gutenburg-ready)
SEO friendly
WooCommerce supports to sell music online
The blog post layout and photo gallery is gorgeous
7. Mandala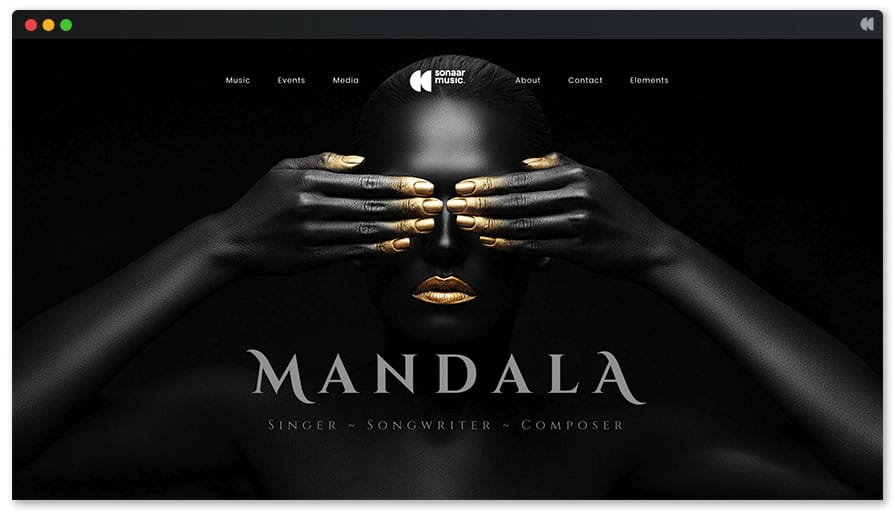 More Info / Download Demo Get Hosting
Mandala is another great example of the best Music Elementor WordPress themes for musicians, singers, clubs, radio station, music bands, and anything music related. This selection retails with a minimalist, hard to beat design that permits you to choose between a boxed or full layout along with pre-designed music elements to showcase your great music, video clip, biography and even Instagram feed!
Mandala also boasts carousel sliders, parallax scrolling, shortcodes, and a pop-up sticky mp3 player that you can hide if you need but still plays across all the pages of your website without the music stops.
Features
Responsive layout
Mobile friendly
24/7 support from Sonaar.io
Regularly updated to keep it responsive
WooCommerce ready
Includes different color schemes
Highly customized
8. Podcastr – A Podcast WordPress Theme for Elementor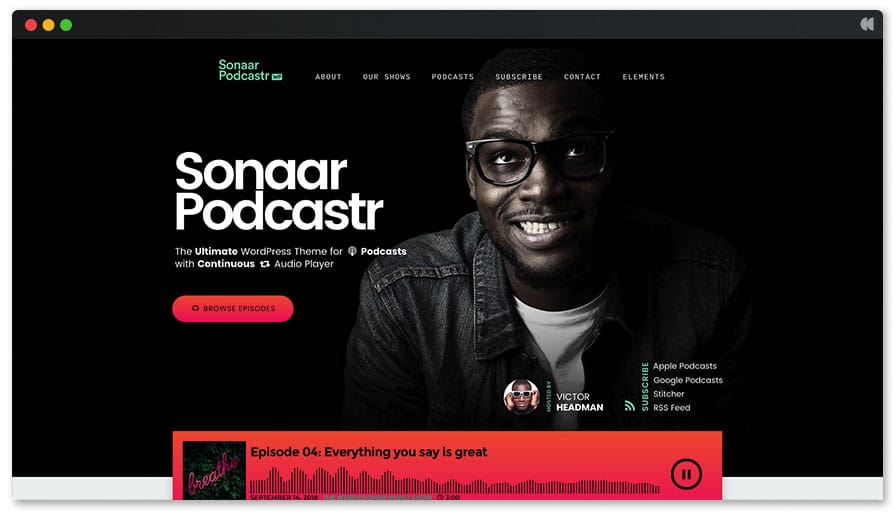 More Info / Download Demo Get Hosting
As the name itself suggests, Podcastr has been specifically designed to work in tandem with Elementor WordPress Theme in order to deliver the best podcast website, ever! The theme is also highly customizable, fast, and lightweight.
Even better, Podcaster is the Ultimate Podcast WordPress Theme for Elementor. It includes 8 custom widgets for Elementor to showcase your podcast episode with a real-time soundwave form that you can embed anywhere on your site. It's literally impressive. You can also use this Podcast WordPress Theme for Elementor to build a professional Podcast Networks, You heard right! You can create unlimited landing pages for each of your podcast shows where you can list all episodes the show have recorded. And Yah! It's all designed with Elementor page builder! We know, this is nasty 🙂
Sonaar.io also designed the theme with Search Engine Optimization in mind, which explains why the theme also meets all latest web standards. Provided you have a good Keyword Strategy and content copy, you can rest assured that your podcast show will rank on Googles' first page.
Features
Automatically generate a RSS feed for your podcast
It's probably the most feature-rich Podcast WordPress themes every built
100% Compatible with Elementor Page Builder
User-friendly and its highly customizable
Responsive on mobile devices and all web browsers
Lightweight
Compatible with all major podcast hosting providers
9. Downbeat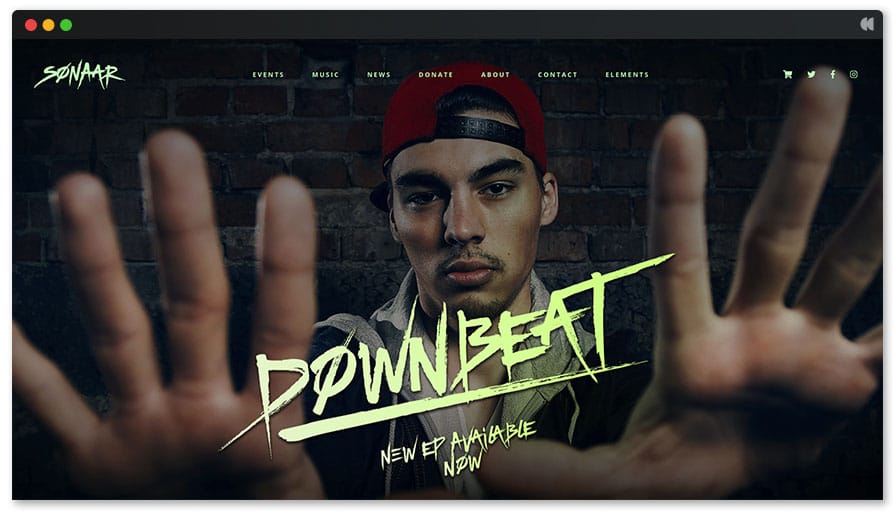 More Info / Download Demo Get Hosting
Downbeat comes with one message; Create your DJ website with style! Downbeat is among the best DJ and music producer WordPress themes for Elementor in 2022.
This theme responds remarkably fast on both desktops and mobile devices. Better yet, this DJ template comes with several plugins from Sonaar.io valued at more than $100. Using these plugins and Elementor Page Builder, you can easily create your own online DJ platform and integrate music players, live and stream radio, sell merchandise, create event listings, and customize templates however you wish.
Features of Downbeat
Elementor-Ready WordPress Theme
Customer support available 24/7
Super Flexible
Unlimited page layouts
Unlimited color schemes
Ajax WordPress Theme with Stickly Audio Player
Lots of pre-designed pages and examples to get started
10. Beats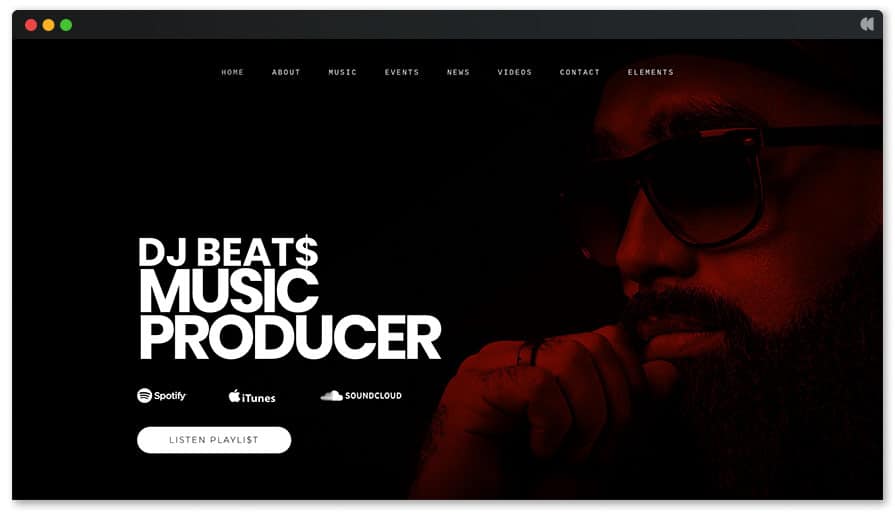 More Info / Download Demo Get Hosting
Beats boast lots of performance and flexibility, which is a big plus if you are an evolving music producer, DJ, record label or music artist out on a quest of finding its identity.
This is because it retails with several page example to get started with so you can easily know what you need to set off on the right foot in the music industry online marketing. Each page on the theme is remarkably designed with exceptional animations and visual layouts, all of which you can customize with the theme's included options and Elementor Visual Builder.
With Beats, customers can also integrate WooCommerce to sell merch, set upcoming gigs, embed radio streams, and include their personal artist biography. With its truly astounding layouts, I cannot recommend this selection enough. This is also one of the most downloaded Music WordPress Theme for Elementor.
Features of Beats
Professionally designed by Sonaar
Parallax effect
Video Backgrounds
Responsive design
Includes a floating sticky mp3 player
SEO and mobile friendly
11. Karbones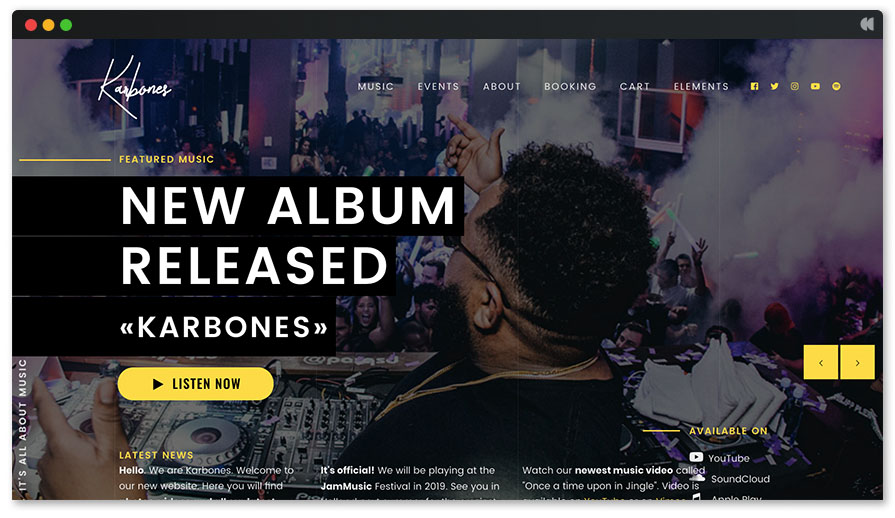 More Info / Download Demo Get Hosting
Karbones is another potential option from Sonaar.io as long as you are in the music industry and wish to highlight new albums, events, and keep your fans and followers posted. Customer Support from Sonaar is also available 24/7 to help you out if you need any help regarding the various modification options. By using Elementor Page Builder, you can change each page's layout to your specification without a single line of code.
From Karbone's landing page, you can also list upcoming gigs or events, integrate music, locations, set & integrate video backgrounds (such as Vimeo or YouTube), and much more.
Karbones also retails with hundreds of pre-designed blocks that work great for both desktop and mobile viewing. This is a solid choice if you intend to showcase your upcoming releases while still curating your image.
Features of Karbones
Nonstop music player
You can set a video background with Elementor
WooCommerce ready
Retina ready
Translation ready
Highly customizable
Conclusion
Now that you've strolled through the best music WordPress themes for Elementor, it is time to set up your WordPress website (if you don't have one already). Pick the theme that best suits your personal preference and music needs, then take a step forward toward a rocking experience.
In case none of these themes could meet your needs and requirements, don't bounce just yet. Here is another collection of the best Music WordPress Themes. Check it out because I'm confident what you're looking for could be in there. Thanks for reading!