MP3 Audio Player Pro, a top choice for WordPress users looking for a sleek, powerful, and user-friendly plugin to showcase their audio content, has yet again raised the bar with its latest feature – Carousel & 3D Coverflow. Available with version 4.6, this feature is set to redefine the way you present your audio content to your audience and provide a remarkable browsing experience on your site.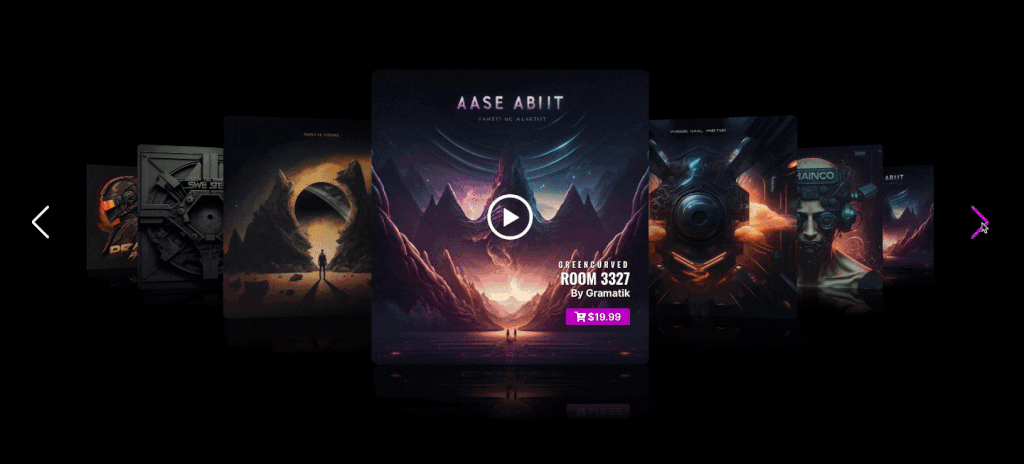 Features and Benefits
The Carousel feature is a sophisticated slider designed to display your music albums or podcast episode covers in an attractive and interactive slider format. More than just a visual enhancement, it's about redefining user engagement and enhancing your audience's experience.
As the audio landscape evolves, listeners' expectations have elevated. They seek an immersive experience that goes beyond just listening; they want to see and interact with your content. The media carousel addresses these expectations by transforming your static audio gallery into a dynamic visual display, allowing your audience to navigate your content with ease.
Moreover, the visual appeal of your presentation plays a crucial role in attracting and retaining your audience. A well-organized, visually pleasing audio gallery can make your website stand out, keep visitors on your page longer, and encourage them to explore more of your content.
Key Features of Slider & Coverflow
The Slider comes with an array of customization options that allow you to design a slider that aligns with your brand identity and complements your website's aesthetics. Here are some key features you can personalize:
Carousel Type: Choose between a standard Slider, or a 3D Coverflow-style slider.
Visual Effects: Add depth and intrigue to your slider with Slide Shadows and Reflection FX. Adjust the Reflection Distance, Height, Depth Perspective, and Rotate FX to create a unique look that captivates your audience.
Transition Options: Choose the duration of transitions between slides and the space between each slide to ensure a smooth and visually pleasing experience.
Dimensions Control: You have full control over image size, slider width, and height, giving you the flexibility to create a slider that fits seamlessly into your website's design.
Content Customization: Decide when to show the play icon and text content and control their positions. This offers a tailored interaction experience for your users. You can also choose your preferred text color, shadow, and more.
Styling Options: Customize the Image Radius, Slides Padding, Slider Background Color, and more to achieve a polished and professional look.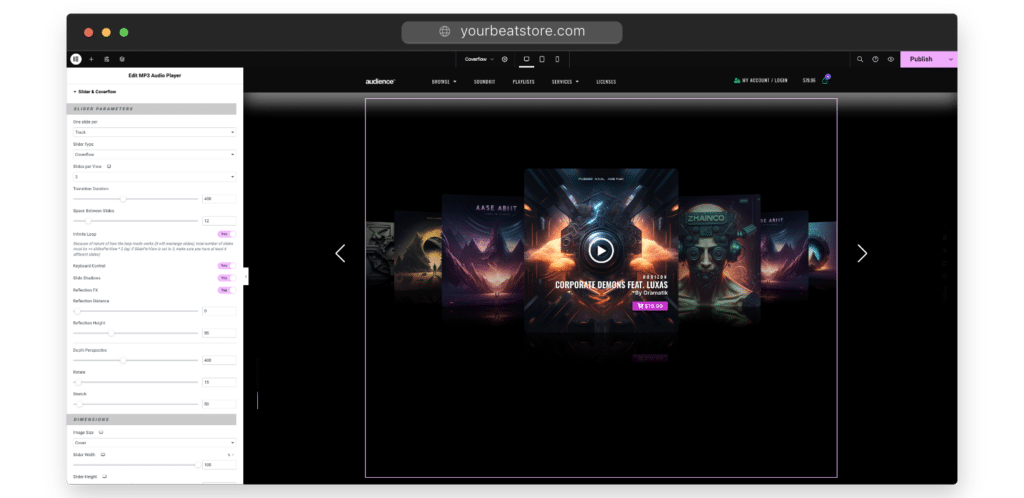 How to Use Slider & Coverflow
Setting up and customizing your slider is a straightforward process:
If you are using Elementor, you can simply activate the Carousel option in your MP3 Audio Player Elementor Widget. We recommend you deactivate Show Tracklist Option, as well as the Mini-Player and its image cover so you can focus on the stand-alone carousel only to get started.
If you are using Shortcode, see this documentation and look for the slider attributes.
Conclusion
Our player carousel is more than just a feature; it's a transformative tool that redefines your audio presentation and enhances your audience's experience. You can experiment with live example here.
By integrating visual appeal with interactive elements, you're not just displaying your content; you're creating an immersive experience that encourages your audience to engage more with your audio content.