Hello Icecast user! With the ever-evolving world of technology, keeping up with the latest trends and advancements is essential to provide your listeners with an unparalleled radio experience. Today, we're excited to introduce the most advanced Icecast Player, now available as part of the MP3 Audio Player Pro plugin for WordPress. This player boasts full Icecast streaming support and offers key features designed to elevate your radio streaming experience.
Key Features of the Icecast Player:
Display What's Currently Playing
Our Icecast Player shows the current track info of what's currently playing and fetch the information every 10 seconds, keeping your audience engaged and informed.
Automatic Artist Name Integration
With the automatic artist name integration feature, the Icecast Player pulls the relevant artist information from the metadata and seamlessly displays it on your radio station's website.
Real-Time Album Artwork:
This is a great feature we have developed that is not offered with any other Icecast player. The Icecast Player will fetch the current song, album and artist playing, and will connect through the iTune API to return the album artwork. It works seamlessly by displaying the album artwork in real-time. Your listeners will appreciate this visual touch, making their experience more immersive and enjoyable.
Animated Audio Spectrum:
The animated audio spectrum feature adds a dynamic visual and animated element to your website, transforming the way your audience experiences your radio station's content. This captivating visual component is sure to keep your listeners engaged. This feature is also exclusive to MP3 Audio Player Pro!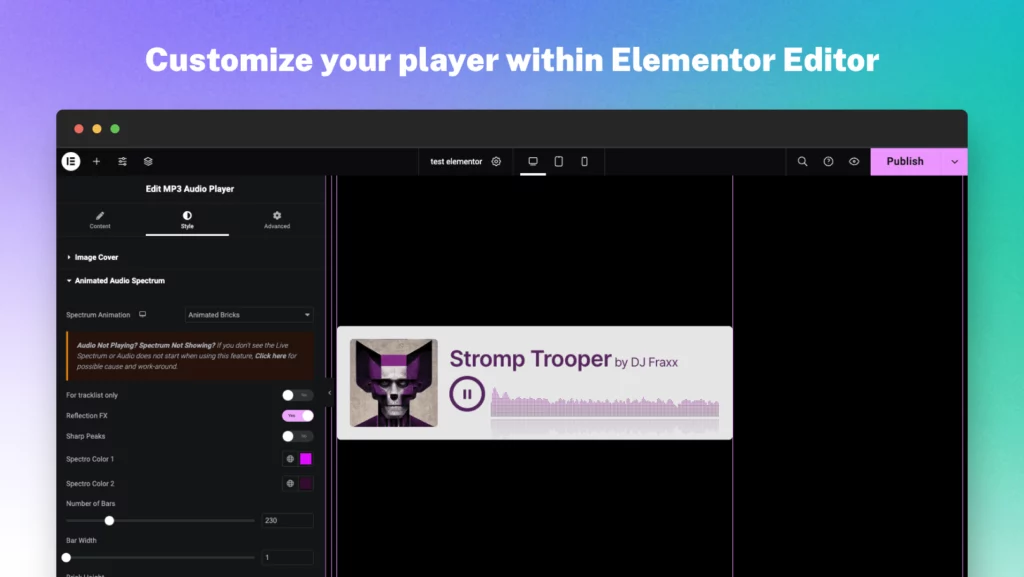 Continuous Audio Playback:
The Icecast Player offers continuous and persistent playback when you switch to another page of your webasite, ensuring that your listeners enjoy uninterrupted audio streaming. This feature guarantees a seamless listening experience and keeps your audience tuned in. You can learn more about continuous streaming playback here
Sticky Music Player:
With the sticky player feature, the Icecast Player remains visible and accessible even when your listeners scroll through your website. This allows for easy navigation while maintaining an engaging audio experience.
Create radio stations playlists
Allows you to create and manage radio station playlists effortlessly. Add multiple streams to your playlist, giving your listeners a diverse and engaging audio experience. Customize and organize your playlists to provide a seamless, dynamic listening experience for your audience.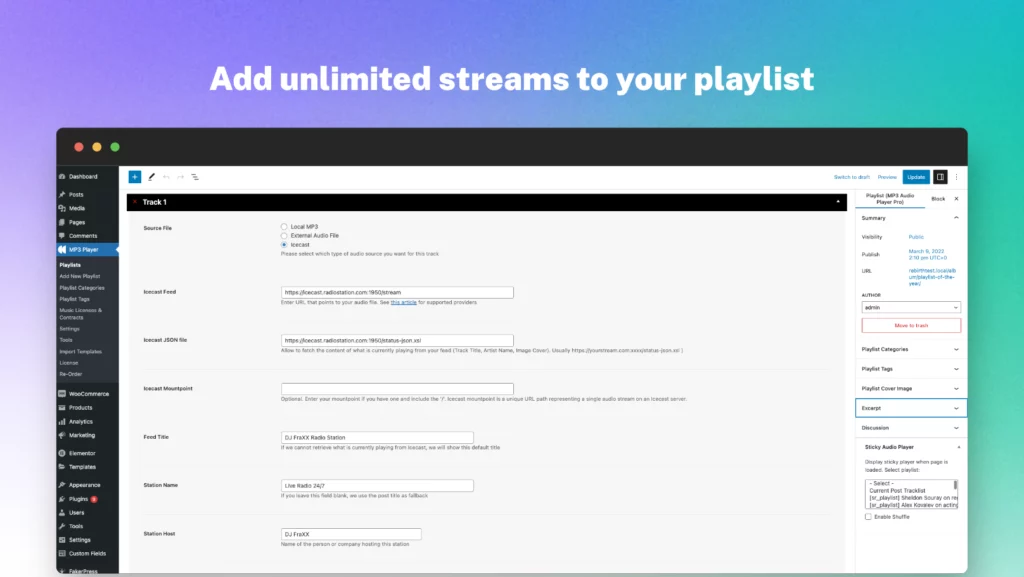 Conclusion:
The MP3 Audio Player Pro plugin for WordPress is designed to offer radio station managers and broadcasters a comprehensive solution to their streaming needs. This plugin is easy to install and integrate into your existing WordPress website, and its customizable features make it a powerful addition to any radio station's online presence.
This professional Icecast Player, now available as part of the MP3 Audio Player Pro plugin for WordPress, offers radio station managers, broadcasters, and audio enthusiasts a fantastic opportunity to enhance their radio streaming experience. With a host of innovative features and seamless Icecast streaming support, this player is set to revolutionize the way you engage with your listeners. Upgrade your radio station's website today and take your Icecast streaming to the next level!