UPDATE: In case you missed it, make sure to check our 31+ Best DJ WordPress Themes of 2022
Let get it straight. You're a Deejay and you want the best theme ever to promote your tracks, EPs and events!  You see famous rappers and DJs with an amazing website and you think how can you have that killer site without spending hundreds of dollars. Have you ever considered to use a DJ WordPress Theme? If so, continue reading because I'm gonna explain what features your WordPress theme MUST HAVE in order to have a chance to create the best DJs / Music Producer website.


Here's a breakdown of 5 must-have features to consider on your next DJ WordPress Theme.
1. Music Player must be visually appealing
As a DJ, your tracks are probably the most important assets you have right now. The first thing that your visitors will do is to listen to your beats so it's 100% sure that people will use your music player built-in into your theme. Users must have access to your music with a single click. Make sure that the WordPress DJ Theme you'll choose has a great music player. Make sure to check out the audio player that Sonaar Music' DJ WordPress Theme offer. It's jaw-dropping! First, it's a continuous music player which means that your music won't stop when you browse the website. It's a sticky MP3 Player (also known as an Ajax Music Player).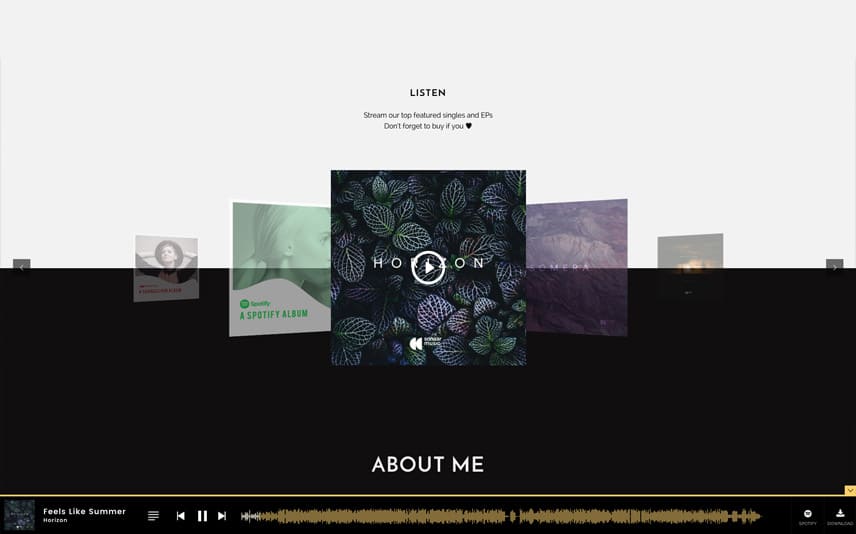 There's not many DJ WordPress Theme that offers this option. Also, you want to make sure that the player has an option to add different links to each of your tracks. If you have a YouTube music video for one of your track, you want to let the user know about it when they listen to this track. Same thing if you want to add a Buy Now button, or a Download button next to each of your tracks, make sure the theme supports it.
2. Discographies and Playlists must come with multiple layout options
For now, you might have not many albums or EPs (or perhaps you have A LOT!). Either way, make sure the WordPress Theme for DJ you gonna use comes with multiple layout options. The way you're using the album layout right now might change as your catalogue grows, so make sure your theme is flexible enough. Also, check the single-album page of your theme and see what options are available. Try to figure out all the options you will need and see if the theme supports it. It's a great to consider a visual page builder to design the layout you want. A page builder is easy to use and gives so much flexibility. If you plan to use a page builder then you will have unlimited layout available because of its flexibility. We've been using WPBackery Page Builder (Formerly known as Visual Composer) for the last 5 years and it has been a game-changer for us.
3. Biography should tell your story
Now you've caught the attention of your fans with your crazy homepage and layouts, they gonna know a little bit more about you. A biography page is a great place to share your story and profile. Your biography page doesn't have to be boring. Mix and match images with your text. A quick tip is to use a series of photos that were taken in the same photoshoot so it gives an artistic direction to your DJ website. We recommend to start your biography page with a 150 words text intro followed by one or two parallax images and then your full bio with your past gigs, discographies as well as your Electronic Press Kit (known as EPK) to download.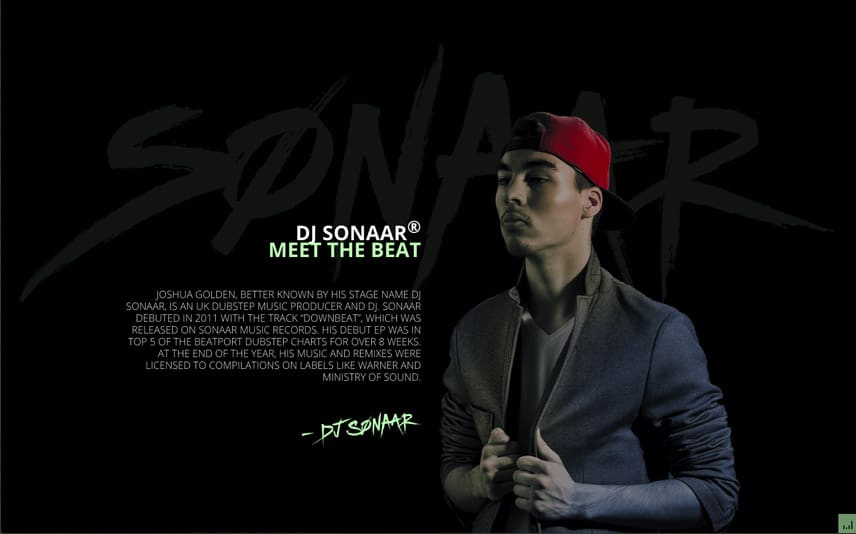 4. eCommerce to Sell your Merch and Music directly on your site
They are several ways to sell your merch online. An easy way is to sell your music directly on your website! No monthly fee (Yah!) Make sure you can sell your albums and merch with the DJ WordPress theme you gonna use. You will probably use WooCommerce as the motor of your eCommerce site.  It's the most popular eCommerce plugin for WordPress right now. Your theme shall be compatible with it.
5. Overall Design must be professional (and creative)
The main aspect to consider when choosing the right DJ WordPress Theme is the look and feel and the overall design of the theme. Make sure to check how the design reacts on different devices. Choose a great mobile-friendly and responsive theme that works well is very important nowadays. Also, if you are a DJ or Music Producer, make sure the theme is dedicated to the music industry because as a DJ, you are looking for a design that reflects your personality. If you choose a multi-purpose theme, you might spend extra hours to achieve what you want so it's better to start with a music theme that is visually close to what you are as a musician.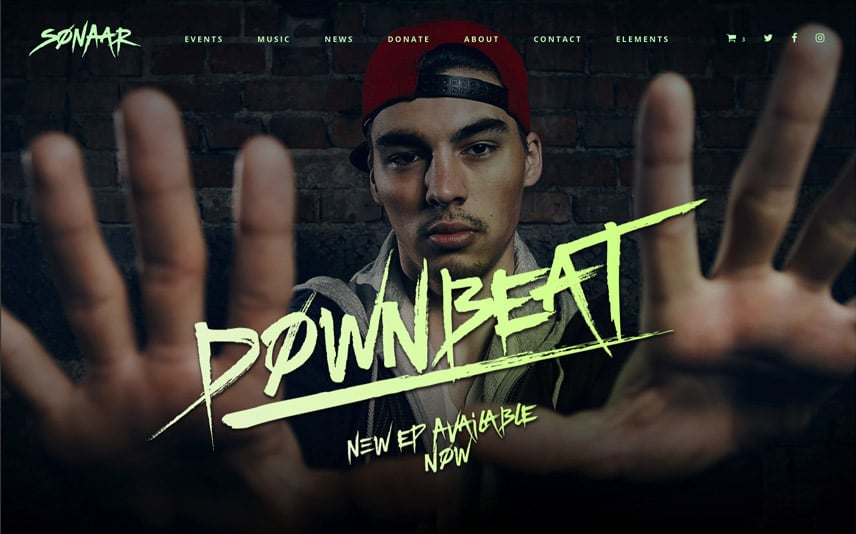 How to get started?
Check out our free Music PSD templates (Photoshop templates) to get started with your new design. This will help you to present your website to your client or friends and tweak the design before spending too much time on the development of your WordPress music website.
We also have a huge selection of the Best WordPress DJ themes available here which is updated frequently!
To resume, you can get a very good-looking WordPress theme for DJs for less than 70 bucks. By choosing a premium WordPress DJ theme, it will save you a lot of time to create your own website. The more music feature the theme has, the faster you'll build your website. If you want to generate a website in a cost-effective and professional way, then you can go with Sonaar Music WordPress Themes. To explore all the themes and designs, feel free to visit https://sonaar.io/