Nowadays, to sell your music, you need a great website. As an artist, you work hard to compose the best gig you can,  but if your website sucks to promote your tracks, then you're stuck and it will be harder for you to reach the big leagues. Your musician WordPress theme should not suck.
Creating a top-notch and professional musician website is the key to more visibility in order to get more fans and followers. All the famous performers and bands have their own music websites. Perhaps they have the budget you say? Continue reading and you'll be convinced that it's NOT about money.

We are here to provide you with everything you need to create a professional website using a musician WordPress theme that doesn't suck. Here are some examples to get you started.
Homepage:
Your homepage has the biggest impact. Make sure to introduce yourself clearly.
The quality of your main photo in the header is very important.

Take your best shot and focus on quality. More often, 1 or 2 great photos is better than using 10 photos.

Your

musician page

has to be simple, elegant and user-friendly so you can stand out.

If you want to sell live gigs, add an image of you while performing. This may seem basic but it shows your fans and prospect you're a

musician

ready for hire.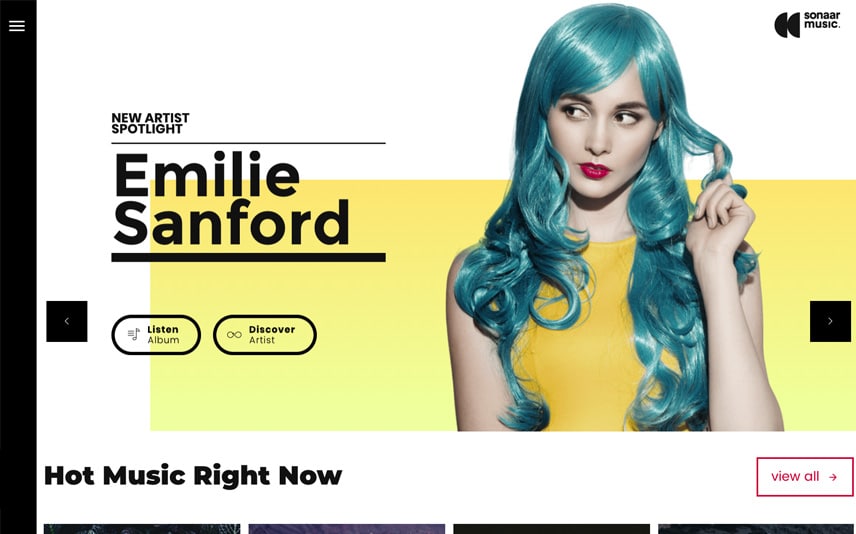 In addition, it's important to add some of your work to the homepage. You want people to listen to your track with a single click. If you are willing to use one of our musician WordPress themes, it comes with a built-in audio player that allows your fans to listen to your sound without the music stops while browsing your site. It's a unique feature we have designed. The technology we use is called "Continuous Ajax Music Player".
Music and online store:
This is probably the first section your visitors will browse when they visit your website. Don't miss out the chance to display your EPs, tracks and albums. If you don't have album covers, we do recommend to get them because it gives a look and feel to your music. It's a little detail but has a true impact. You can also setup multiple playlists organized by categories on a one-pager. We provide with our musician WordPress templates several ways to display your albums and tracks. In addition, you can set up single music page where people will be able to listen and share your songs.
Biography: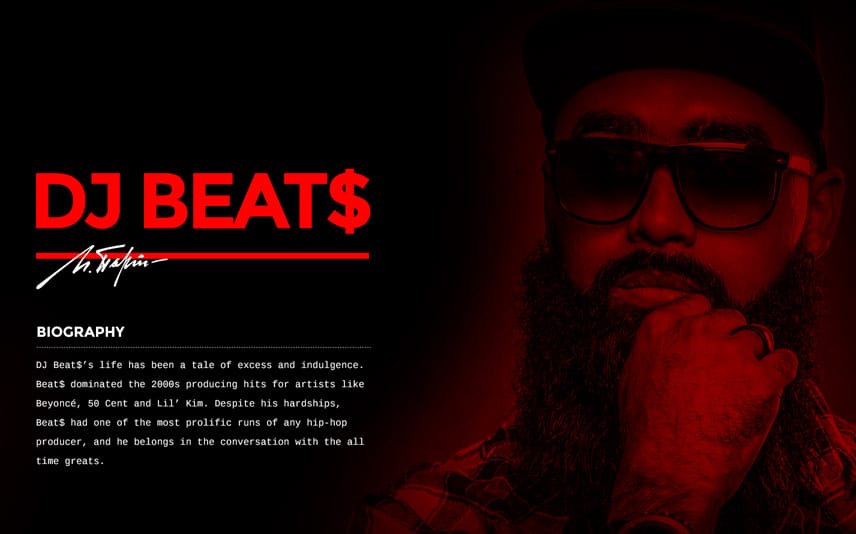 Now you've caught the attention of your fans with your crazy homepage, they gonna want to know a little bit more about you. A biography page is a great place to share your story and profile. Once again, try to use a nice image in the header. A quick tip is to use a series of photos that were taken in the same photoshoot as your homepage so it gives an artistic direction to your music website. We recommend to start your biography page with a 150 words text intro followed by one or two parallax images and then your full bio with your past gigs, discographies as well as your Electronic Press Kit (known as EPK) to download. Check out our templates to get inspired by our musician's biography pages.
Events:
As a performer, your gigs are probably a big source of income so make sure that your event page is set up carefully. You can set your upcoming events as well as your past events. It shows your prospective clients that you have experience and you're booked!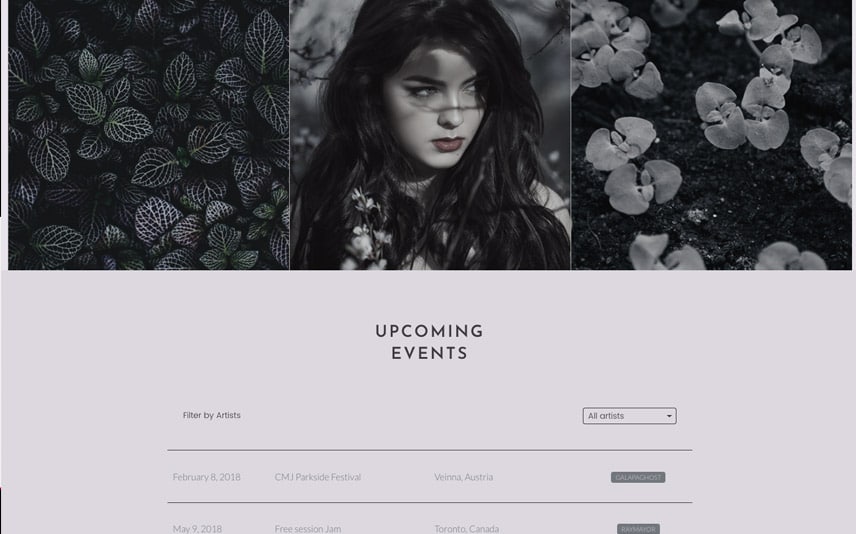 To resume, having your dream music website shouldn't be complicated and it does not require a big budget. We provide web templates for musicians that look very professional and are available for less than 70 bucks! Thus, involve all these elements in your next musician WordPress theme to engage more fans. If you want to generate websites in a cost-effective and professional way, then you can go with Sonaar. To explore Sonaar WordPress themes, feel free to visit https://sonaar.io/