Instructions on How to Install the plugin and its pro addon:
Step 1 – Install and activate the Free version of MP3 Audio Player by Sonaar. For this, go to WP-Admin > Plugins > Add New and search for MP3 Audio Player. Click the Install button and then, click Activate.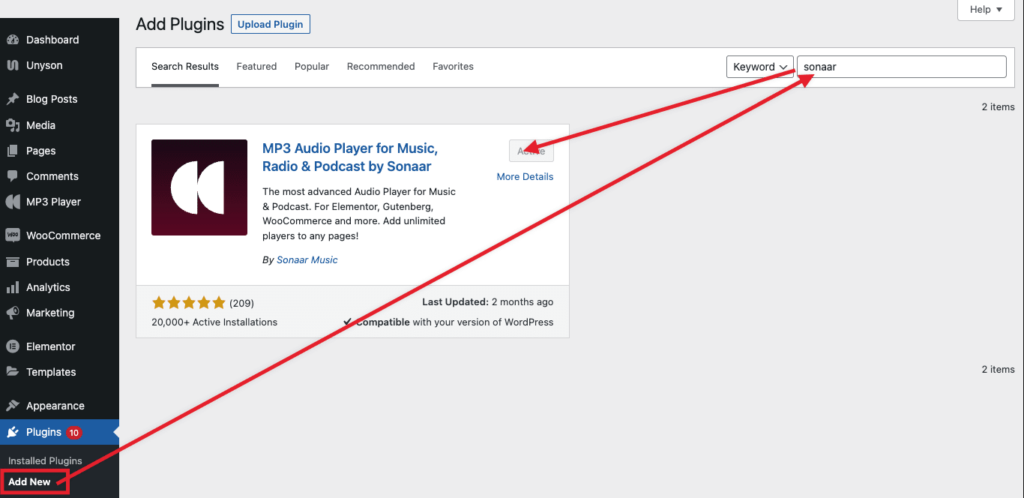 Step 2 – Download the Pro Addon on your computer. Login into your sonaar.io account and go to My Account > Downloads. Download the file sonaar-music-pro.zip on your computer.
Step 3 – Install the Pro Addon. Go to WP-Admin > Plugins > Add New > Upload Plugin > Choose File and select sonaar-music-pro.zip file on your computer. (Downloaded at step 2 above). Click Install and Activate. You basically have 2 plugins to install. The free version AND the pro addon and both plugins are required to work.
Step 4 – Activate your License. Go to WP-Admin > MP3 Player > License and paste the license key. The license key can be found in your sonaar.io account > License Keys. See screenshot: https://drops.sonaar.io/i/B2Whin
See video tutorial below on how to use the plugin:
Video tutorial
This video will teach you how to use the plugin in 7 quick chapters:
1) 00:12 Install the Plugin
2) 00:32 Create a Playlist & Uploads Tracks
3) 03:44 Add Player using Shortcode
4) 06:57 Add Player using Elementor
5) 10:41 Add Player using Gutenburg
6) 11:27 Customize Color & Settings
7) 12:57 Difference between Free vs Pro
**********
Hey Podcasters! Read this article if you are setting up a podcast first.
**********